Friday, April 24 through Sunday April 26, 2020 marks the date for Crestview, Florida's largest martial art event, the Korean Martial Arts Festival 2020.
Friday, April 26 through Sunday April 28, 2019 marks the date for Crestview, Florida's largest martial art event, the Korean Martial Arts Festival 2019. Renowned Korean martial arts expert Chief Master Thomas Gordon began the Korean Martial Arts Festival in 2007 to offer a place where martial artists could gather, bond and "really" train in a non-political environment. It was a resounding success. Every year since, he has gone out of his way to make each event bigger and better than the last. The hosts for the annual event this year will be Chief Master Thomas Gordon, Mrs. Barbara Gordon, Master Greg Bledsoe, Mrs. Amanda Howard, Mrs. Tammy Schad-Tucker, and Mrs. Mary Valdez.
Participants can choose who they want to train with for each seminar session. This year the massive roster of Grandmasters and Masters includes:
Master Guy Larke is a special guest at the Korean Martial Arts Festival 2019.
An additional treat for attendees at this years Korean Martial Arts Festival 2019 will be Korean Taekgyeon champion, Master Jae-Sik Yang and his Team Jikimy Taekgyeon Team performing demonstration during the Saturday night banquet.
Chief Master Gordon will show his appreciation to those who helped make the festival what it is today. This year there will be a compiled volume named Who's Who at the Korean Martial Art Festival, with photos, biographies and even a spot for autographs if participants want to preserve the moment.
Spots are filling up quickly so if you are interested get more information by visiting the KMAF website or by calling Chief Master Gordon at 850-682-0720.
Since the first Korean Martial Arts Festival in 2007 I have enjoyed fellowship and training with countless martial arts masters. The event has allowed me to teach in a way that encourages me to step outside the normal boundaries of martial arts seminars. The interaction and involvement of my fellow Grandmasters creates a cooperative and synergistic teaching session where the participants leave with a greater understanding regardless of their rank or style. It is both an honor and privilege to be involved with this great event. Chief Master Thomas Gordon always provides an atmosphere that is non-competitive and energetic. Top notch instructors from around the world participate to share their art to eager participants each and every year. I encourage all martial art practitioners to experience this event at least once in their life. They will not regret it. ~ Grandmaster Kevin Janisse
Korean Martial Arts Festival 2019 Schedule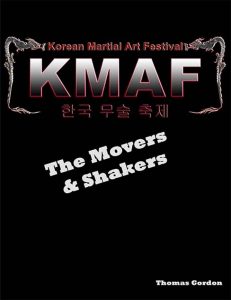 Thomas Gordon has created an 84 page, 8.5 x 11 black and white paperback book with the movers and shakers who have participate in the Korean Martial Arts Festival. The book will cost $18.49 normally, but at the KMAF event the cost will be only $15.00. Every presenters at the event will receive a book as a gift from Tom.
For those of you who would like to sell the book commercially in the future, Tom will have books available at a discounted price.
Grand Master Timmerman offered Thomas Gordon the opportunity to be on the cover of Taekwondo Times with him in 2010. The story was called the Movers & Shakers. As a nod to him, Tom decided to title this book Movers & Shakers instead of Who's Who of KMAF.
To order a book(s) call Thomas Gordon at 850-682-0720.