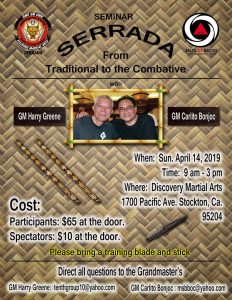 Mata Sa Bagyo's GM Carltio Bonjoc and One On One FMA's GM Harry Greene, are teaming up to bridge the gap between traditional Serrada Escrima and Combative Knife!
Come join us to see how GM Harry Greene applies the traditional Serrada Escrima, as taught by GM Carlito, to what was used in combat during his time in Vietnam. A must for all knife fighters!
Hope to see you there!
Event Details:
Date: Sunday April 14, 2019
Location: Discovery Martial Arts – 1700 Pacific Ave – Stockton, CA
Time: 9 am – 3 pm, Doors will open at 8 am
Cost: $ 65.00 per participant, at the door. Cash only please
$ 10.00 Spectator Fee
PLEASE BRING A STICK AND TRAINING BLADE WITH YOU
Serrada Escrima and Combative Seminar Knife Registration Form