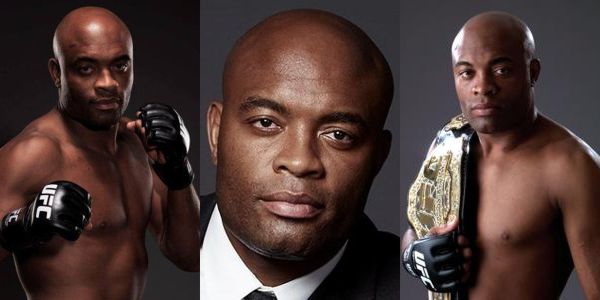 Anderson Silva was born on April 14, 1975. Known as "The Spider", Anderson is a Brazilian mixed martial artist and since 2006 he has been the UFC Middleweight Champion as well as the promotion's longest reigning champion. With 13 consecutive wins, Silva holds the longest active winning streak in the UFC and the record for the longest winning streak in UFC history. Silva holds a black belt in Brazilian Jiu-Jitsu under Ant'nio Rodrigo Nogueira. He trains at Black House.
Silva has been ranked as the number one Middleweight in the world by multiple MMA publications; Sherdog and Yahoo! rank Silva as the top pound-for-pound fighter in the world. Not only has he been the UFC Middleweight Champion, he is also the last Cage Rage Middleweight Champion and former Shooto Middleweight Champion. Silva has also fought for a number of other MMA promotions including the Pride Fighting Championships, Shooto and Rumble on the Rock.
Anderson Silva is known for his mastery of Muay Thai elbow and knee strikes,and his surgically precise punches and kicks, Silva hearned his Brazilian Jiu-Jitsu blackbelt in 2006 from Ant'nio Rodrigo Nogueira whose lineage follows that of the Gracies through Carlson Gracie, ergo Murilo Bustamante and the Brazilian Top Team. Silva began martial arts training at the age of 14, studying Tae kwon do and earning his black belt at the age of 18. He also has a black belt in Judo and a yellow rope in Capoeira.
Silva originally trained as a member of the Chute Boxe Academy, but left to form his Muay Thai Dream Team. Late in November 2006, Silva joined the new team Black House with Lyoto Machida, Vitor Belfort, Assuerio Silva and both Nogueira brothers. On May 16, 2008 Anderson Silva and Antonio Rodrigo Nogueira opened the Team Nogueira MMA Academy in Miami, Florida.
Mixed Martial Arts Career
Anderson Silva began fighting as a welterweight in the Mecca organization in Brazil. Silva lost his first fight to Luiz Azeredo by decision, but went on to win his next nine fights, winning six of those fights by either submission or TKO. After winning his first match in Japan, on August 26, 2001, he was matched up against Shooto champion Hayato Sakurai. After three rounds, Silva beat Sakurai by unanimous decision and became the new Shooto Middleweight Champion (at 167 lb). Silva was the first man to defeat the undefeated Sakurai who had won his first 20 fights.
Pride Fighting Championships and Cage Rage
In 2002, Silva began fighting in Pride stopping his first opponent, Alex Stiebling, with a cut resulting from a high kick. In his next match against the "Diet Butcher" Alexander Otsuka he won via decision. At Pride 25, Silva faced former UFC welterweight champion Carlos Newton, winning by technical knockout. Newton tried to shoot in on Silva, but was hit with a flying knee. Newton collapsed and Silva finished the fight with strikes.
At Pride 26, Silva faced Daiju Takase who had only four wins and seven losses. Takase was the underdog, but he dominated most of the fight with takedowns, top position, and effective ground and pound, Takase then submitted Silva with a triangle choke late in the first round.
Silva went on to fight in other promotions around the world after his loss to Takase and then on June 27, 2004, Silva fought Jeremy Horn earning a decision victory. Three months later, Silva made his debut in the Cage Rage 8 promotion in England and Silva fought and defeated noted striker Lee Murray by decision.
That same year, on December 31, Silva returned to Pride to fight Ryo Chonan. Silva controled the first round with a take down and body triangle but Chonan was able to counter Silva's knees from the clinch, with knees, and takedowns. Despite being the underdog, Chonan forced Silva to submit in the third round with a flying scissor heel hook.
After his loss to Chonan, Silva would continue to fight with the Cage Rage promotion, and other promotions throughout the world. Silva defended his Cage Rage title against Curtis Stout before fighting in Hawaii's Rumble on the Rock promotion, where he fought Yushin Okami in the first round of the 175 lb tournament. Silva was favored to win the tournament, but lost the fight when he kicked Okami in the face from the guard position. Becasue Okami's knees were on the ground at the time, the attack was an illegal strike to the head of a downed opponent. "When I fought Okami the rules really weren't explained to me properly in the event I was fighting in," said Silva. "You could kick a downed opponent to the groin or to the head when your back's on the ground. So the rules weren't explained to me properly." Okami was given the opportunity to recover and continue fighting, but he took the disqualification win. Silva responded by saying he "felt it was a cheap, cowardly way of winning," and that "people that were there saw that he was in the condition to come back and keep fighting, and he didn't."
Silva was to fight Matt Lindland at Cage Rage 16, but Lindland's decision to fight Mike Van Arsdale at Raze Fight Night put an end to the highly-anticipated match. Instead, Silva defended his championship against Tony Fryklund, winning the fight early in the first round with a reverse elbow, knocking Fryklund out.
Ultimate Fighting Championship
UFC announced in late April 2006 that they had signed Silva to a multi-fight contract and UFC began to promote Silva immediately, releasing an interview segment announcing his arrival.
Silva's debut took place at Ultimate Fight Night 5 on June 28, 2006. Silva fought The Ultimate Fighter 1 contestant Chris Leben. Chris had gone undefeated in the UFC with five consecutive victories. In a pre-fight interview, Leben predicted he would KO Silva, as Silva was relatively unknown in the United States. Silva knocked Leben out with a flurry of pinpoint strikes, followed by a final knee strike at 49 seconds into the first round. Silva's striking accuracy was 100% and his first win in the UFC made him an opponent to be reconed with.
Winning the Belt
In response to the victory, the UFC quickly tallied a poll on their main page, asking viewers to select Silva's next opponent; the majority of voters selected the UFC Middleweight Champion, Rich Franklin.
In response to a UFC web site poll tallied from the home page of the UFC web site, viewers wanted Silva to fight Rich Franklin and this fight took place at UFC 64 on October 14, 2006. Silva defeated Franklin by TKO with strikes at 2:59 into the first round. From the Muay Thai-clinch, Silva hit Franklin with knees to the body, then badly broke Franklin's nose with a knee to the face. Franklin was unable to strike back and dodged the last of Silva's strikes before falling to the ground. Referee "Big" John McCarthy ended the fight. Silva became the new UFC Middleweight Champion, the second man to defeat Franklin, after Lyoto Machida.
Defending the Belt
At UFC 67, on February 3, 2007, Silva was scheduled to fight The Ultimate Fighter 4 winner Travis Lutter in what would be his first title defense since defeating Rich Franklin in October 2006. but the match was changed to a non-title bout when Lutter failed to make the 185 pounds (84 kg) weight limit. Lutter was an accomplished Jiu-Jitsu blackbelt and the fight went to ground. Silva won in the second round by submission with a combination of a triangle choke and elbow strikes.
On July 7, 2007 in Silva's next fight at UFC 73 , Silva successfully defended his title against Nate Marquardt, winning by TKO at 4:50 in the first round. Three months later, on October 20, 2007 at UFC 77, Silva fought a title defense rematch against Rich Franklin, in Franklin's hometown of Cincinnati, Ohio at the U.S. Bank Arena.[31] Silva defended his belt by defeating Franklin via TKO in the 2nd round.
On March 1, 2008 at UFC 82, Silva fought Pride Middleweight champion Dan Henderson. This was a title unification bout where UFC and Pride titles were on the line. Henderson was said to have the edge on the ground, having competed in the 1992 and 1996 Summer Olympics in Greco-Roman wrestling, but Silva defended his title by defeating Henderson in the second round by rear naked choke.
On July 19, 2008 at UFC Fight Night: Silva vs. Irvin, Silva made his debut as a Light Heavyweight (205 lb or 93 kg) fighting James Irvin. Silva won in 1:01 of the first round by KO due to strikes after catching Irvin's attempted leg kick with his left arm and delivering a straight right knock-out punch.
Silva's next fight was on October 25, 2008 at UFC 90 in Rosemont, Illinois. Silva defended his Middleweight title against Patrick Ct. In the third round, Ct landed on his right leg while throwing a kick and fell to the mat grasping his right knee in pain. Ct could not continue and Referee Herb Dean declared the fight over, ruling the bout a TKO victory for Silva. Ct was the first of Silva's UFC opponents to continue in the fight past the 2nd round.
Silva was criticized for the way he fought Ct, avoiding contact during the bout, but Silva said "There are many people saying I was disrespecting Cote, but this is absolutely not true. My game plan since the beginning was fight five rounds, inducing him to commit mistakes and capitalize on that during the first three rounds and look for the knockout during the fourth and fifth rounds. It was working, and the biggest proof of that is that I almost didn't waste any blows. I connected with a couple of good punches and knees, but unfortunately he got hurt and the fight was over. This is not my fault."
On April 18, 2009 at UFC 97 in Montreal, Canada, Anderson Silva defeated Brazilian Jiu-Jitsu blackbelt Thales Leites by Unanimous Decision. This was his 9th consecutive UFC win in the octagon. Thales Leites was the first man in UFC history to take Silva through 5 rounds to a judges' decision, along with Demian Maia.
Return to Light Heavyweight
At UFC 101 which took place on August 8, 2009 in Philadelphia, Pennsylvania, Silva fought again at 205 pounds. Silva fought former UFC Light Heavyweight Champion Forrest Griffin. Griffin was knocked down three times in the first round and Silva defeated Griffin via KO (punch) at 3:23 of round 1. This bout earned Silva Beatdown of the Year honors from Sherdog. The bout shared those honors with the second bout between Brock Lesnar and Frank Mir. Both fighters were awarded $60,000 as Fight of the Night bonuses and Silva received $60,000 in bonus money for Knockout of the Night.
Middleweight Title Defense
On April 10, 2010 at UFC 112. Silva fought Demian Maia. In the first two rounds Silva toyed with Maia appearing to mock his opponent while employing quick, precise striking. Throughout the rest of the fight, Silva looked to Maia to be the aggressor while he largely circled and taunted his opponent. Silva was declared the winner via unanimous decision. This fight took Silva's reputation down another notch.
Silva vs Sonnen and Future
On August 7, 2010, Silva faced Chael Sonnen for the UFC Middleweight Title at UFC 117. The first four rounds were dominated by Soonen, In the fifth round, Silva slipped while ducking under Sonnen's left hook and Sonnen took advantage by once again establishing a top position and delivering strikes to Silva. With about two minutes left in the round, Silva locked up a triangle armbar on Sonnen, forcing Sonnen to submit at 3:10 of Round 5. Silva was hit more in this fight than in his entire career. Silva was hit 208 times, according to CompuStrike, in his first 11 UFC fights, Sonnen hit him a total of 289 times. This is one of only three fights in UFC history to end in the 5th round.
Championships and Accomplishments
Shooto Middleweight Champion
Cage Rage Championships
Last Cage Rage Middleweight Champion
Ultimate Fighting Championship
UFC Middleweight Champion
Won Fight of the Night (three times)
Won Knockout of the Night (twice)
Won Submission of the Night (twice)
Unified UFC Middleweight and Pride FC Welterweight Championships
Most consecutive title defenses (Seven)
Most successful title defenses (Seven)
Most consecutive wins in the UFC (Twelve)
Longest UFC title reign
In June 2009, Anderson Silva was nominated for the 2009 ESPYS "Best Fighter" category, along with Lyoto Machida, Manny Pacquiao and Shane Mosley. The award was won by Manny Pacquiao.
Won Sherdog Beatdown of the Year for 2009 win over Forrest Griffin
In 2009, Silva appeared in the film Never Surrender.