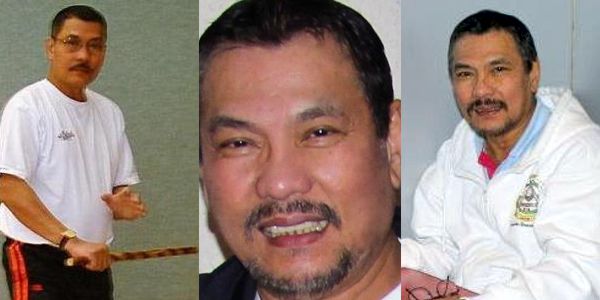 Grandmaster Bernardo Fabia Salinas has been in Martial Arts for 49 years. He was born in a religious town of Manaog, Province of Pangasinan, and Philippines. He was taught these traditional martial arts under the watchful eye of his grandfather (Estoque Maestro) Mauricio Fabia and later trained with his uncle (Arnis Master) Saturnino Quinto Fabia. He survived through many traditional session of mental and physical training. The style of training helped him to forge and mold the system into his being, and create a fearless warrior, through many bruises and tough times. Master Salinas survived and become dedicated, he continue to show his admiration for his grandfather and his uncle through passion for his hereditary family system estrella de estoque.
So many years, the family system was forgotten. Until in 1986 Maestro Salinas returned to the Philippines to make a research in his family system, at the same time founding the SFMA in honor of the creator, and successor of the estrella system. In 1996 he was awarded the master's degree in arnis from Grandmaster Saturnino Quinto Fabia.
Master Bernardo Fabia Salinas introduced the third generation of Estrella system of Sinkatan Arnis in North America. His goal is to improve the system by including the origins and philosophies of his system within the training format for his students and practitioners. Master Salinas remains as one of the most attentive student of Sinkatan Arnis. Since emigrating from the Philippines in 1974 Maestro Salinas has returned to the Philippines every second year to train and to continue his research in Filipino Martial Arts. Master Salinas is the Canadian representative of the sfma sinkatan arnis estrella in Canada.
Maestro Salinas has conducted training seminars for Sinkatan Arnis, knife training, and self-defense in Northern British Columbia, Vancouver, and suburb Winnipeg, Manitoba, and Edmonton, Alberta.
Maestro Salinas holds a 5th Dan Blackbelt in Shotokan Karate, and has traveled to and trained in Japan, Philippines, and Canada. He upgrades his Karate and Aikido training under Shihan Flaviano F. Cabuang of the Martial Arts Training Society in the Philippines. In 1999 he founded the Northern Tiger Shotokan Karate Association. He has sixteen years teaching experience in Karate and Filipino Martial Arts in the Peace Valley area. In the past year he has trained the RCMP and Auxiliary force on weapons and combat training. Master Bernardo Fabia Salinas has been inducted into the:
International Martial Arts Hall of Fame (2001 Master Instructor of the Year in Sinkatan-Arnis *Estrella (Filipino Martial Arts) by the World Head of Family Sokeship Council.
Hawaii Martial Arts Society Hall Of Fame 2002 Hawaii, USA
World Ildokwan Federation Hall Of Fame 2002 New York, USA
Members of International Assembly of Sokeship Founders and Headmasters. (IASFH) New York, USA