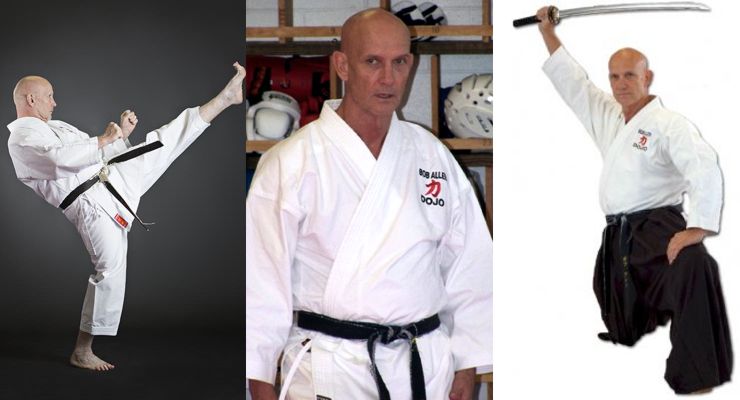 Bob Allen started Karate in 1966 during his duty in the U.S. Marine Corps, and practiced Shotokan Karate at different duty stations. He eventually moved to the Marine Air Station in Yuma, Arizona and joined a club in town, earning the rank of brown belt in two and a half years, before going to Chu Lai, Viet Nam.
Bob Allen studied Tae Kwon Do with a South Korean 4th degree Black Belt who was a staff sergeant named Byung Chul. In a year, he was promoted to Red Belt. In 1970, he was sent to the Marine Corps Air Station in Iwakuni, Japan and continued his study of Karate at the base until he was released from active duty. The instructor at the base was a 6th degree Black Belt named Hitoshi Akiyama. He was the Chairman of the Japan Karate Association. With his sponsorship, Bob Allen was able to receive a Special Visa to remain in Japan.
When he returned to New Orleans, Louisiana, he started training with Sensei Takayuki Mikami and trained there for twelve years, receiving his 4th degree Black Belt. Bob then  moved to Monroe, Louisiana and opened his own club in 1975, where he has been teaching for the past 43 years. Bob also became the instructor and coach of the Northeast Louisiana University Karate Club and which eventually won eight Collegiate National Championships.
Bob Allen later became Chief Referee for AAU Karate, and was also Chairman of Referees. Later, he became a World Referee with the World Karate Federation, and judged and refereed in several World events.
Bob Allen is a member and President of the Traditional Karate Federation. He received his 8th degree Black Belt in 2006. Bob was National Champion in Kumite several times and has taught over 400 national champions.
To contact Bob Allen and Bob Allen Karate visit their listing on the Martial Arts Schools and Businesses Directory by clicking on the image on the left.