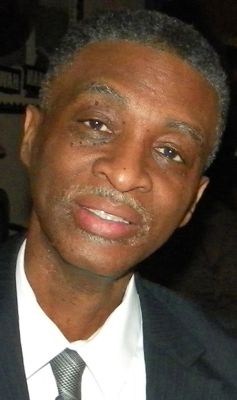 Robert Dickerson, a 9th Degree Grand Master Black Belt, has been training and studying the Martial Arts (Karate) since 1968. Mr. Dickerson a recognized professor of the Martial Arts, author and a teacher who specialize in programs that develops self-discipline, moral character, cultural awareness and cultural pride. Since 1968, at a young age of 14, he has been a youth leader in church and a member of African-American organizations dedicated to helping and uplifting the condition of communities, especially young people in the inner cities of the United States of America. With five years of electronic education, he also developed a career as an electronic technician/engineer since 1972.
Robert Dickerson grew up in Darby and Philadelphia, Pennsylvania. He started Martial Arts training in 1968. He is most accredited for studying the Martial Arts of Kyokushinkai (Japanese Art) in 1971, when he met Mr. Alfred Dennis, a.k.a. Grandmaster Ameer, a great Judo, Aikido, and a Kyokushinkai Karate Master in North Philadelphia. He diligently trained under Grandmaster Ameer, earning his 1st degree black belt on August 25, 1974. He assisted Grandmaster Ameer in teaching at many inner-city housing projects throughout Philadelphia, Pennsylvania, from 1974 to 1985.
Robert Dickerson, a highly skilled BOXER out of the 23rd & Columbia (Cecil B. Moore) Avenue, Philadelphia, Pennsylvania PAL Boxing Gym in the early 1970's, was trained by two elder boxing coaches whom Mr. Dickerson knew as Mr. Pete and Mr. Jappie and of course his main Boxing teacher, the legendary Gordon Dickerson, better known as Brother FLASH. He trained everyday at the Boxing Gym in North Philadelphia and then would go straight to Grandmaster Ameer's Karate School, also in North Philadelphia to train in Karate. One of his greatest moments in his boxing career was when he won the Joe Frazier Silver Gloves in the middle weight division at the Blue Horizon in Philadelphia, Pa. on March 27, 1975, which he received awards and press articles in the Philadelphia Daily News and other newspapers.
In September of 1975 he married Wanda Johnson of North Philadelphia and moved to Camden, New Jersey. Out of this union they were bless to have four children, Jamal, Nasir, Atiya and Ayanna, eleven Grandchildren and two Great Grandchildren. In 1983 Mr. Dickerson founded a non-profit organization called the Unity Community Center of South Jersey Inc., at 1544 Mt. Ephraim Avenue, Camden, New Jersey. The Unity Community Center is the parent organizationto all of its performing arts programs. In 1984, he began teaching Community Development Programs, African-American History, Dance, Drum and the Martial Arts (Karate), Boxing and Kick-Boxing to the residents of Camden, New Jersey, South Jersey and Philadelphia, PA, through his karate school known as the Universal Pasha Karate (UPK) School and the Universal African Dance & Drum Ensemble.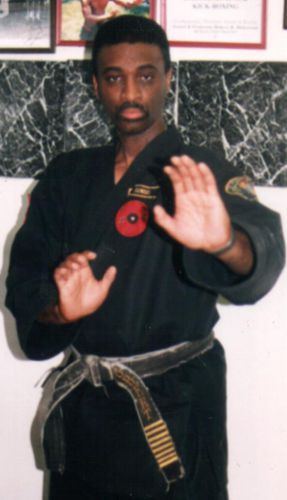 He received international recognition in three major Karate magazines for his team, winning the Youth Karate Team Championship and producing the #1 Junior Karate Kumite Team in the USA at an A-rated Karate Tournament in Flushing, New York, on September 27, 1992. Mr. Dickerson has developed over 34 local, regional, and national Karate & Kick-Boxing Champions. Mr. Dickerson also developed 19 world sanctioned Karate Champions in different ages and ranking categories. He created and developed the World Champion UPK Pasha Generals, one of the Best Military-Style Close Order Drill Teams and one of the most dynamic presentations for drug and crime prevention in this country, dedicated to spreading the mighty message of love and discipline to the young people in the inner cities of this country. In 1993 and 1994 they gained international recognition for winning and receiving the honor of having the best disciplined drill team at two world recognized drill-a-rama championships in Baltimore, Maryland and Chicago, Illinois. The World Champion UPK Pasha Generals have been seen by millions on local, cable, and national television talk shows.
Robert Dickerson's love of culture, discipline development and the performing arts along with his wife Wanda started and developed the Sensational & Electrifying – Universal African Dance & Drum Ensemble in 1984. The Universal African Dance and Drum Ensemble was blessed and sanctioned to be one of the best and the most exciting professional African & Dance Drum Ensembles in the United States of America in August of 2000 by scholars, historians and African historians. Mr. Robert Dickerson is the founder and CEO of these magnificent groups in the Unity Community Center.
For his accomplishments he has been inducted into five prestigious MARTIAL ARTS HALL OF FAMES. His first induction happen at the World Martial Arts Hall of Fame, held in Jacksonville, Florida on May 7, 1994. He has received many awards from politicians, educators, community, business, and religious leaders. He also participates on many radio stations, discussing the principles of love and discipline and the development of self-discipline using the dynamics of the Martial Arts (Karate) and the BEAUTY OF CULTURE AND THE PERFORMING ARTS.
Robert and Wanda Dickerson stress and teach the value of education and today their four children; oldest son Jamal has a Bachelor Degree from Morgan State University and a Master's Degree from Rutgers University. Son Nasir has a Bachelor Degree and Master's Degree from the University of the Arts. Daughter Atiya has a Cosmetology Degree, Manager and Professional Hair Stylist at Jana's Unique Hair Salon in Lindenwold NJ.  Daughter Ayanna has a Bachelor Degree from Rutgers University and a Master's Degree from Rowan University. The Dickerson strive very hard to be positive role models and mentors, especially for our young people.
To contact Robert Dickerson and Universal Pasha Karate School visit their listing on the Martial Arts Schools and Businesses Directory by clicking on the image on the left.