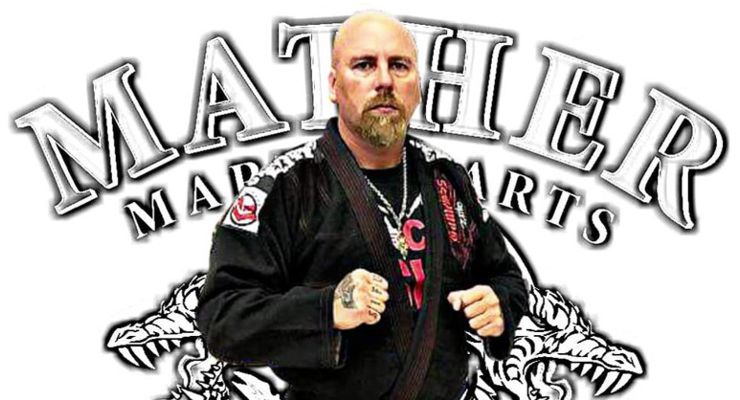 Sifu Mike Mather is a extreme and combative martial arts stylist. He started training at age six in wrestling, and in boxing when he was eight, where he received his coaching under the direct supervision of the #1 contender in the world, Sweet Richard Sue. He began studying Kung Fu at age 11 and Tae Kwon Do at age 13 with Master Marty Maye. Sifu Mather received his first Black Belt at age 16 under Grandmaster Wade Lewis. Mather is a 5th degree Master in Kyushu Jujitsu Karate under Grandmaster George Dillman, a 5th degree Master in Tae Kwon Do, and a Master in Shaolin Kung fu under Grandmaster Eric Lee.
He holds a 3rd degree Black Belt under Guro John Daniels, a full instructor under the great Danny Inosanto in the Filipino combative martial arts, which includes Jeet Kune Do, Kali Southern Filipino bladed art, Arnis (Northern Filipino stick art), and Eskrido stick and knife arts. Sifu Mather also holds a 6th degree Black Belt in Wun Hop Kuen Do under Grandmaster Al Dacascos and Mano y Mano hand-to-hand combat. He holds a 3rd degree Black Belt under Sr. Grandmaster Cacoy Canete in the Doce Pares System. He is a World Champion, full-contact fighter, holding over 30 national grand titles.
With over 40 years of experience in the martial arts, he has developed a unique blend of combative martial arts that delivers real striking power and force under extreme conditions. He has worked with the military and various other groups, on controlled force and defense against weapons tactics. Sifu Mather is the sole founder of Mather Martial Arts Academy, founded in 1988. He currently teaches traditional martial arts, mixed martial arts, and wrestling, and holds seminars worldwide.
His constant statement remains the same, "I owe all my training, dedication, devotion, loyalty, honor, integrity, and, most importantly, heart, to the most inspirational person in my life – my dad. Without my dad's superior job as a role model and a father, none of this would be. This is my love, my passion, and my life – always has been and always will be."