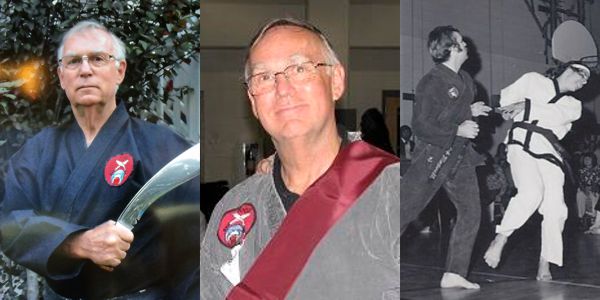 Bob Maxwell was born on December 13, 1943 in Washington, D.C. He has been in the martial arts for more than 44 years and has taught for a larger portion of those years. He is a 7th degree Black Belt in Bando and a 1st degree Black Belt in Isshin-Ryu. He has trained in Bando, Judo, Boxing, Kickboxing, Isshin-Ryu, and has combat handgun training.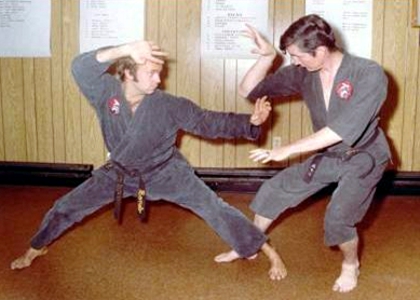 Bob Maxwell began his Bando training with Dr. Maung Gyi at American University. He received his 1st level in Bando in 1965 and competed against Chuck Norris and Joe Lewis at Jhoon Rhee's Washington, D.C. Tournament.
In 1966 he put on Kukhri and Balloon Breaking Demo's with Dr. Gyi at Gary Alexander's Isshin-Ryu Tournament at "Manhattan Center".
Between 1965 and 1967 he was a US Navy Hospital Corpsman. He served at NNMC Bethesda, Maryland, at Oakland Naval Hospital, on the USS Enterprise RNVN, and at Air Crew Development Center, Philadelphia, Pennsylvania.
In 1967 he formed a Bando Class on the USS Enterprise. He competed in Manila and in the Philippines. Mr. Maxwell received Brown Belt in Judo while stationed in Philadelphia. He won 2nd place at Ki Wang Kim's National Championships against Skipper Mullins in a closely contested 3 to 2 match in the Finals. Maxwell knocked out three other competitors on way to finals, and was not disqualified because Chief referee Jhoon Rhee said that his opponents all "ran into" the punches. (These fight took place before the use of safety gear). During this time he also defeated Black Belt Magazine Ranked and N.Y. Tournament Defending Champion Julio LaSalle at S. Henry Cho's Tournament in New York. Also during 1967, he began a life-long association with Isshin-Ryu through Tom Lewis, Harvey Hastings, Don Bohan and Rick Niemira.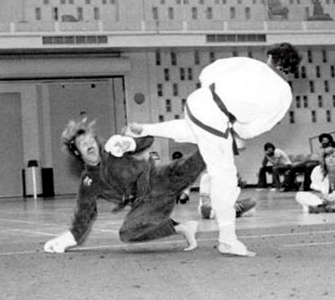 Between 1967 and 1969 Maxwell formed a Bando School at Montgomery Junior College, Rockville, Maryland, with Geoff Willcher and Mark Bjishkian as assistant instructors. He held the first public Bando boxing match at the Eastern Regional Karate Championships where Mike March fought Bill Price (Harvey Hastings student). During this time, Bob Maxwell took on Jon Collins (future Bando Boxing Champion, Bando Association President and Head Instructor at Catonsville Community College) as his Bando student at Montgomery Junior College.
In 1968 Mr. Maxwell was a founding member (along with thirteen other first generation students of Dr. Gyi) of the "American Bando Association" when it was formally organized in Athens, Ohio. He served as Chairman of the American Bando Association for six years.
1969 , together with Harvey Hastings and Tom Lewis, Bob Maxwell conducted the first Bando/Isshinryu Tournament in Salisbury, Maryland. This event is where Rick Niemira first became associated with the Bando group. Don Bohan, Dr. Maung Gyi, Bob Hill and Steve Armstrong served as Chief Referees. Donald Bohan had his historical match with Ralph Chirico at this tournament.
During 1971 and 1972, Bob taught Bando tactics to members of US Secret Service and FBI while attached to the Secret Service in Washington, D.C.
Between 1973 and 1975, Mr. Maxwell formed the Atlantic Coast Institute of Martial Arts with Harvey Hastings in Ocean City, Maryland. Promoted the first "Professional Karate Tournament" on the East Coast with Harvey Hastings. Bando Boxing premiered at this event with Harvey Hastings soundly defeating the International TaeGun Champion, John Dutcher. Jeff Smith won Grand Champion in a field of eight of the Black Belt Magazine rated, Top Ten in attendance. Chuck Norris, Bill Wallace, Joe Lewis, Skipper Mullins, Mike Anderson, Fred Wren, Howard Jackson, Mitchell Bobrow and many other Nationally Rated Competitors were in attendance.
He was Assistant Coach and corner for Ronnie Barkoot at his Heavyweight Title Kickboxing Match with Joe Lewis in New York.
Bob Maxwell was the corner for Dr. Gyi at his Sunnyside Gardens Kickboxing Match.
He was promoted to 1st Dan in Isshin-Ryu by Tom Lewis and Harvey Hastings in 1975 and he formed the first Bando Full Contact Competition Team in Baltimore, Maryland. Members of the team were Rusty Gage, Jon Collins, Percy Pair, Stevie Crockett, Joe Hanlon, Kevin Keane, Ron Orem, and Carl Beamon. Bob Maxwell's team soundly defeated (8 to 0) the top ranked team of Fred Hamilton's from New York City, at Community College of Baltimore.
During the 1970's, together with Phil Schreiber, Bob directed three "Bando Kick Boxing and Special Weapons Camps" at Buffalo Gap, West Virginia, were great training and personal friendships began. Guest instructors at the camp included Don Bohan, Karl Hovey, Jeff Smith, Phil Torres, Mark Bjishkian, Rick Niemira, Bob Hill, and many others from all different styles and disciplines.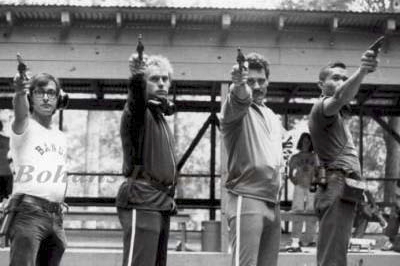 Mr Maxwell served as Chief Referee for the Professional Karate Association, officiating over many title bouts, including Jeff Smith and Bill Wallace. Bob was involved with Don and Judy Quine and Mike Anderson, owners of PKA, when the official rules for PKA fights were being established. He served as an Official for many title fights across the U.S.
He lived and worked in Saudi Arabia and Jordan for two years where bob was a contractor teaching Armed and Unarmed Combat Tactics, Hand To Hand Combat, Protective Operations and Firearm Training to the Saudi Royal Guard Brigade, Saudi Air Defense Forces, Jordanian Royal Guard and the Jordanian Special Forces. He continued to host members of the Jordanian Special Forces for advanced Kukhri and Hand to Hand Combat training in the United States at the Bando Association's Ohio training facility.
Bob Maxwell is currently teaching Bando Class in Bethany Beach, Delaware and conducting seminars in the Hard Style of Bando as a guest of numerous other style and systems.