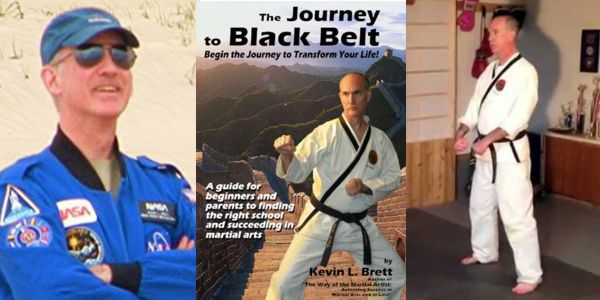 A martial arts book by Kevin Brett, Author of "The Way of the Martial Artist: Achieving Success in Martial Arts and in Life!" The Journey to Black Belt:  Begin the Journey to Transform Your Life! guidebook is geared toward parents and beginners who want to cut through the maze and mystery of understanding how to choose a martial art, find a good school and understand what it takes to succeed.
Everything for Parents and Beginning Martial Artists!
Parents, do you feel lost; confused about the zillions of martial arts schools and styles and how to get yourself or you child off to a great start? Want to know what it will take to get the most out of your martial arts experience? Simple questions with simple answers. Maybe you're planning to sign up your children (or yourself) for a martial arts program but you really don't know where to start. And once you've started do you really have a road map and an idea where you want this journey will take you? Journey to Black Belt covers the benefits from the character development like self-discipline and respect. This book provides a strong focus on transforming your character and your life through martial arts! Full of useful checklists and questions to ask when shopping for a school including what answers to be wary of! It explains how to get started with your training and what you will need to do to succeed! The Journey to Black belt also provides useful explanations of the differences between many major styles of martial arts to help you decide what's best for you. Contains MANY useful checklists and tip-sheets with more than 250 pointers on topics including:
What parents need to know, ask and expect
Questions to ask when shopping for a school
How to care for your uniforms and equipment
Essential martial arts terms and concepts for beginners
A brief history of martial arts and its evolution and your options
Listings of martial arts organizations & school directories
Training and goal-setting tips to help you or you child succeed
Tips on instilling martial arts values in children
Web resources for further study and research
Self-Defense training concepts and more!
Author Biography
Kevin Brett is a certified martial arts instructor and author of "The Way of the Martial Artist: Achieving Success in Martial Arts and in Life!" He has more then twenty years of teaching experience and has trained federal and local law enforcement and the military. He was one of the co-founders of United Karate Institute of Self-Defense, Inc. and has developed numerous training manuals and martial arts videos for students and instructors.
Book Reviews

Five Stars:
THE Guide Book You Need before You Start a Martial Art
Author Kevin Brett has really done an outstanding job in compiling a much needed source of information for those individuals who are looking to get started in the martial arts for themselves and/or enrolling their children in a good martial arts school. I suppose one could think of it as a checklist of sorts covering pretty much everything you would need to know about what martial art is right for you and also which schools are going to be best to begin your martial arts journey.
Having a book like this today is especially relevant in the ever increasing world of legitimate martial arts schools vs. McDojo's. This book will help you in all aspects of selecting the right martial art and martial arts school for you or your children. This book is very well organized and laid out in such a way that I don't know how it could have been done any better. The book is broken down into six main sections:
Succeeding in the Martial Arts
Transforming Childrens Character with Martial Arts
Self-Defense and Combat Situations
Key Martial Arts Training Concepts
Martial Arts History and Styles
Shopping for a School and Style
The author then follows this up with a very well thought out and informative appendix that includes a veritable smorgasbord of relevant information to help you in your search.
This book is a definite MUST HAVE for ANYONE who is interested in beginning their martial arts quest for knowledge and self-discovery.
I highly recommend this book!
Shawn Kovacich
Martial Artist/Krav Maga Instructor
Author of the Achieving Kicking Excellence book and DVD series
---