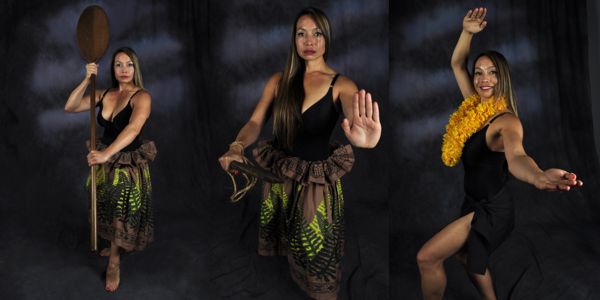 The first S.H.E. – Super Hero Experience – will be offered in Dallas, Texas where women learn physical and mental empowerment while dressed in superhero or warrior inspired attire.
Michelle Manu, MMA Color Commentator, Black Belt in Kaihewalu Lua and instructor from Los Angeles, California, will share self-defense methods derived from the ancient hand-to-hand and ground combat war art called Hawaiian Lua. This combat art was concealed in the hula dance as a secret defense. Michelle Manu trains women to identify their 'super' savage inner and outward strengths, similar to pop culture superhero portrayals, through the S.H.E. workshop.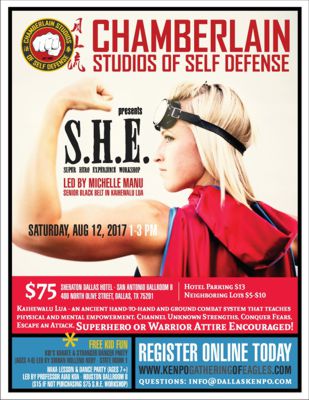 Attending women are encouraged to dress in warrior- or superhero- inspired attire where they will learn techniques to escape a chokehold, a hair grab, a shirt grab, a wrist grab and defend themselves against a knife, handgun, hammer, zip tie, crowbar and other threatening scenarios.
Two free simultaneous kid's activities are offered during the S.H.E workshop. Kid's ages 4-6 can join a karate and stranger danger workshop led by Shihan Rollend Nery in State Room 1. Kids age 7 and up can participate in a Haka lesson and dance party led by Professor Aiau Koa in Houston Ballroom B.
The S.H.E., Super Hero Experience, is one of many martial arts programs offered within the Gathering of Eagles (GOE) and International Hall of Fame (IHOF) event which is in its 10th year but a first for Dallas. Hosted by 35-year-old Dallas based Chamberlain Studios of Self Defense, the 3-day GOE offers a chance to attend the International Hall of Fame dinner and train with martial arts masters from across the globe such as two-time World Boxing Champion Jesus Chavez, MMA Coach John Hackleman and even receive a culturally proper tattoo from a world-renowned PhD Polynesian Anthropologist Tattooist.
The occasion is expected to attract more than 500 martial arts novices and enthusiasts and will highlight the Hawaiian influence on the martial arts.
S.H.E. cost is $75 or included in the GOE 3-Day ticket cost of $275, pre-registration discounts available. To register call 214-351-5367 or email info@dallaskenpo.com. Hotel Parking costs $13, but there are neighboring lots that run between $5 and $10.
More About Michelle Manu
Michelle Manu is a past director for America in Defense (AID) where she led and taught pilots and flight attendants air cabin crew safety (close-quarter combat) in response to the September 11th terrorism attacks. She is a Masters Hall of Fame inductee (2006), World Black Belt Martial Artist of the Month (2002), Argentina Martial Arts Hall of Fame inductee (2016) and Munich Hall of Honours inductee (2017). Michelle works as an MMA live ringside fight color commentator; host of the Masters Hall of Fame World News and Silk Warrior; and has been an athlete and professional Polynesian dancer. Michelle is the first woman Knight Commander ("Dame") of the Royal Order of Kamehameha I.
The First Super Hero Experience (S.H.E)  will take place on August 12th; 1:00 pm – 3:00 pm at the Sheraton Dallas Hotel in the San Antonio Ballroom B; in Downtown Dallas at 400 N Olive Street, Dallas, TX 75201.
This event is being hosted by Chamberlain Studios who wants to provide participants with greater awareness, assertiveness, verbal confrontation skills, safety strategies and physical techniques to help prevent, escape, resist and survive violent assaults.
For any type of media questions, please call Sabra Girard at SGPR, 469-688-4674, or email her at sabra@sg-pr.com