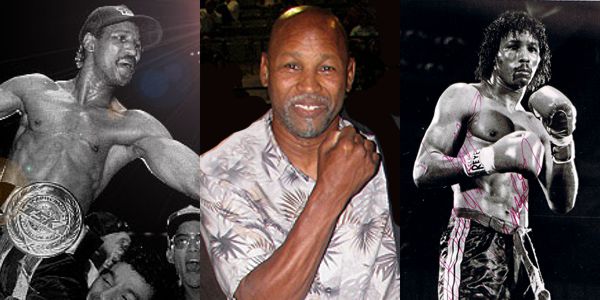 Cliff "Magic" Thomas started karate training in 1972 at the age of 14 under Robert Nava in El Paso, Texas. He earned his Black Belt in 1976. In 1979 he began full contact training with trainers Demitrius Havanas and Ishmael Robles and his boxing coach, Rocky Galarz.
Fights of note:
08/09/80 Defeated world champion Gordon Franks
01/24/81 Defeated highly ranked Richard Jackson (Retains World Title)
01/18/81 KO'ed Santa Fe's Gary Ortiz (Retains World Title)
07/24/81 Defeated Paul Vizzio on NBC SportsWorld (Retains World Title)
11/81    Losses to Paul Vizzio Madison Square Garden (Losses World Title)
05/31/82 Defeats Tony Lopez
08/14/82 Defeats Norris Williams Tko (Retains World Title)
11/27/82 Defeats Top ranked Tony Gutierrez
03/83    Losses to Tony Rosser El Paso Texas (Losses World Title)
08/27/83 Regains World Title in re-match with Tony Rosser becomes 3 time world champion
1984     Ko's Robert Visitation in 3
04/06/84 Defeats Tommy Williams becomes Lightwelter Weight World Champion, first and only person to hold world titles in two separate  divisions at same time.
08/25/84 Defeats Englands Nick McClellan
03/02/85 Defeats Kevin Hillhouse
06/08/85 KO's Gary Garner
10/02/85 Retains title with 4th round KO of Byron Robinson (Has now defeated 8 of top 10 in his division)
03/14/87 KO's Thomas Chesterfield in eight to become a five time champion.
08/13/88 KO's Eric Melton
10/08/88 Defeats Dave Johnston by TKO in 3rd round
05/25/02 Becomes 6 time world champion by defeating Thomas Downing to win vacant title.
09/29/02 Defeats New York's Michael Corleone knocking him down eight times to win another KICK World Championship
Fight record:
69 Wins
5 Losses
1 Draw
Cliff "Magic" Thomas has never been officially knocked out or knocked down.
Awards:
Kickboxer Magazine award
1980 Special Achievement Award
1985 El Paso Cliff Thomas Day Established
1994 El Paso Boxing Karate Hall of Fame
1999 El Paso Athletic Hall of Fame
2000 Texas Martial Arts Hall Of Fame
2004 World Karate Union Hall of Fame
Exceptional Achievement:
Kickboxing's first three-time world title-holder
four-time title-holder
five-time title-holder
six-time title-holder
seven-time world title-holder
Magazines And Publications Featuring Cliff Thomas
Sport Karate Magazine
Official Karate Magazine
Karate Illustrated Magazine
Inside Karate
Today USA
Today Fighting Stars Magazine
Stars And Stripes
New York Times
El Paso Times
El Paso Magazine
Ft. Worth Star Telegram
Books he is featured in:
Featured in Arthur Ashes book A Hard Road to Glory, about famous black athletes
The Original Martial Arts Encyclopedia
The Black Knight of Kickboxing, Magic, Magic, Magic by Thomas McKay, 2004.
Movies:
Lone Wolf McQuade starring Chuck Norris
Key Witness, Paper Dragons.
Cliff Thomas has also earned a fourth degree Black Belt in Chinese Kenpo Karate and a fifth degree Black Belt in Tae Kwon Do. His Sifu in Dallas is David Mason.
Cliff "Magic" Thomas 7 Time world champion from AB Karate, in El Paso, Texas shows us some of his most memorable knock outs!