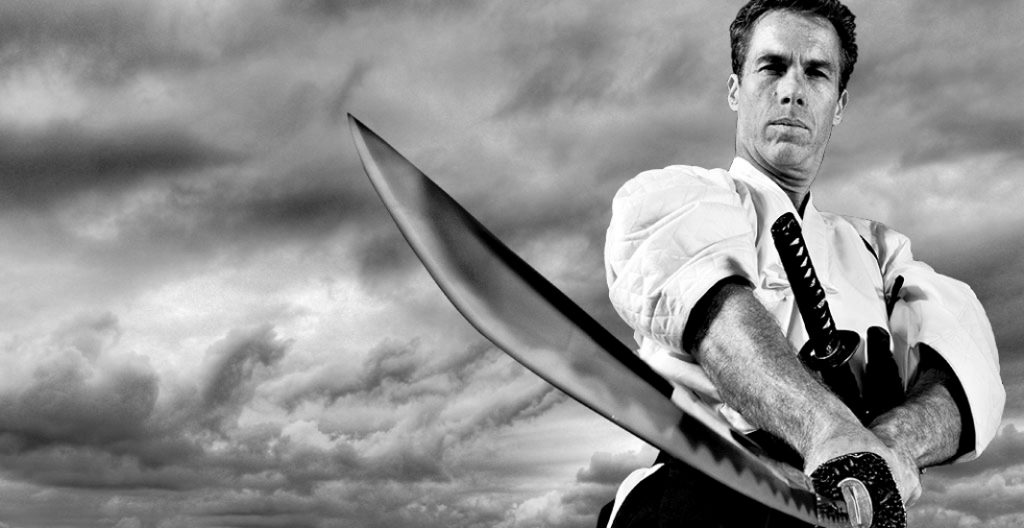 If Dana Abbott had been born in Japan 500 years ago, he'd have been a samurai. But since he was destined to see his first sunrise in San Francisco in 1956, he was forced to improvise. His solution was simple though arduous: to spend 25 years in pursuit of consummate skill in the Japanese martial arts. Not surprisingly, the modern-day warrior chose to specialize in the sword, and he's made it his mission to pass his skills on to others.
Before embarking on the Japanese phase of his life, Abbott graduated from Arizona State University with a bachelor's degree in science. Frequent run-ins with bullies prompted him to sign up for private lessons first in kenpo, then in taekwondo. Eight months later, he knocked down his instructor with a punch and was given the green light to start training in weapons. He was introduced to a plethora of traditional fighting implements, but the sword instantly became his favorite.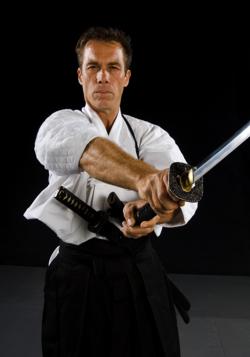 In 1983 Abbott made up his mind to relocate to the Land of the Rising Sun so he could learn directly under the masters. His bank account didn't see fit to allow the trip until 1985. The American's first experiences in Japan were rough, but it all began to fall into place when he enrolled at Nihon Taiiku Daigaku, a renowned physical-education martial arts university. The Spartan training he endured put him on a path to excellence, but it didn't come without innumerable lessons in humility, Japanese style.
After earning his Black Belt, Abbott spent more than a year traveling in Asia and Africa to further his martial arts knowledge. Along the way, he discovered just how deeply the skills and traditions of the martial arts are interwoven in the cultures and traditions of the world. Upon returning to Japan, he discovered that his stories and insights interested no one, so he resumed his martial arts studies and resigned himself to the fact that his prospects were limited to teaching kendo in schools or joining the police force. "Japanese police departments operate a bit differently," he says. "Half your time on duty is spent at your specialized task, and the other half you are practicing kendo so every month you can compete against all the other departments."
Dana Abbott found work at a local police station and continued his kendo. Over time, he racked up lots of experience, being the "pet American that could speak Japanese," he says. Because he read copiously to improve his language skills and stay informed, he kept running across references to chanbara, the Japanese equivalent to high-seas swashbuckling or Western gunslinging. It can involve many different weapons and configurations, but the most common version employs padded swords.
Abbott says he was drawn to chanbara because he enjoys fighting. He quickly discovered that his extensive training in kendo helped bridge any credibility gaps in culture or experience, and he rose rapidly through the ranks. In 1995 he was appointed international director for the All-Japan Goshindo Federation and the International Sports Chanbara Association, which represents more than 160,000 members in 30 countries.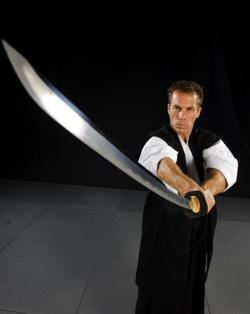 When he moved back to the United States in 1998, he was charged with spreading the teachings of chanbara and developing equipment that would meet American consumer standards. His prime tactic was to promote the use of foam swords that allowed students to begin weapons training much sooner than they would in a more traditional setting. He founded Samurai Sports Inc. to take his message to the masses.
Abbott is especially enthusiastic about the benefits bestowed by kendo and other forms of sword training because they cultivate the ability to focus, especially in children and teens who would normally be labeled as hyperactive. The full-speed format of his classes and clinics ensures that all students have fun while honing their skills and perfecting their character.
When he's not running Samurai Sports, Abbott serves as a spokesman for the United States Chanbara Federation. He recently penned a kenjutsu text titled The Samurai Sword (Introduction and Application). His headquarters is in Scottsdale, Arizona, but his commitment to his art keeps him on the road more than he's at home.
For his tireless efforts to spread chanbara, kendo and the samurai arts to a student base that might not otherwise have access to them, Black Belt is pleased to induct Dana Abbott into its Hall of Fame of Fame as 2004 Weapons Instructor of the Year.
(This profile originally appeared in the November 2005 issue of Black Belt.)
To find out more about Shihan Dana Abbott and the study of the Japanese sword on LearnTheSword.com visit his listing on the Martial Arts Schools & Businesses Directory by clicking on the image on the left.