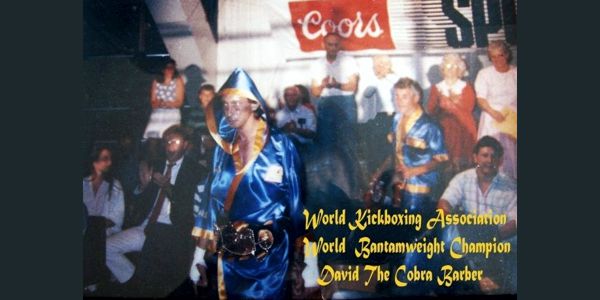 David Barber, known as Cobra, began his martial arts training when he was 5 years old and has been in the martial art for arts over 50 years. He began fighting tournament karate when he was young, entering many of the larger tournaments, winning some and losing some. His interests, because of his Mas Oyama background, was always full contact.
He began fighting amateur fights up and down the East Coast as early as 1971. He became a Professional fighter in the early 80's and he sky-rocketed through the top competitors. First, he won the WKA United States Featherweight Championship, then, after dropping weight, he started fighting Bantamweight and Superbantamweight divisions.
He won the WKA Bantamweight World Championship, the WKA Superbantamweight World Championship, the WAKA Bantamweight World Championships and the WAKA Superbantamweight world championship. He retired undisputed and undefeated, successfully defending the titles 32 times. He has a professional record of 66 wins 0 loses, and 54 wins by knockout.
David "Cobra" Barber is currently recognized by several organizations as a Grandmaster/Master in the martial arts, and he is the holder of Black Belts in six different styles of the Martial Arts.
He brought the World Karate Association to the East Coast in early 80's and quickly built the WKA to over 50 promoters and governing 11 states.