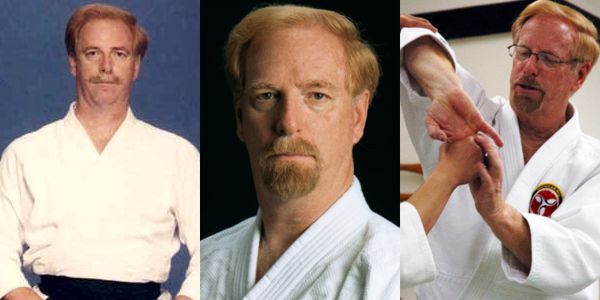 Sensei David Dye has been actively involved in the practice and teaching of martial arts for 50 years and is the Soke of Shuyokan Ryu. He holds black belts in the marital arts of Yoshinkan Aikido, Kodokan Judo – Jujitsu, Shotokan Karate Jutsu and Kaihewalu Hawaiian Lua. With 42 years of law enforcement experience, he served the community of Costa Mesa, California as a police officer for 34 years and taught 8 years as an Assistant Defensive Tactics Instructor at the Orange County Regional Sheriffs Academy. He was commissioned as an independent contractor and sent to Fort Bragg, NC, to train members of the U.S. Army Airborne Special Forces Division in techniques that would be used for both war time use and homeland security. He has appeared in numerous marital arts magazines, produced training DVD's, authored books and has been inducted into four martial arts halls of fame. He was given the nickname the "Samurai Cop" by his fellow officers upon his retirement from the police force.
David Dye Sensei began his martial arts training with the study of Kodokan Judo in Inglewood California in 1962 under the instruction of Sensei Treese. He paid for his lessons by coming to the dojo after school and cleaning the dojo and helping his instructor with teaching classes and public demonstrations.
In 1964 Dye Sensei moved to Costa Mesa, California where he began training with his second Judo instructor Sensei Earl Robbins. Dye Sensei continued his training and competition and was soon given a teaching position as a Judo instructor at the Boys Club.
While continuing his training in Judo, Dye Sensei started studying Shito-Ryu Karate in 1967 under Sensei Fumio Demura of the Japan Karate Federation in Santa Ana California. Dye Sensei would later go on to study Shotokan Karate in 1978 under one of his Boys Club Judo students and a long time student of Demura Sensei, Dan McGeough Sensei. He finally received his 1st Degree Black Belt in Shotokan Karate Jutsu in 1997 under Earl Treichel Sensei of the Coast Defensive Arts Center, in Huntington Beach, California. On January 25, 2002 Dye Sensei was awarded the rank of Sandan in Shotokan Karate Jutsu by Treichel Sensei.
In 1966 Dye Sensei became a Reserve Police Officer for the City of Costa Mesa, California. In 1967 he became a full time Costa Mesa Police Officer and retired in 1997 after serving 31 years. His assignments included Patrol, Desk Officer, Custody Officer, Court Liaison Officer, Investigation and Lead Staff Defensive Tactics Instructor for the department. After his retirement, he opted to stay on as a Senior Reserve Officer (from 1997 to 2000) so that he could continue to train officers in Officer Safety and Defensive Tactics. He has instructed over 300 officers on the use of the Orcutt Police Nunchaku and has testified as a court expert on the use of force.
Although Dye Sensei began his early study of Aikido around 1967 under the instruction of Ernie High Sensei, he began a serious study of Yoshinkan Aikido in 1978. In 1990 Dye Sensei was awarded his 3rd Degree Black Belt and Teaching Certificate from the founder of Yoshinkan Aikido, Soke Gozo Shioda. In 1998 Dye Sensei received his 4th Degree Black Belt in Yoshinkan Aikido from Shihan Sam Combes of the Kadokan. He has produced an 8 volume set of video tapes on the use of Yoshinkan Aikido techniques for law enforcement and has been featured on national television and in leading martial arts magazines.
In 1993 Dye Sensei was inducted into the World Martial Arts Hall Of Fame and received the Lifetime Achievement Award. In 1995 he was awarded an 8th Degree Black Belt in Aikido Taiho Jutsu by the World Martial Arts Sokeship Council. Recently, Dye Sensei was inducted into the Masters Hall of Fame 2000 and the World Head of Family Shokeship Council's Hall of Fame in 2001, where he received the Founder's Award.
Dye Sensei was awarded an 8th Degree Black Belt as a Technical Advisor to the Keisatsu Aikido of America Inc. by Shihan Sam Combes of the Kadokan in 1996.
In 1997 Dye Sensei was awarded an Honorary 10th Degree Black Belt as Technical Advisor to the Goshin Budokan U.S.A. under Founder and Headmaster Edward Wilkes, Doshu.
On April 7th, 2000, Dye Sensei was named Soke of Shuyokan and promoted to the rank of Judan in Shuyokan Ryu, by Olohe Solomon Kaihewalu and other high ranking black belt members of the World Professional Black Belt Martial Arts Organization.
Shuyokan has been serving the community of Costa Mesa since 1980 and offers group classes, seminars and private lessons for adults, youth and, law enforcement in both the traditional and practical training aspects of such martial arts as Yoshinkan Aikido, Kodokan Judo and Jujutsu and Shotokan Karate Jutsu.