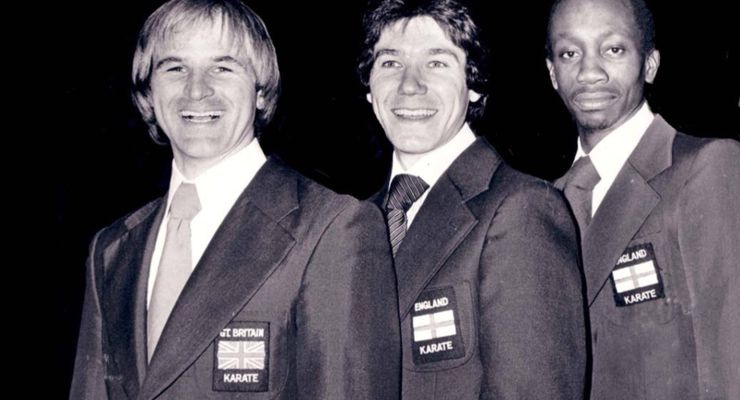 Born in 1947, David Ticky Donovan O.B.E., is a British karate competitor and coach. He was the coach and manager of both the British and English national karate teams from 1977 until he retired from that role in 2008. During his tenure as coach, Britain won numerous European and World championship team gold medals.
Ticky Donovan began training in karate in 1965, when he was 18 years old. His first instructor was Tatso Suzuki and he studied the style of Wado-Ryu at Clapham Common club. Ticky had already trained as a boxer and at first he found karate to be way too 'slow' for his liking and he was ready to quit after his first lesson. He changed his mind after seeing a dynamic demonstration from the legendary Tatsuo Suzuki himself, and become hooked immediately. Donovan stayed with Wado Ryu for over three years, training with Tatsuo Suzuki and Len Palmer.
Tatsuo Suzuki and Len Palmer parted company and Ticky's loyalties were split. Tatsuo Suzuk was a great instructor, but Len Palmer had helped Donovan in so many ways. Ticky Donovan stayed with Len Palmer, but never forgot Tatsuo Suzuki and the fundamentals he had been taught. When Hirokazu Kanazawa came from Japan, the group switched to training in Shotokan. Donovan continued to trained with Hirokazu Kanazawa and Keinosuke Enoeda but Kanazawa left and went to Germany and Enoeda went to Liverpool, and after Ticky Donovan broke a bone in his hand at the selections for the European Championships he gave up on karate training completely. It only took six months away from training and Donovan longed to get back into karate. He found the nearest karate club where a lot of his friends were training and he found the atmosphere electric. The school taught Kyokushinkai and Donovan trained in that style for nearly four years, taking his second Dan with Mas Oyama.
Ticky Donovan enjoyed his years of Kyokushinkai training, but once again splits came, and Donovan decided it was time to open his own dojo, and this would be the beginning of his Ishinryu style. Donovan met a Japanese Judoka while on holiday, and he came up with the name 'Ishinryu' meaning "everybody with one heart". Donovan asked if there was an Ishinryu style in Japan, and he was told no, and Ishinryu was born. It is important not to  confuse Donovan's style with the Okinawan Isshin-ryu karate system founded in 1956 by Tatsuo Shimabuku. Donovan's style has been recognized by The World Karate Federation.
At first, Donovan used 'Ishinryu' only as his club name, but inspired by the suggestion of Shūkōkai instructor, Shigeru Kimura, Ishinryu was incorporated as a style integrating  the arts previously studied by Donovan's which included Kyokushinkai, Wado-ryu and Shotokan.
The first Ishinryu club was formed in Dagenham, East London, England. Other clubs soon arose. Peter Dennis opened an Ishinryu club in Basildon, Will Verner opened in East Ham, and Tyrone White opened in Stratford. Fred Kidd, a well-respected friend of Ticky's who had previously trained with him in Kyokushinkai, was the administrator for Ishinryu in the early days.
The Ishinryu style has had significant competition success over the years and continues to be practiced at a number of UK clubs, as well as in Australia, Canada and New Zealand.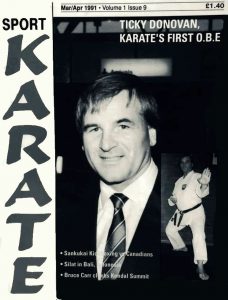 Ticky Donovan has been involved in British and English Karate as both a competitor and coach. As a competitor, he won British Championship titles in 1973, 1974 and 1975 and he was part of the team that won the World Championships in 1976. He then went on to coach the teams that won World Championships in Taipei in 1982, in Holland in 1984, in Australia in 1986, in Cairo in 1988 and in Mexico in 1990. His teams won five times, every other year, and this was unprecedented. Ticky Donovan coached many successful karateka including Juliette Toney and Gillian Toney, Wayne Otto, Greg Francis, Rory Daniels, Alton Brown, Natalie Williams just to name a few.
After his successful career, Ticky Donovan was awarded the OBE (Most Excellent Order of the British Empire) in 1991 for his service to karate. The England Karate Federation (EKF) awarded him the grade of 9th Dan in 2009. He currently holds a 10th Dan Black Belt and he is based in Loughton, Essex, GB.
On 28 March 2009, Karate England held a testimonial event for Ticky Donovan, which was attended by many senior karateka. This included Steve Arneil, Dave Hazard, Tyrone Whyte, and Aiden Trimble.
Ticky Donovan can be seen in Elvis Presley's film, New Gladiators (1973) along with Ed Parker, Benny Urquidez, Roy Kurban, John Natividad, Steve (Sanders) Muhammad, Emil Farkas, and Belgium's Geert Lemmens and many other fighting stars of the Golden Era of Karate in America in the mid 1970's.
Below is a link to an interview with Ticky Donovan, O.B.E., published in the English Karate Federation Newsletter in November 2008.