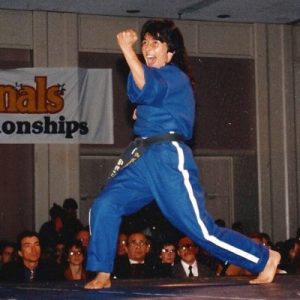 For 15 years, Elsa Cordero was involved in the martial arts as and instructor. She taught at the Jhoon Rhee Institute of TKD and later at Jeff Smith Karate.
She is a seven-time National and International Forms Champion and an Inductee of the Diamond National's Hall of Fame who would eventually co-owned three martial arts schools in the Washington Metropolitan area, Power Kix Karate.
Elsa Cordero has earned her Masters in Traditional Chinese Medicine and she is a regular is a regular contributor to NAPMA's Maximum Impact Program.
Outside of the martial arts, Elsa Cordero has been creating web sites for small businesses, and serving as a Quality Assurance Tester for larger web sites, since 1999. She studied web site design and completed her Master of Business Administration in 2003.