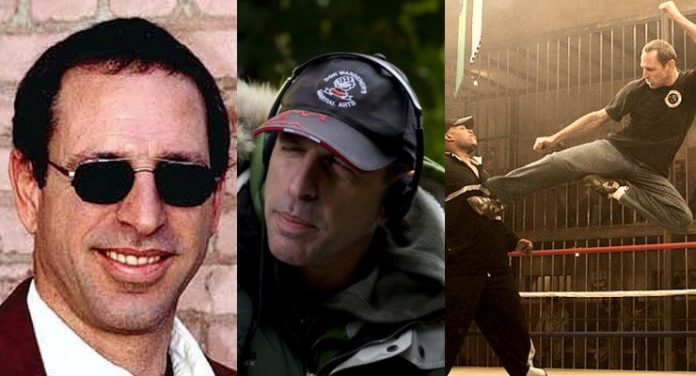 Isaac Florentine Martial Arts
In 1972, Isaac Florentine began his career in the Martial Arts in Tel Aviv Israel. He first trained in Judo and then Karate. His first instructor, Gideon Kadari, taught Judo and Kyokushinkai Karate. In 1973 a Shito ryu stylist, Hiroshi Korihara replaced Kadari. In 1975, Hiroshi Korihara's dojo had a visitor from Sweden that changed the way Karate was perceived by Hiroshi and his students. That man was Sensei Tamas Weber, a high ranking Shito ryu (Sankukai-Shukokai) Karateka. Weber was an ex-captain in the French Foreign Legion and a decorated hero of the Algerian war. For Sensei Weber, Karate was about efficiency in close combat.
In 1976 Hiroshi sensei went back to Japan and was replaced by an instructor that studied in Tokyo under Master Gogen Yamaguchi's Karate College and in Mejiro Gym. Isaac and the other dojo practitioners were taught a blend of Goju Kai and the Japanese version of Muay Thai. After a few months Isaac was drafted to a three years mandatory service in Israel's Defense Army (IDF). While stationed in the port city of Haifa, Isaac joined a newly opened dojo with instructor Arie Berco, who was a student of Tamas Weber. Berco had just returned to Israel after living in Sweden. Isaac Florentine now had the opportunity to train almost religiously, and he was the first person to be tested and promoted to first Dan in Israel by Tamas Weber. this took place in July 1979.
Isaac Florentine started instructing Karate in 1978, while he was still in the Army. At first he taught cadets in the Air Force Technical School, then after completing his military service he started teaching at his former high school in Tel Aviv. Soon after he opened his first dojo, located at a major sport association building. The room Isaac was given was last used by the Israeli Olympic team that was murdered by Terrorists during the infamous 1972 Munich Olympic Games. This was Isaac's main dojo until he left Israel to go to the United States ten years later.
In 1980 Isaac Florentine went to Stockholm Sweden to train under Tamas Weber. After a few month of training Isaac returned to Israel and turned his dojo into a professionally run school. Going into a partnership with his good friend and fellow Karateka Yossi Sechnovitz, their school flourished, and soon they were running three dojos. In 1983 Isaac became the chief instructor of the association supervising twelve affiliated dojos all over Israel. Their dojos ran training camps, conducted seminars, participated in and organized national and international competitions, (winning in some). Isaac Florentine received a Self Defense instructor's license, based on Krav Maga from the Israeli National Sport Institute and became one of the directors of the Israeli Karate Federation, conducting self defense courses.
In the late 1980's, Isaac Florentine appeared in Israel's main stream media: TV, radio, national newspapers and magazines, helping to spread Karate's popularity. He became the technical editor to the sole martial art magazine published in Israel In 1987.
It had always been Isaac Florentine's dream to become a film director and he moved to America to pursue that dream. He stopped teaching Karate but kept on practicing as regularly as possible. In 1999 he created Rising Sun Productions with Canadian veteran karateka Don Warrener. The company's activity in producing and distributing martial art videos, gave Isaac a rare opportunity to meet and get an inside look at well known Instructors like Fumio Demura, Hisataka Nishiyama, Ray Dalke, Saksan Janjira, Bill Wallace and others, allowing Isaac to absorb whatever knowledge he could, and keeping it in line with the Spirit of Karate as defined by Gichin Funakoshi: " The ultimate aim of Karate does not lies in victory or defeat but in the perfection of character".