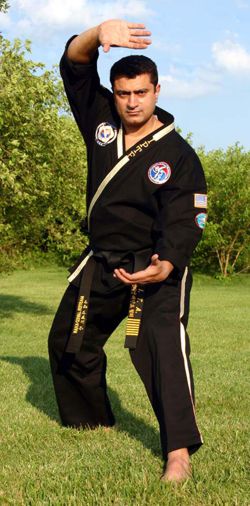 Grandmaster Javed Khan is the founder of The International Progressive Taekwondo Federation or the IPTF and the creator of Khan Do Kwan. He has over forty years of experience in martial arts and he has founded and created numerous self defense programs, including LEAD© or Law Enforcement Close Combatives and WARDA© or Women Against Rape & Domestic Abuse.
Beyond his experience in martial arts, he is a police officer, community service specialist, Indiana LETB instructor, ILEETA instructor, member of the National Tactical Officers Association (USA) and more.
Grandmaster Javed Khan has trained military personnel, police officers, film stars and models. He has produced several world, national and international champions. He has trained and promoted thousands of black belts around the world. His passion for teaching and his love for fighting arts are limitless. He continues to learn and grow as a martial arts enthusiast and feels that strength, virtue, and honor are the building blocks of character.
Taekwondo Team For Taekwondo Team At Leciester, England.
Teaching Taekwondo Since 1983
Developer & Creator Of W.A.R.D.A.™
Women Against Rape And Domestic Abuse™ Federation
introduced Kickboxing To India In 1986
Creator And Designer Of Lead© Law Enforcement Action Defense©, A Complete Program In Police Defensive Tactics
Acted And Directed Action In The Indian (Hindi) Film Industry
General Manager Of The Super8 Motel In Carlisle, Indiana, Usa Since 2001
Special Deputy/ Corrections Officer For The Sheriff'S Dept, Sullivan County Indiana
Srt/Swat Team Unit Member For Sullivan County Sheriff's Dept
Achievements:
1986 – 3rd Place At Los Angeles Open Martial Arts Championships- La, Usa.
1987 – 1st Place At 3 Nation Kickboxing Championships (Inda-pak-uae) At Dubai, Uae.
1988 – 1st Place At The India-pakistan Kickboxing Series At Karachi, Hyderabad, Lahore, Pakistan.
1988 – Captain & Coach Of The Indian Kickboxing Team For Saddam International Full Contact Championships At Baghdad, Iraq.
1988 – Captain And Coach For Indian Taekwondo Team For Taekwondo Team At Leciester, England.
1991 – Made A World Record By Smashing 500, 1-inch Thick Wood Boards In 59 Minutes. Bombay, India.
1995 – Made A World Record & Broke Previous Record By Breaking 2000 Roofing Tiles In 5 Minutes 37 Seconds. Bombay, India.
1995 – Developed And Introduced In India A New Workout Program For Fitness "Kick-aerobix" Based On The Martial Arts.
1995 – Introduced A Practical Self Defense Program For Women In Real Life Threatening Situations. Warda© Women Against Rape And Domestic Abuse©
1998 – Coached Indian Kickboxing Team For International Kickboxing Championships At Dacca