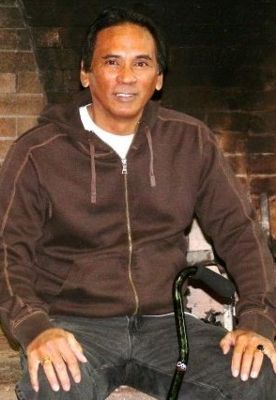 Professor John Pagdilao was born in Honolulu, Hawaii. He began his martial arts career in 1959 at the age of 10; he enrolled in the Ewa Judo Club under Sensei Nobur Sato. In 1961 he studied Karate with his uncle Philip Caurisma at the same time he enrolled in the Kenchu Kun Karate Club in Kalihi, under chief instructor Steven Malagues.
In 1966 Professor John Pagdilao attained his Black Belt in Judo from the Ewa Judo Club in the same year he attained this Black Belt from the Kenchu kun Karate. In 1966 he enroll in the Ewa Kenpo Karate Club, under Professor Haime Abregana. In 1967 he was recognized by Professor Haime Abregana, as a Black Belt Instructor in the art of Kenpo Karate. Professor Pagdilao left the Ewa Kenpo Karate Club, for the tournament circuit.
From 1966-1979 Professor John Pagdilao was very active in all forms of tournaments here and abroad. In 1967 Professor Pagdilao opened his own karate school in Iroquois Pt. Navy housing and in the same year open branches at Ewa and Ewa Beach.
In 1971 he became affiliated with the Shirotaka Karate Club under Chief Instructor Alex Cadang, to conduct classes at Makakilo and Waianae to build a tournament team. In 1973 Professor John Pagdilao received his Chief Instructorship from Grandmaster Marcus Lim of the Kenchu Kun Karate Club, and was also received recognition as a Chief Instructor from the Shirotaka Karate Association. In 1974 he left the Shirotaka Karate Club to spend more time with his own karate schools and build his Fighting Team.
In 1986 Professor John Pagdilao was reunited with the Ewa Kenpo Karate Club, but this time working with Professor Jaime Abregana Jr., the son of Grandmaster Haime Abregana Sr. At this time Professor Jaime Abregana was promoting professional Kick Boxing sanctioned by the World Karate Association and The Karate International Council of Kickboxing. Professor Pagdilao and his Kickboxing Team supported Professor Abregana's with his Kickboxing promotion for the next 3 years.
In 1996 after 37 years in the martial arts Professor John Pagdilao received his Professorship, from the Abregana Self-Defense Institute under Professor Jaime Abregana Jr.
Professor John Pagdilao is one of the co-founders of the Hawaii Kenpo Jujitsu Society and served as President.