Master Jose Torres began training in the Korean martial art of Tang Soo Do thirty-six years ago in 1982 under Master William Hamilton, receiving his 1st Dan Tang Soo Do Black Belt in September 1989.
Furthering his martial arts knowledge Master Torres began training in Tae Kwon Do in 1991. In April 2001 he received his 4th Dan Black Belt Certified Tang Soo Do/ Tae Kwon Do from the World Black Belt Bureau- Grandmaster Kang Rhee and in April 2002 received his 4th Dan Black Belt AAU Tae Kwon Do. Grandmaster Ho Sik Pak, founder of the Hwa Rang Tang Soo Do Federation, issued Master Torres his Sa Bom/Master Certification in November 2006 and his 6th Dan Tang Soo Do Black Belt in October 2010.
Master Jose Torres opened his first martial arts school, Team Torres Martial Arts, in Edgewater Park, NJ in December 2000 and opened his second Team Torres location in Burlington Township in January 2006, instructing children beginning at the age of 3 years to adults well into their 70's. His passion for teaching children combined with his love of martial arts led him to establishing several after-school programs, including programs in the Edgewater Park School System in 2003, Wee Kids Early Learning Center-Childrens Tot Program in 2005, and the Greenburg Academy in 2008, all of which continue to exist today.
One of the biggest accomplishments and contributions to the martial arts by Master Jose Torres career is his founding of the North American Federation of Martial Arts in 2005, an organization whose members and tournament circuit have grown and become as recognized as the powerhouse organizations of NASKA and the NBL. Today NAFMA has over 2,500 competitors and 250 martial arts schools from various styles of martial arts, including Tang Soo Do, Tae Kwon Do, Kung Fu, Kenpo and Tai-Chi to name a few. Furthermore, in 2006 Mater Torres began the North American Hall of Fame and most recently in September 2010 founded the MAX Radio Show – Martial Arts Xperience on WIFI 1460 AM.
For the last 14 years Master Jose Torres has been a key promoter of Domestic and International Martial Arts Events in New Jersey, New York, Pennsylvania, Ohio, Florida, as well as the countries of Canada and Trinidad. He has hosted events in the Taj Mahaj Casino, Spectrum in Philadelphia, Valley Forge Convention Center, Philadelphia Convention Center, and Sheraton Resorts in Florida and NJ. Most notably Master Torres became the first ever martial arts promoter to host a fighting competition in the Wachovia Center (now known as Wells Fargo Center) in March 2009; preceding the UFC event at the arena six months later in August of 2009.
In March 2010 Master Jose Torres was selected as Tae Kwon Do Director for Governor Arnold Schwarzenegger – Arnold Sports Festival March 2010 in Columbus Ohio and in August 2010 was chosen as Tournament Director for USA Tae Kwon Do to host the 2011 Junior Olympic and National Qualifier for NJ.
Master Jose Torres was selected as one of only 6 Tang Soo Do Masters from the United States to attend the 2012 World Tang Soo Do General Federation Forum in Seoul, Korea. Forum hosted over 30 masters from around the world. Master Torres was selected among 5 other masters to test in Korea in front of the esteemed Grandmasters board. Master Torres was successful and was promoted to 7th Dan.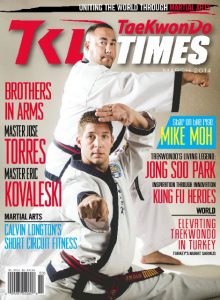 Tae Kwon Do Times Magazine featured Master Jose Torres on the cover of its March 2013 Magazine with Master Eric Kovaleski from Dixon City, Pennsylvania.
In August of 2014, Master Torres opened Team Torres Lambertville in the beautiful town of Lambertville, New Jersey.
Throughout his 30 plus years in the martial arts Master Jose Torres has received a staggering amount of Commendations and Proclamations, made great achievements in competition and been inducted into several Halls of Fame, some of which are listed below:
Commendations /Proclamations:
• Proclamation- Edgewater Park Township- Junior Olympic Gold Medal Winner- 1996
• Meritorius Commendation- Hwa Rang Tang Soo Do Federation- Grand Master Ho Sik Pak- March 2005 and May 2006
Competition Achievements-
• Competed in Over 200 martial arts tournaments with 145 1st place finishes Highlighted Victories
• 1994 & 1995- NJ State Martial Arts Champion- Gloucester County College
• 1996- 16th Junior Olympic Tae Kwon Do Championships-Orlando, Florida- Gold and Bronze Medalist
• 2004- Martial Arts World Games- Athens Greece- 3time Gold Medalist
• 2004- National Points Champion- US Martial Arts Alliance
Hall of Fame Inductions
• 2001- Outstanding Law Enforcement Instructor
Presented by- United States Martial Arts Association
• 2002- Most Superior Organization
Presented by- USA Hall of Fame
• 2003- Instructor of the Year- Tae Kwon Do
Presented by- USA Hall of Fame
• 2005- Outstanding Contributions in the Martial Arts
Presented by- Action Martial Arts Magazine
Master Torres received his Bachelor of Science- Kinesiology from Pennsylvania State University in December 2000. He resides in Edgewater Park, NJ with his wife and three sons.
To contact Master Jose Torres and Team Torres Martial Arts school, visit their listing on the Martial Arts Schools and Businesses Directory by clicking on their member badge on the left.