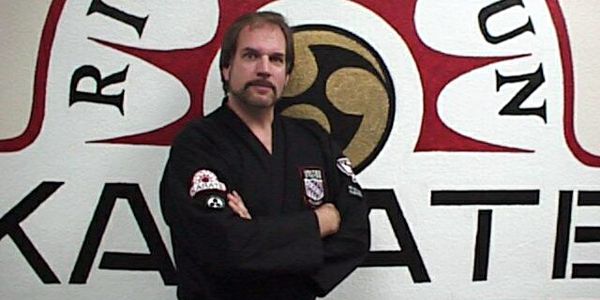 Actor Tom Cruise was The Last Samurai in Hollywood, but one Scottsdale resident might have earned the title of the First Samurai, at least in America.
Tim VanDenover, 47, director and main instructor at Rising Sun Karate in Scottsdale, recently was inducted into the Martial Arts Hall of Fame by Action Martial Arts magazine for pioneering a form of Japanese sword fighting called chanbara.
"It's the ultimate game of physical chess," VanDenover said. "It's full contact weaponry, and no one gets hurt."
Although students do eventually use real swords, much of the training and fighting is done using foam swords that VanDenover manufactures himself.
While at a tournament in 1998, Tim VanDenover watched a performance of chanbara and saw that it could be developed for a wider group of people.
"I saw potential for it to grow," he said. "I saw something new and exciting that anyone can do."
Anyone is right. Tim VanDenover's students range in age from 4 to older than 60 and come from varying walks of life.
Barbara Miller, a 39-year-old Scottsdale resident and artist, has trained with VanDenover for four years. She became interested when her children began taking lessons.
"Tim can relate to all of his students," she said. "He's unique. He can teach little kids, and they all have fun together."
Miller likes the discipline, control of her body and self-awareness that karate helps her learn.
"There are a lot of nice people here," she said. "You want to keep coming back."
VanDenover discovered karate as a teenager when his parents let him choose a summer activity at the YMCA. He chose karate and never looked back.
"I did my first class, and I was stuck," he said.
It wasn't long before VanDenover found satisfaction in teaching his newfound love to others. By his senior year in high school, he was teaching his peers in his school's karate club, as well as teaching for his own instructor when he still was a brown belt.
It's no mystery why VanDenover followed his dream to open his own karate school.
"It's not the money," he said. The rates for a month of lessons at Rising Sun Karate start as low as .
"It's seeing the growth in students. It's seeing them come in with no skills and turning them into world champions."
He said some of his most memorable moments were watching his students win national and world championships.
Nikki Wilder, a fifth-grader at Anasazi Elementary School in Scottsdale, has won numerous awards, including first place at the Grand Canyon State Games.
"He (VanDenover) really cooperates with us," said Nikki, who has trained with VanDenover for five years.
She likes that karate offers her an opportunity to "learn something new and different," which is a point echoed by VanDenover on the changes that have occurred in karate since he started.
"You can't do today what you did then," he said. "We'd practice one stance per class. If you did that today, you'd have one student."
Because of this, he keeps his instruction varied. For example, his chanbara students will play fake wars, mimicking a battlefield. If a student gets hit in the arm, the arm is lost. If he gets hit in a vital part of the body, he dies and is out for the rest of the battle.
"Adults turn into kids when they get swords," VanDenover said, smiling. "Having fun is most important. We want them to come back."
By Dennis Mitchell – Special for the Scottsdale Republic ~ SCOTTSDALE
Dennis Mitchell is a correspondent for the Scottsdale Republic.