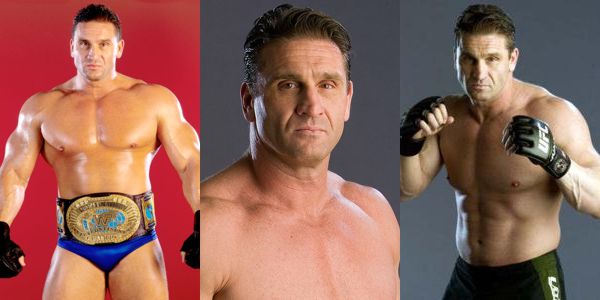 Ken Shamrock was born on February 11, 1964. He is one of the most widely recognized MMA fighters in the world. He is a legendary American Mixed Martial Arts fighter and former professional wrestler. Ken Shamrock is best known for his participation in the Ultimate Fighting Championships, Pride Fighting Championships the World Wrestling Federation, Total Nonstop Wrestling Action and Pancrase. No other fighter possesses the credentials that has rightfully earned him the title of "The World's Most Dangerous Man".
Elected UFC Hall Of Fame 2003
Four Time UFC Heavyweight Champion
First UFC Superfight Heavyweight Champion
First Pancrase Heavyweight World Champion
WWF Intercontinental Champion
WWF World Tag Team Champion
Four Time Tough Man Champion
TNA World Heavyweight Champion
King of the Ring Champion
Pride Superfight Heavyweight Champion
Shamrock is currently a subject matter expert in the Marine Corps Martial Arts Program (MCMAP).
He has written two books, Inside the Lion's Den and Beyond the Lion's Den.
Ken Shamrock founded the Lion's Den, a fight camp dedicated to the training of mixed martial arts fighters. Many Lion's Den fighters have achieved success in mixed martial arts. Others have become legends in their own right. Ken was also given the opportunity to coach the Nevada Lion's through the International Fight League.
In addition to his mixed martial arts career, Shamrock was a successful professional wrestler, with the World Wrestling Federation and Total Nonstop Action Wrestling. He is a one-time NWA World Heavyweight Champion, one-time WWF Intercontinental Champion, one-time WWF Tag Team Champion, and the 1998 WWF King of the Ring. World Wrestling Entertainment (formerly the World Wrestling Federation) credited Shamrock for popularizing the ankle lock (later used by fellow professional wrestling world champions Kurt Angle and Jack Swagger), which was named by the organization as the second best submission hold in its history.
Ken Shamrock and Royce Gracie are considered to have the first UFC Rivalry. They were final opponents in UFC 1. This fight was controversial as Shamrock became entangled in Gracie's gi when he went to attempt a heel hook and this pulled Gracie on top of him. Gracie was then able to secure a gi choke. Shamrock tapped out but this went unnoticed by the referee who told them to continue when Gracie released the choke. Shamrock declined to proceed and acknowledged that he had tapped out. Gracie went on to the finals.
In UFC 3, Shamrock advanced to the finals, beating Christopher Leininger by tapout and beat Felix Mitchell by tapout.  Expecting to fight Royce Gracie, Shamrock would not fight in the finals when he learned that Gracie had dropped out of the tournament. He had worked to fight Gracie and nothing else mattered to Shamrock.
At UFC 5, Ken got his rematch with Royce Gracie, but UFC destroyed Shamrocks plans when they made a rule change that put a 30 minute limited on the fight.
Shamrock said, "I didn't want to just go out there and beat Royce," said Shamrock. "I wanted to shut down his whole bragging system, which was, 'We're in better condition, our skills are better and we can beat anybody, anywhere, anytime'. My whole strategy going in was to wear him out, make him dog-assed tired to where he could hardly stand. I was going to beat him…beat on his ribs, slowly break him down and then treat him like a baby."
Shamrock and Gracie fought for the entire 30 minutes and with 5 minutes of overtime before the match was declared a draw as this fight ha no judges. The fight ended in a draw, but most people watching the fight felt that, if the UFC at the time had ringside judges, Ken Shamrock would have won the decision with ease. Many people viewed this fight as a dull match with little action, but Shamrock earned a great deal of respect for this performance, as back in those days, the Gracie guard was a mythical death trap and Ken Shamrock became the first person to ever neutralize Royce Gracie's jiu jitsu attack.
Ken was to fight Dan Severn in UFC 6 and Shamrock proceeded to win the fight quickly and easily by choking Severn out in 2:14 to win the UFC Superfight Championship.
At UFC 7, Shamrock successfully defended the UFC Superfight title against UFC 6 Tournament Champion "The Russian Bear" Oleg Taktarov.
At UFC 8, Shamrock then defended his belt against Kimo Leopoldo, in front of more than 13,000  fans in Puerto Rico. To win this fignt, Shamrock secured a kneebar, forcing Kimo to pound the mat in submission.
At UF 9, Ken faced a rematch with Dan Severn and won again by guillotine choke in 2:14. This was a major event for Shamrock as he would be the first mixed martial artists to be featured on the cover of a major sports magazine and he was on the largest, Sports Illustrated magazine! This event was almost canceled as the Michigan District Attorney wanted to prevent the UFC from taking place in Michigan. The fight could proceed as long as there were no closed fisted strikes to the head and no headbutts. Shamrock wanted to drop out, but was convinced to fight. Shamrock and Severn danced around each other for 30 minutes until finally Severn shot for an unsuccessful  takedown and Shamrock got full mount but could not do anything but open strike to Severn's head and closed fist to the body. After 5 minutes of this Severn gave Shamrock his back and reversed Shamrock to a full guard. Then, breaking the rules, Severn landed a head butt opening a cut above Shamrocks eye and used closed fist strikes. Eventually the fighters came back to their feed, but the fight went to decision and a split decision was the outcome.
Shamrock came back for UFC's Ultimate Ultimate 96. He demolished Brian Johnston, but rebroke his wrist that had kept him out of UFC 2 and he had to withdraw from the tournament.
After UFC 9, Shamrock signed with the World Wrestling Federation, leaving MMA for pro-wrestling while he was at the top of his game.
He returned to MMA after a 4 year hiatus from WWF and fought with Pride Fighting Championships. He defeated Alexander Otsuka by TKO due to punches at the Pride Grand Prix 2000 Finals in the superfight. This was the first Pride to be broadcast in America.
In Pride 10, Shamrock dominated Kazuyuki Fujita, but eventually the fight was called when Shamrock thought he was having a heart attack. He was going through a divorce and the stress was getting to him.
In Pride 19, the last great fight of Ken Shamrock career he fought Don Frye with whom he had a standing feud due to what he felt was constant trash talking by Frye. Shamrock lost by split decision even though he had gotten several leglocks on Frye, who refused to tap and Frye got his knees and ankles ruined in the fight.
Shamrock finally returned to the cage at UFC 40 to fight disrespectful Tito Ortiz. in a title match for the UFC Light Heavyweight Championship in one of the biggest and most important fights in UFC history. The hype around this fight was incredible and the fight sold out, possibly saving the UFC from bankruptcy.
Shamrock nearly scored a knockout early in round 1, rocking Ortiz with a punch and dropping him to one knee. However, Ortiz recovered shortly and went on to dominate the fight with takedowns and ground and pound. Ortiz easily scored takedowns numerous times throughout the fight. Ken Shamrock still provided excitement for the crowd at the end of rounds 2 and 3 by dramatically scrambling to his feet after being dominated from his back, but Ken was unable to mount any significant offense after getting up. Before Round 4 started, Shamrock's cornerman threw in the towel and Ortiz successfully defended the UFC light heavyweight championship.
After the fight was over, Shamrock revealed that he fought Ortiz with a serious knee injury (a torn ACL). Bruce Buffer has said on various occasions that this fight was one of the greatest fights he has ever seen and that the energy from the crowd that night was one of the greatest feelings he has ever experienced.
On November 21, 2003, at UFC 45, Royce Gracie and Ken Shamrock became the first inductees to the UFC Hall of Fame. The event celebrated the 10th anniversary of the UFC. UFC President Dana White said; "We feel that no two individuals are more deserving than Royce and Ken to be the charter members. Their contributions to our sport, both inside and outside the Octagon, may never be equaled."
After a two year layoff to recover from ACL surgery, a 40 year old Shamrock returned to fight 244 lb. Kimo Leopoldo at UFC 48 in a rematch of the UFC 8 Superfight Championship match. Shamrock won the bout in the first round by KO via knee to the head.
April 9, 2005, was a turning point in Ken Shamrock's career and his future in mixed martial arts. Facing future UFC Middleweight Champion Rich Franklin in the main light heavyweight event on the popular reality series The Ultimate Fighter finale. This event was monumental as it was the first time in UFC history that UFC appeared on basic cable Television. Shamrock got a heel hook early in the fight and Franklin ended up on crutches for a week, but Franklin escaped and defeated Shamrock by a TKO in the first round after taking advantage of a slip by Shamrock while Shamrock was executing a high kick. At 41 years old, this was the first time in Shamrock's career that he had ever been knocked out in a mixed martial arts fight. Franklin's win over Shamrock launched Franklin into UFC stardom and established him as one of UFC's biggest stars.
On October 24, 2005, Shamrock lost by TKO to MMA legend Kazushi "The Gracie Hunter" Sakuraba in Pride: Fully Loaded. The stoppage of thjis fight was controversial because Shamrock got up and protested to the referee, showing no signs of any damage. There was also a feeling that PRIDE was heavily biased in favor of the Japanese legend Sakuraba. Frank Shamrock commented on the stoppage in an interview with the site Sherdog.com: "…if you're sleeping with your head through the second rope, you're in a bad way. He got clocked. He went down. According to the rules he was no longer defending himself and that's the end of the fight."
Dana White announced on November 19, 2005 at UFC 56, that Shamrock would be one of the coaches (along with Tito Ortiz) for the upcoming third season of The Ultimate Fighter.