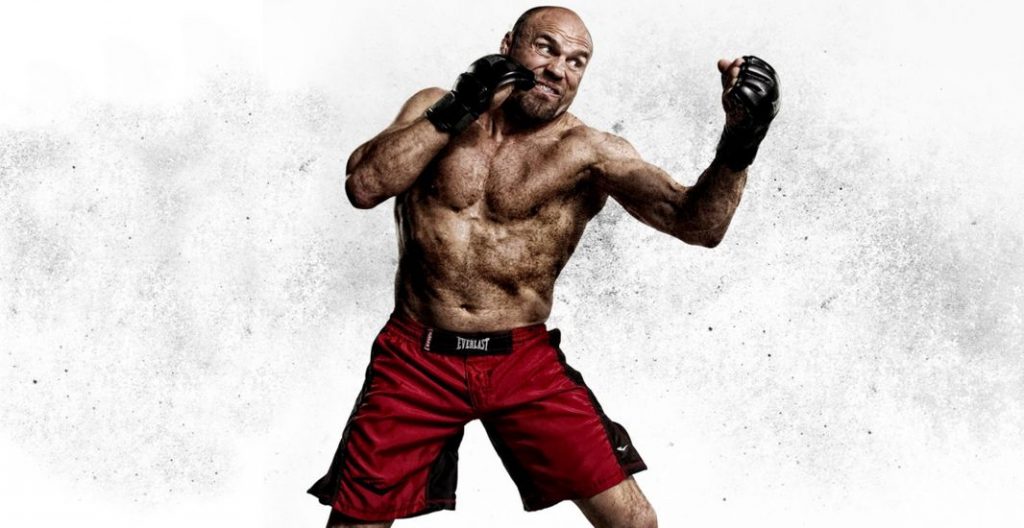 Randy Couture was born on June 22, 1963. He is mixed martial artist, Greco-Roman wrestler, and former collegiate wrestler who has taken up acting. Randy is one of only two MMA fighters to have held a championship title in two different divisions, heavyweight and light heavyweight, while fighting in the Ultimate Fighting Championship (UFC). BJ Penn is the other. Couture is also the only five-time champion in UFC history He has earned the nicknames "The Natural" and, later, "Captain America". Randy couture is considered by many to be the most popular MMA fighter in history, and is a member of the UFC Hall of Fame.
As an Olympic wrestler alternate, an assistant wrestling coach and a strength and conditioning coach for Oregon State University, Couture has lived in Corvallis, Oregon throughout much of his career. He strated Team Quest with Matt Lindland and Dan Henderson, a training camp for fighters, based out of Gresham, Oregon. Team Quest is headed by coach Robert Folis. In 2005, Couture open Xtreme Couture in Las Vegas Nevada and he has his own chain of gyms under the same name. He also has Extrteme Couture gym locations in Vancouver, Washington; Wellington, Florida; Lombard, Illinois; and most recently Independence, Missouri. He trains at his Las Vegas-based gym. Randy and Bas Rutten partnered to the opening Legends Gym in Hollywood, California.
Randy "The Natural" Duane Couture is generally recognized as a clinch and ground-and-pound fighter, utilizing his wrestling ability to execute take downs, establish top position, and successively strike his opponent on the bottom. Couture is also skilled in boxing, Muay Thai and Brazilian Jiu-Jitsu, submitting two opponents using different chokeholds. Randy is the only athlete in UFC history to win a championship after becoming a Hall of Fame member.
From 1982 to 1988 Couture served in the U.S. Army. Before his discharge he was a three-time Olympic team alternate, 1988, 1992 and 1996. He was a semifinalist at the 2000 Olympic Trials and a three-time National Collegiate Athletic Association (NCAA) Division-I All-American and a two-time NCAA Division-I runner-up at Oklahoma State University. In 1992 he was the Division-1 runner up at 190 pounds coming in second after Mark Kerr.
On May 1997 Randy Couture first appeared in the UFC as part of UFC 13: The Ultimate Force. The event consisted of two four-man tournaments: one in the lightweight, under 200 lb, division and one in the heavyweight, 200 lb and over division. Couture fought in the heavyweight tournament, and won, defeating Tony Halme and Steven Graham in the process. His next match was an elimination bout for the heavyweight title against the young Brazilian "Phenom", Vitor Belfort, who at the time was on a four fight winning streak. Couture scored a TKO victory in what UFC announcer Bruce Beck described as "a stunning upset."
In 1997, Couture won his first heavyweight title via decision in a match against kickboxer Maurice Smith. Shortly after Randy was stripped of the title when he could not come to contractual agreement with the UFC and its parent company at the time, Semaphore Entertainment Group. After leaving the UFC, Couture signed with the RINGS organization, a fightsport promotion primarily based out of Japan, but his participation in RINGS was short-lived.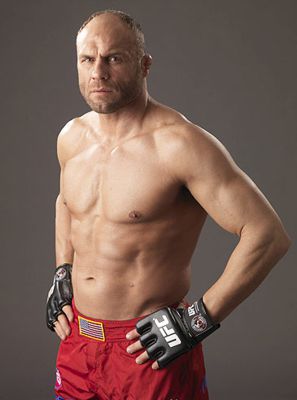 In November 17 of 2000, Couture returned to UFC 28 to recapture the heavyweight title from Kevin Randleman. Throughout 2001, Randy defended his heavyweight title two times against the Brazilian heavyweight contender Pedro Rizzo. After defeating Rizzo, Randy went on to lose the heavyweight title at UFC 36 (2002) in a fight against Josh Barnett, who won via TKO in the 2nd round. After the fight, Barnett tested positive for anabolic steroids and was subsequently stripped of his title. With the heavyweight title vacant, Couture fought Ricco Rodriguez, at UFC 39, for the title. Couture initially controlled the fight and was arguably on his way to a decision win, but eventually suffered a TKO loss in the 5th round.
Randy had two consecutive losses in the heavyweight division to larger opponents, Rodriguez, and Barnett, who both outweighed Couture by more than 30 lbs. Couture then moved down a weight class to fight at 205 lbs in the UFC's light heavyweight division. In his light heavyweight debut, Couture took on long-time number one contender Chuck Liddell for the interim light heavyweight championship. Randy won by TKO in the third round, and became the only UFC competitor to win championship titles in two weight classes. Randy earned his nickname "Captain America". In 2008 B. J. Penn also won championships in two weight classes. Randy's next match was billed as a "Champion vs. Champion" were Couture faced the five-time defending champion Tito Ortiz for the undisputed light heavyweight title. At the age of 40, Couture won a unanimous decision and became the undisputed UFC light heavyweight champion.
On April 16, 2005, Couture suffered the first knockout loss of his career, and lost his title and in a rematch with Chuck Liddell. Couture came back in August with a win over Mike Van Arsdale to re-establish himself as a top contender. Randy then faced Liddell again for the third and final time in a championship match on February 4, 2006 at UFC 57. Couture did not succeed, and was knocked out in the second round. Right after the fight, Randy announced his retirement from the sport.
On June 24, 2006, during The Ultimate Fighter 3 finale, which was broadcast live on Spike TV, Couture joined Royce Gracie, Dan Severn, and Ken Shamrock to became the fourth fighter to be inducted into the UFC Hall of Fame.
After retiring from the professional fighting circuit, Couture appeared at UFC events as a regular broadcast commentator and as co-host of "Before/After The Bell" on The Fight Network. He also appeared in the Rob Schneider comedy Big Stan, along with fellow mixed martial artists Don Frye and Bob Sapp.
On November 17, 2006, Couture decided to return to competition and he faced Brazilian Jiu-Jitsu champion Ronaldo "Jacare" Souza in a submission wrestling match. The bout ended in a draw.
On January 25, 2007, Couture was featured on the season two premier of Spike TV's reality show "Pros vs. Joes". His teammates on the episode were Michael Irvin, Kevin Willis, and Jos Canseco. He returned for the finale, where he even took part in a football based round. His teammates were Willis, Randall Cunningham, Bruce Smith, Roy Jones Jr., and Tim Hardaway.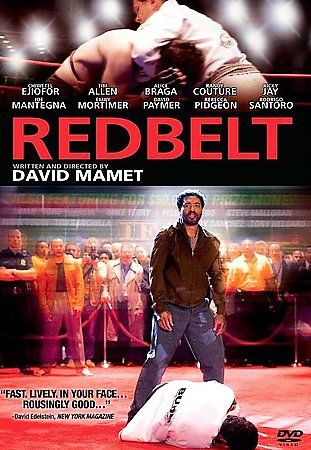 Randy's acting career begin to talk off and he had a brief cameo appearance on the season finale of the CBS show The Unit. He played a military guard. Next he acted in the film Redbelt as a fight commentator. Couture also appeared on an episode of The History Channel's "Human Weapon" on September 27, 2007, and starred in the 2008 film, The Scorpion King 2: Rise of a Warrior.
On January 11, 2007, Couture appeared for an interview with Joe Rogan on the Spike TV magazine show, Inside the UFC where he announced his return from retirement. Couture confirmed that he would be facing Tim Sylvia for the UFC heavyweight championship at UFC 68 on March 3, 2007 and revealed that he had signed a four-fight, two-year deal with the company.
At UFC 68, at the age of 43, Couture defeated then-champion Tim Sylvia by unanimous decision to claim his third UFC heavyweight title. Couture's first punch, at :08 of the first round, sent the 6'8″ (2.03m) Sylvia straight to the mat. Randy continued to control the pace of the fight for five rounds, smothering Sylvia with effective strikes and numerous takedowns. All three judges' scored the bout 50-45 for Randy, making him the first fighter in UFC history to become a three-time champion.
At UFC 74, which took place on August 25, 2007, at the Mandalay Bay Events Center in Las Vegas, Nevada, Couture defended his title against Gabriel Gonzaga, who had previously defeated Mirko "Cro Cop" Filipovi? at UFC 70 to become the number one contender. In the fight, Couture defeated Gonzaga by TKO (strikes) and retained the title. Randy suffered a broken Ulna bone in his left arm from blocking one of Gonzaga's kicks during the course of the fight. The bone was not displaced and he would heal completely, but Randy's arm would remain in a sling for 6 weeks.
Randy had always had issues with the UFC and on October 11, 2007, Couture announced that he was severing all ties with the UFC, leaving two contracted fights, his position as an on-air analyst, and his heavyweight championship behind. It is said that he received $250,000 plus $936,000 of PPV revenue for his comeback fight against Tim Sylvia. He also reportedly received a $250,000 purse for defeating Gabriel Gonzaga, as well as a $35,000 bonus for "Fight of the Night" and $787,000 in PPV revenue. This became a sore point since Chuck Liddell lost his two previous fights yet was still being paid a higher purse than Couture. Randy was also upset that the UFC had failed to sign #1 ranked heavyweight fighter Fedor Emelianenko who Randy wanted to fight, as well as disputes with UFC management. All this led to lawsuits between the parties and Randy was prevented from fighting in an IFL or for anyone else.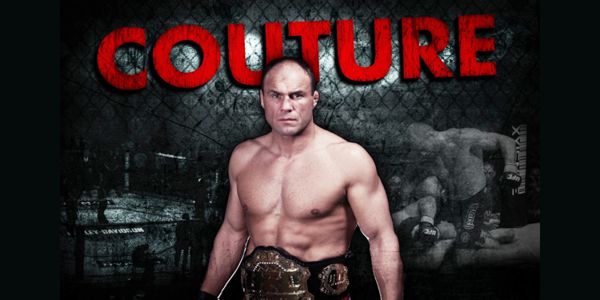 Kurt Angle, former WWE and TNA World Champion expressed interest in fighting Couture in a Full-Contact MMA fight sometime in the Future. However, Contract complications with Ultimate Fighting Championship delayed the fight with the Olympic Gold Medalist.
After disputes with UFC were negotiated, Randy was signed to a new three-fight contract and returned to fight in UFC 91 in Las Vegas, Nevada, where he lost the UFC Heavyweight Championship to Brock Lesnar. The fight was closely contested, but Lesnar knocked Couture down in the second round and struck him with hammerfists for a TKO victory at 3:07.
Randy Couture faced former UFC Interim Heavyweight Champion and former PRIDE Heavyweight Champion Antônio Rodrigo Nogueira at UFC 102 on August 29, 2009, in Portland, Oregon. Randy lost to Antônio via a unanimous decision. This fight received the "Fight of the Night" award.
After losing to Nogueira, Couture signed a new six-fight contract, which superseded his previous 3 fight contract. On November 14, 2009, Randy fought Brandon Vera at UFC 105. Brandon Vera landed effective strikes and scored a takedown, but Couture won by a somewhat controversial unanimous decision.
At UFC 109, Couture fought fellow UFC Hall of Famer Mark Coleman. This fight was the first UFC fight ever where two Hall of Famers fought each other.
Randy Courture was scheduled to fight Rich Franklin at UFC 115 but fought James Toney at UFC 118 instead. Couture dominated the three-time boxing world champion by taking him down and mounting him in seconds and submitting him to an arm triangle choke.
On April 30, 2011 at UFC 120, in Toronto, Randy fought Lyoto Machida. Before the fight Randy Couture had stated that this would be his final fight. Couture was knocked out in the second round with a jumping front kick by Machida. After this fight, at age 47, Randy Couture announced that he was "finally done fighting".
An excellent coach, Randy signed with Bellator to be a coach in the first season of the Bellator reality show, Fight Master: Bellator MMA which aired in June 2013. Randy was also a commentator for Bellator 96.
Randy Couture has since become an actor and he is known for starring in all three of The Expendables (2010, 2012, 2014), Ambushed (2013), and The Scorpion King: Rise of a Warrior (2008).