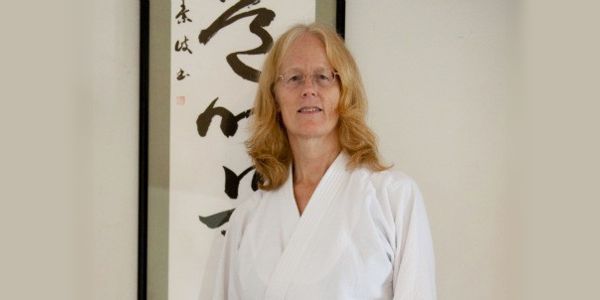 Between 1973 and 1980 Linda Holiday spent about three years living and training in Shingu, under Chief Instructor Michio Hikitsuchi, 10th dan (now deceased), and other high-level shihan such as Motomichi Anno, Motoichi Yanase, and the late Yasushi Tojima, When possible, Linda trained at other dojos as well, in Tokyo, Osaka, Kyoto, and Iwama. In addition, she studied the Japanese language, calligraphy, Bojutsu, Iaido, and became inspired by the spiritual practices of Shinto, Buddhism, and Misogi purification.
Other instructors who have had a major influence on Linda Sensei include Mitsugi Saotome, Hiroshi Kato, and the late Terry Dobson.
After intensive training in Japan, Linda Sensei returned to the U.S. in 1976, and began to teach Aikido in Santa Cruz. Jack Wada Sensei, who had been teaching here, decided go back to Japan and handed the UC Santa Cruz dojo over to Linda, who served as chief instructor there for for 6 years. In 1982, a core group of students, Glen Kimoto Sensei, and Linda Sensei started the dojo of North Bay Aikido in Santa Cruz. This dojo was born out of a desire to serve the community through a more full spectrum of classes, including children's classes. Now, it serves about 150 students each month, half of which are under 18. The dojo incorporated as an educational non-profit organization in 1986. In 1996, after 10 years of fundraising, we bought and remodeled our own dojo building in Santa Cruz. This dojo facility is big enough to host seminars with visiting instructors and special events like the Summer Intensives. Linda Sensei says, "The dojo is like a dream come true, and I feel very grateful for the community support which has made this possible."
Linda Sensei teaches regularly in Aikido of Santa Cruz and also leads seminars in other dojos. Following in the tradition of her teachers, she emphasizes the integration of physical and spiritual training in Aikido. She is collaborating on a book about Aikido philosophy and practice, with her teacher Motomichi Anno Shihan, 8th dan. Linda Sensei received her shodan (first degree black belt) in Shingu in 1973. She was promoted to rokudan (6th degree black belt) in 2005, by Anno Sensei (who became the new chief instructor in Shingu in 2004, following the passing of Hikitsuchi Sensei). Linda Sensei speaks and writes Japanese, practices Japanese brush calligraphy, and has served as translator for a number of Japanese Aikido shihan in America. She received a Masters Degree in East Asian Studies from Stanford University in 1982. Linda Sensei is a poet, writer, and lover of the mountains of the High Sierra. She has a teenage son who also practices Aikido.
Early Years of Training in Santa Cruz
Linda Holiday began her study of Aikido in the fall of 1970 at UC Santa Cruz. She was a student of art and music at "College Five" [now Porter College]. At that time UCSC was a new and innovative school. Linda's college core course had a very interesting requirement for first year students: to take a class in something they had never done before, or thought they would be "bad" at. So Linda chose to take Aikido! After her first few Aikido classes, Linda was hooked. She was particularly drawn to the emphasis on ki and the connection between mind and body.
It was the first year that Aikido had been taught on the UCSC campus, and only the second year Aikido had been offered in Santa Cruz. At this time Santa Cruz Aikido was one of only four Aikido dojos in all of Northern California. Linda attended both of the two Aikido classes offered each week. One class was taught by Robert Frager Sensei, a UCSC professor of psychology and religious studies, (later co-founder and professor at the Institute of Transpersonal Psychology), who had trained under Osensei in Tokyo. The second class was taught by Frank Doran Sensei, a police officer and former Marine combat instructor, who is now chief instructor of Aikido West. During Linda's second year of training, another Aikido instructor (Stan Pranin), now editor of Aikido Journal, began teaching at UCSC. All of the instructors were inspiring to Linda, and complemented each other in different ways. This set up a theme that would recur throughout the history of Aikido in Santa Cruz. From the beginning, there was never just one way to do things. Instead, the instructors maintained an attitude of collaboration and mutual respect. This has deeply influenced Linda Sensei's own approach to teaching and her style of leadership.
Intensive Training in Japan
In 1973, after training for two years, Linda took a leave of absence from her studies at UCSC and went to Japan with fellow student Richard Revoir. They headed for the world headquarters of Aikido, the Aikikai Hombu Dojo in Tokyo. While training in Tokyo, they were befriended by a dedicated American Aikidoist by the name of Mary Heiny (now 6th dan Aikido seminar instructor). She took them to Shingu and introduced them to Michio Hikitsuchi Sensei 10th dan, longtime direct student of Osensei, and chief instructor at Aikikai Kumano Juku Dojo. Hikitsuchi Sensei invited them to become the first non-Japanese Aikido students to live and train intensively in Shingu. So in April of 1973, Linda Holiday and Richard Revoir moved from Tokyo to Shingu. With them went Jack Wada, who had also recently come to Japan from Santa Cruz to study Aikido (now chief instructor of Aikido of San Jose). So these three young Santa Cruzans found themselves living in the countryside of Japan, immersed in the rigorous apprenticeship training of a Japanese michi or Way. They trained hard for many hours each day, devoting themselves to their studies and their senseis.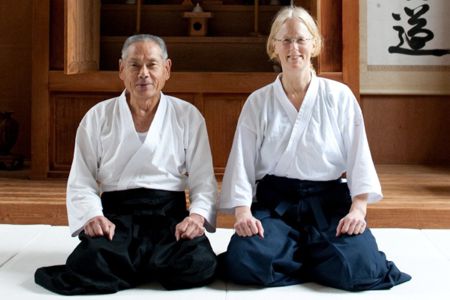 For Linda, this first year of shugyo (intensive training) was transformative: it inspired her to dedicate her life to the martial art and spiritual discipline of Aikido. Along with companions Dick and Jack, Linda received her shodan (first degree black belt) from Hikitsuchi Sensei in December of 1973. She returned to the U.S. penniless, in the spring of 1974, intending to go back to Japan as soon as possible. She worked hard, saved her money, and resumed her residence in Shingu in 1975. Linda spent a total of three years training intensively in Shingu under the generous tutelage of numerous inspiring shihan, primarily the late Michio Hikitsuchi (10th dan, dojo-cho), Motomichi Anno Sensei (8th dan, current chief instructor), Motoichi Yanase Sensei (7th dan) and the late Yasushi Tojima Sensei (6th dan). These instructors not only shared their Aikido expertise on the mat, but also their passion, insight, and spiritual practices off the mat, with the students from Santa Cruz. This gave Linda an experience of the ancient sacred rites and practices of Japan that would inspire her to continue these practices in her own life to this day.
During her years in Japan, Linda Holiday [then Linda Hultgren] also visited and trained at other dojos in Tokyo, Osaka, Kyoto, and Iwama, further building an appreciation for the multiplicity of valuable training methods in Aikido. In addition, she studied the Japanese language, Shodo calligraphy, Bojutsu, and a bit of Iaido. In 1974, a formal Sister City connection between the cities of Santa Cruz and Shingu was established, due to the presence of Linda, Richard, and Jack in Shingu, and catalyzed by the initiative taken by Mary Heiny. Hikitsuchi Sensei visited Santa Cruz in 1974 to teach and demonstrate Aikido, and he was given the "key to the city". There have been many Aikido and other cultural exchanges between the two cities since that time. [Sister City] [Sentinel Article]
Three Decades of Teaching and Leadership in Santa Cruz
In 1976 Linda Holiday moved back to Santa Cruz. For the next 6 years she tirelessly taught as many classes as possible: as chief instructor of the Santa Cruz Aikido Club and Aikido classes in the P.E. department at UCSC, and also through the Parks and Recreation department of the city of Santa Cruz at the Community Center. Then in 1982, a group of friends and fellow dedicated Aikidoists (including Glen Kimoto and Linda Holiday) incorporated to form "North Bay Aikido", out of a desire to serve the community through a full spectrum of classes, including children's Aikido classes. In 1986, North Bay Aikido received official recognition as a non-profit, educational, tax-exempt organization whose mission benefits the community. The dojo (called Aikido of Santa Cruz since 2005) has been very successful, serving people of all ages, and producing many black belts who have a passion for the art. Since returning from her residence in Japan, Linda Holiday Sensei has been steadily teaching Aikido in Santa Cruz for over 30 years.
Over those years Linda Sensei has been involved in a continuous stream of activities and endeavors in service of the development of Aikido. She has invested much time and energy to build a stable foundation for the future transmission and inspiration of Aikido in this area. This effort included a full decade of fundraising, which culminated in the purchase of our present dojo building in 1996. This has created a stable, spacious, secure home for Aikido in Santa Cruz that is blessedly independent of the rent increases which present challenges to many struggling dojos. Our large facility allows us to host big seminars with visiting instructors, helping to bring the Aikido community together in a harmonious and joyful way.
Linda Sensei enjoys collaborating with other Aikido teachers, frequently hosting and co-teaching with Mary Heiny Sensei and Jack Wada Sensei among many others. The annual Santa Cruz Aikido Summer Retreat in July brings together teachers and students from many dojos. Linda Sensei often is asked to teach at seminars elsewhere and enjoys building inter-dojo connections that way. She is committed to Aikido as an empowering and inclusive art, and to that end has taught many special classes and workshops for women in Aikido.
Aikido of Santa Cruz is blessed by a thriving population of black belt senior students who continue to train and to contribute to the welfare of the dojo. As the students who train under her have advanced, Linda Sensei has found it important and relevant to nurture these current and future instructors of the art. In addition to her regular instruction of multi-level classes at the dojo, Linda Sensei periodically teaches classes aimed specifically towards black belts and those who have been training for a long period of time. She wants to encourage these advanced practitioners to continue to grow and to be inspired by Aikido; and to maintain humility and continue to identify primarily as students of the art despite their advancing skill levels and roles as instructors. She encourages these black belts to view all of their life activities (including conduct at work, in family life, interpersonal communications, as well as their teaching or training in Aikido classes) as a part of their ongoing education and practice of the principles of Aikido.
The Pursuit of Lifelong Training
Linda Holiday Sensei has continued her own study of Aikido over all the years, with numerous wonderful instructors, and has been honored to translate for a number of Japanese high-ranking shihan during seminars in the United States. Her main sensei now is Motomichi Anno Sensei, who she has been inspired by since she first studied with him in Shingu in 1973. In addition to the important instructors mentioned earlier (Senseis Frager, Doran, Pranin in the early years in Santa Cruz, and senseis Hikitsuchi, Anno, Yanase, and Tojima in Shingu), Linda Sensei has greatly benefited by training under Senseis Mitsugi Saotome (8th dan, head of the ASU), Terry Dobson (an American [1937-1992] who was a personal student of Osensei), Robert Nadeau (7th dan, a major Northern Californian Aikido teacher since its beginning), Hiroshi Kato 8th dan, and the inspiring instructors at Aikikai Hombu Dojo in Tokyo during her studies there in the 70's. These include the Second Doshu Kisshomaru Ueshiba, Koichi Tohei Sensei, Saotome Sensei, Osawa Sensei, Yamaguchi Sensei, Tada Sensei, and Morihiro Saito Sensei. Many of these high-level instructors have developed contrasting styles and some have even become estranged from one another. But, in the Santa Cruz Aikido tradition of collaboration and mutual respect, Linda Sensei continues to admire and incorporate aspects of all of these instructors, into her own training and teaching.
Linda Sensei frequently travels to Japan for further study and to maintain the connection which began in 1973. This has allowed Linda Sensei to host Anno Sensei (8th dan, chief instructor of the Kumano Juku Dojo) here on the West Coast on numerous occasions since 1999. She was deeply honored to receive a promotion to 6th dan (Aikikai) from Anno Sensei in 2005. Linda Sensei is collaborating with Anno Sensei for a forthcoming book, The Floating Bridge of Heaven, focusing on Aikido philosophy and practice.
Linda enjoys learning and practicing a variety of disciplines. After returning from Japan, she completed her B.A. in Japanese and Chinese Studies at U.C. Santa Cruz (1979). Subsequently, she attended Stanford University on a National Resource Fellowship and earned an M.A. in East Asian Studies in 1982. She has continued to study the Japanese language , and since 1999 has been devoted to translating and facilitating Anno Sensei's teachings. Linda has also enjoyed the practice of Tai Chi since 1973, studying under Jack Wada. After her son was born in 1991, Linda began to study creative writing with teachers in Santa Cruz. She enjoys writing poetry and prose. Inspired by the traditional Misogi (purification) practices of Japan, she maintains a personal practice of chanting and meditation. Linda loves to make pilgrimages to sacred sites, in Japan.