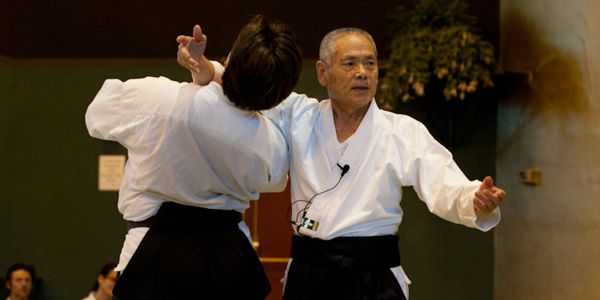 Motomichi Anno is one of the highest-level teachers of Aikido in the world today. An eighth-degree black belt since 1978, he is one of the few remaining Japanese master-teachers who received direct instruction from the founder of Aikido.  Anno Sensei's simple wisdom, humility, and heart have inspired thousands of students and teachers in Japan and abroad.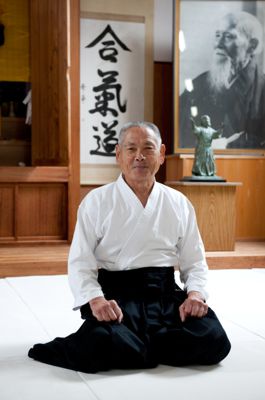 Motomichi Anno was born in 1931 in Mie Prefecture, in a rural area of Japan, and he was 14 when WWII ended. In 1954, he joined the new Aikido dojo which Osensei had started in Shingu the previous year, following the end of the American occupation of Japan. For 50 years he has trained and taught at the Kumano Juku Dojo in Shingu. This year (2004), he became the Chief Instructor of the Shingu Dojo, following the death of the former Chief Instructor, Michio Hikitsuchi, 10th dan. He also founded the Matsubara Dojo in Kumano City in 1969. Anno Sensei received 8th dan in 1978.
Anno Sensei's main influence is, of course, the founder of Aikido, Morihei Ueshiba Osensei. Anno Sensei studied under Osensei during the last 15 years of the founder's life (1954-1969), mainly when Osensei came to Shingu to teach. Osensei was originally from an area near Shingu, and returned there frequently to teach and to make pilgrimages to the Kumano Hongu Shrines. Anno Sensei's other major influence was Hikitsuchi Sensei, who, like Osensei, emphasized the integration of physical and spiritual practice in Aikido. Anno Sensei's teachings also emphasize the importance of cultivating the heart and spirit along with physical technique. He teaches in Japan, the U.S., and in Europe.
Other facts — Anno Sensei has also studied Judo and Iaido (sword), and Japanese classical dance. He has been practicing Japanese calligraphy for decades. He is a farmer and a lover of nature, and he often exhorts students to "become one with nature" as they practice Aikido.
Anno Sensei lives with his wife on his family homestead in the countryside of western Japan.