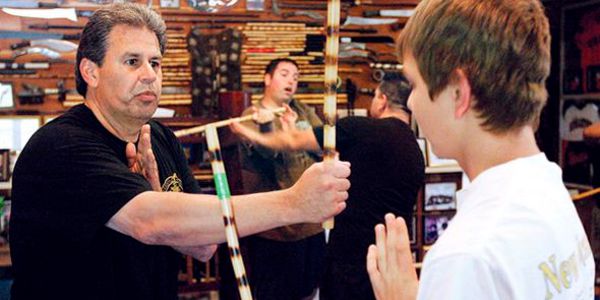 Wade Williams has a list of accomplishments in the martial arts world that keeps getting longer. The latest addition came in July, when he was named Master Instructor of the Year during his induction into the U.S. Martial Arts Hall of Fame in St. Louis, Missouri.
The rural Tracy resident, who is an eighth-degree black belt, received the honor during a black-tie event July 21, which was preceded by three days of workshops and seminars.
During events leading up to the banquet, Williams and his son Keenan shared their knowledge of Filipino stick-fighting styles known collectively as "escrima."
Williams' knowledge of escrima, and his desire to share his knowledge, gained him the nomination to the hall of fame.
"As far as an award and prestige, that's probably the biggest," said Williams, 54, before teaching a class at his home on Durham Ferry Road last week.
But he quickly changed the subject and talked about his success in martial arts as part of a spiritual journey.
"As far as rewarding, we used to use our art to travel and reach inner-city kids," he said, referring to his martial arts-based Christian ministry, West Coast Youth Explosion.
That took him all over California, from small towns to inner-city neighborhoods, from 2000 to 2009.
"We would connect with churches that were serious about reaching inner-city kids, or troubled kids, and get with the youth pastors," he said. "We'd tell them to advertise it like crazy. It's going to be stick fighting, board breaking, brick breaking, sword fighting, the whole bit. Then I'd share where God has brought me."
Born in East Oakland, Williams said his neighborhood was tough was he was growing up.

"…I know how it is to be afraid," he said. "Sometimes these kids feel like they have no choices. I wanted to let them know that they did."
Standout instructor
Williams said his Christian values influence his classes, which include up to 20 students at his home, learning the specific styles of Serrada, Corto Kadena, Bahala Na and Kabaroan. He also teaches classes at Family Taekwondo Plus in Citrus Heights.
That's all in addition to his job as produce manager for Safeway in Manteca, an occupation that gives him the flexibility to travel and teach classes.
Mike Martinez of Hayward said he's glad to make the drive for classes in Tracy.
"I like the way Master Wade trains," Martinez said. "He brings that atmosphere where you want to come in here, and everybody wants to help each other. He lets that happen. Other masters, they don't want anyone teaching but them."
Fellow martial arts instructors who helped nominate Williams for the U.S. Martial Arts Hall of Fame said that the instructor exemplifies the humility and respect that other martial arts masters possess.
"He's a force in the community," said Carlito Bonjoc Jr., chief instructor of Mata Sa Bagyo (Eye of the Storm) in Stockton. "He mentors young people and is just an awesome guy."
Bonjoc, a hall of fame member himself, nominated Williams as the Filipino Martial Arts Master Instructor of the Year, only to see his peers in the hall of fame upgrade the award.
Marty Cale of Fayetteville, Ark., the president and executive director of the U.S. Martial Arts Hall of Fame, said a look at Williams' background in martial arts showed that he was a good choice for the honor.
"Mr. Williams has the characteristics of what a true martial artist is all about," Cale said. "He's the type of person we like to be affiliated with."
Cale added that Williams and his son Keenan impressed everyone with their stick fighting skills, and they will be invited back to future hall of fame events to put on seminars and demonstrations.
"The demonstration was just beyond what most people can do with a stick," Cale said. "They were lightning fast and accurate."
Also impressed with Williams' ability is the World Pugilist Hall of Fame in Laredo, Texas. He will go to that city for an induction ceremony in November.
Ongoing journey
Williams is a 1976 graduate of Tracy High School and played basketball during his high school and college years.
He developed an interest in martial arts at age 23, when a co-worker introduced him to the hard-soft style of goju.
Two years later he learned about escrima and he soon connected with Angel Cabales, one of the top masters in Filipino martial arts.
"There's something about weapons, something about stick movement. It correlates with the sword and with the knife, and I always was intrigued with knife work and sword work and stuff like that," Williams said. "When I got with Angel Cabales, I started seeing some of his work and he started showing me some of the blades. That was all it took. I was hooked."
Among all of his awards and certifications, he picks out one date in particular — July 28, 1991, the day he made the commitment to allow God to influence his life — as his turning point.
"If not for him, none of this would be happening," Williams said "I'd be hitting my head against the wall, like a lot of martial artists who are way better than myself and not getting anywhere. It's just God opening the door."
The next step on Williams' journey is to join Genesis Martial Arts International, a faith-based group that will take a worldwide tour in the spring of 2013.
One stop will be a training session with Israeli police, and the group will also host similar workshops in Germany, Italy and possibly England and the Philippines.
"That's so refreshing to see martial artists that have that respect, the honor that we try to have," Williams said. "We try to bring that integrity into the arts, with the Lord on top of that."
by Bob Brownne
Tracy Press
Contact Bob Brownne at 830-4227 or brownne@tracypress.com.