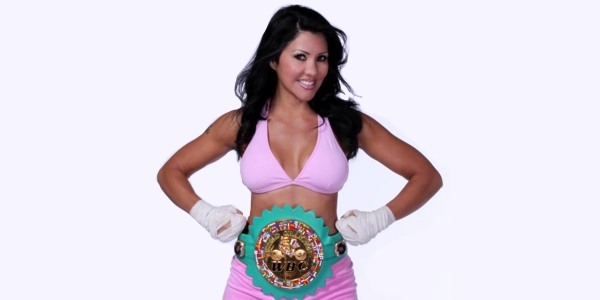 5'6″ California featherweight/junior lightweight Mia St. John has parlayed her "camera-ready" looks and an undefeated record in four-round contests into an unusual and controversial combination of media coverage and lucrative payouts.
Mia St. John comes from a family of martial arts practitioners and took up TaeKwonDo when she was six. She was reportedly inspired by the original "Rocky" movie at age 12 and a mini-rumble with a fellow student at a high school football game as a teenager. She began competitive amateur TaeKwonDo at age 18.
Mia St. John made her pro boxing debut in 1997 with no prior amateur experience. An aggressive fighter with a head-down, windmilling style, she throws some solid shots amidst a blizzard of arm punches that overwhelms novice opponents. Her ring style makes veteran boxing fans wince, but her good looks and pleasant personality out of the ring have made her a magnet for media and fan attention. She is promoted by Bob Arum and has been on live pay-per-view TV on several major cards. She reportedly earns about $20,000 per fight (about ten times the usual pay scale for boxers who are still fighting four-rounders against unranked opponents).
Mia St. John combination of evident media magnetism, (un)coverage in a Playboy pictorial in November 1999, and (at least so far) limited boxing skills makes Mia St. John a controversial figure in the sport.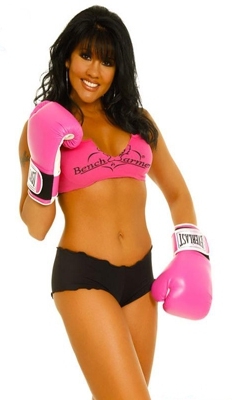 An ongoing criticism of Mia St. John is that her lengthy unbeaten record has been built against a roster of unusually weak opponents. We therefore include what we know of her opponents' records in the list below, so that you can draw your own conclusions about this aspect of her ring career.
On February 14, 1997 at Fantasy Springs Casino near Indio, California Mia St. John won her pro debut over Angelica Villian by knockout at 0:54 in the first round. St. John caught Villian with a stiff jab then scored with rights until a powerful right dropped Villian for ten. Villian fell to 0-2 with this loss. Villian was subsequently TKO'd in the first round by Jayla Ortiz in Santa Fe on January 24, 1998 and in 24 seconds by Sonya Emery in Austin, Texas on May 1. 1998.
On April 19, 1997 in Phoenix, Arizona, Mia St. John weighed in at 123 lbs and won by a first round TKO over Dawn Graham (116½ lbs). We have no other information about Graham.
On June 21, 1997 in Tampa, Florida, she won by third-round TKO over Contina Frederinck. We have no other information about Frederinck.
On August 5, 1997 in Nashville, Tennessee, she won by a first-round TKO over Dawn Wimer. Wimer is from Cleveland, Ohio, and was TKO'd in the second round by Olivia Escobar in Escobar's pro debut on February 25, 1999.
On November 28, 1997 at the Marriott in Irvine, California, Mia St. John won a 4-round unanimous decision over Dolores Lira of Boise, Idaho. Lira fell to 0-3 (and has since lost to Brenda Burnside.)
On May 30, 1998, she won by a second-round KO over Kris Sepulvado of Shreveport, Louisiana. (Sepulvado's record has been in some doubt as she makes a habit of fighting under different names.)
On August 15, 1998 in Los Angeles, California Mia St. John came in at 125½ lbs and won a four-round unanimous decision over Brenda Felter (123 lbs) of New Mexico, who fell to 0-2. Felter had been TKO'd in the third round by Leilana Salazar in Phoenix, Arizona on May 5, 1998.
On September 18, 1998 at the Thomas and Mack Center in Las Vegas, Mia St. John advanced to 8-0 with 5 KO's with a four-round split decision over Brenda Felter, who was a late substitute for Amanda Skelton on the card. Felter dropped to 0-3.
On December 12, 1998 in Indio, California, she weighed in at 126 lbs and won by second-round knockout over Brandy Mae Vaughan (123 lbs).
On February 13, 1999 at the Thomas and Mack Center in Las Vegas, Nevada, she weighed in at 127 lbs and won an easy four-round unanimous (40-36) decision over Amanda Skelton (124 lbs) of Fort Smith, Arkansas. Skelton had also defeated Brandy Mae Vaughan in September 1998 and came into the bout at 4-0 with 2 KO's.
On May 8, 1999 at the Hilton in Las Vegas, Nevada, Mia St. John won by TKO of Kris Sepulvado of Shreveport, Louisiana at 1:30 of the first round. We think that Sepulvado fell to 0-4 with this loss (she also fights under the names "Kris Vado", "Pamela Sepulvado" and possibly "Christi Carter"). Sepulvado had survived a full four rounds against Crisi Yaeger on April 15, 1999, but subsequently lost to Randi Saenz by first-round TKO on July 24, 1999, to Jenifer Alcorn by first-round TKO on September 4, 1999 and to Melinda Robinson by first-round KO on November 12, 1999.
On June 26, 1999 at the Mandalay Bay Event Center in Las Vegas, Nevada, Mia St. John weighed in at 132 lbs and won a four-round unanimous decision over Mary Ann Haik (133 lbs) of Pearl River, Louisiana. Haik dropped to 5-6 with the loss. Haik's career includes a first-round TKO over debut fighter Sarah Inman, split or majority decision wins over Heather McVey (then 5-0), Sue Chase (then 1-13) and Pamela Opdyke, and losses to Tamerah Hudgins (third round TKO), Vicki Woods (then 5-3, by first round TKO) and Snodene Blakeney (unanimous decision).
On September 18, 1999 at the Mandalay Bay Event Center in Las Vegas, Nevada, Mia St. John weighed in at 125 lbs and moved her record to 13-0 (8 KO's) with a TKO at 1:40 of the fourth round over Kelley Downey (126 lbs) of Merriam, Kansas. St. John was clearly winning this bout when it was stopped but the immediate reason for the stoppage was unclear. Downey's record fell to 3-2 (3 KO's), including a first-round TKO win over Lori Domagala and a loss by split decision to Theresa Frye.
On December 11, 1999, Mia St. John won by TKO at 1:40 in the first round over Sharon Sirls of Lubbock, Texas at Dixie Junior College in St. George, Utah at the end of what Marcel Niessen describes as "one of the weirdest, if not the weirdest, night in boxing I ever had". The card featured mixed-style matches between US boxers and Chinese kickboxers, and confusion about who was fighting who and in what style! Sirls had been flown in from Texas at short notice after confusion had reigned about whether St. John was to fight in a mixed-style match, as the Chinese promoters reportedly hoped, or a boxing match as the Utah commission apparently believed when it sanctioned the bout. Sirls had dropped a four-round decision to Linda Robinson, another debut fighter, three weeks earlier in Houston.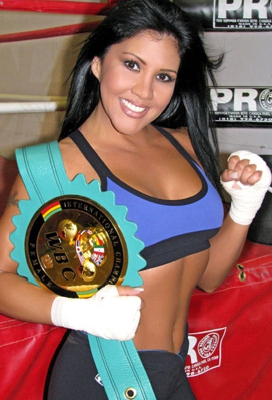 On January 22, 2000 at the Fairgrounds in Delmar, California, 700 live fans and a Univision TV audience saw Mia St. John win a four-round unanimous (40-36) decision over Kelly Whaley (127 lbs) of Cedar City, Utah, who fell to 1-1. "It was a tough fight for me," St. John told a local reporter. "She had a good chin. I was hoping she would knock herself out, but it gave me a good workout anyway." Whaley's other pro fight was a four-round decision over then 6-0 Crisi Yaeger of Texas, on November 18 1999 in Houston. (Yaeger is another fighter who racked up a winning record against soft opposition, including the always-overmatched Kris Sepulvado, novice fighter Victoria Lara, and winless Martha Flores.) Whaley had posted a 3-3 record as an amateur boxer and had competed in the 1999 National Women's Golden Gloves tournament.
On February 26, 2000 at Madison Square Garden in New York City, Mia St. John weighed in at 127 lbs and won a hard-fought four-round majority (39-39, 39-37, 39-37) decision over Kristin Allan (124½ lbs) of Jefferson City, Missouri who dropped to 3-1. The two went toe-to-toe in a slugfest that was decided by St. John's strong finish, which included two rights that shook Allan. Allan didn't back down from the more experienced St. John, but lacked defensive skills. "She was a real tough country girl," St. John said. "I out skilled her. She took everything I gave her, but I felt the last round clinched it for me." Allan had previously posted wins over Kim Raulerson, Fran Morrow, and Franchesca Alcanter, all by TKO; the eight minutes in Madison Square Garden more than doubled Allan's previous pro ring time.
On May 19, 2000 at the Playboy Mansion in Beverly Hills, California, St. John (130 lbs) looked the equal of relative novice Franchesca Alcanter (125 lbs) of Kansas City as she won a unanimous 40-36 decision that underestimated Alcanter's showing. Alcanter fell to 2-3. Alcanter had knocked out Crystal O'Dell of St. Louis at 1:02 of the first round in both fighters' pro debut (O'Dell has not continued in to box so far as we know), then was TKO'd at 0:37 of the first by Texan Linda Tenberg (127¾ lbs). Alcanter had failed to answer the bell for the third round against Kristin Allan in October 1999 but scored a third-round TKO over Theresa Gaulden in March 2000. The St. John-Alcanter bout was seen live on ESPN2's Friday Night Fights but neither boxer showed boxing skills to justify a prime TV slot. Earlier the same day, the IBA announced that it would no longer recognize the "Queen of the Four-Rounders" title that it had awarded to St.John.
On June 17, 2000 at Staples Center in Los Angeles, California, she won a unanimous decision over Linda Robinson of Woodway, Texas. Mia St. John was the aggressor throughout this fight, scored 40-36, 40-36, 39-37 by the judges. Robinson, fighting outside Houston, Texas for the first time, fell to 3-1; her three wins had come against Sharon Sirls of Lubbock, Texas, Victoria Lara (0-3) of Texarkana, Texas and Denette Montgomery (0-5) of Cleveland.
Mia St. John was unable to compete for some months as a result of a jet-ski accident which required two operations to remove a potentially gangrenous blood clot from her left leg. She will have to wear a protective cast on her leg, which required a skin graft from her thigh after a mass 2½ inches deep and 4 inches wide that had been affected by the blood clot was removed.
On December 3, 2000 at the Plaza Hotel in Las Vegas, Nevada, she returned to the ring at 126 lbs after recovering from the jet-ski injury and TKO'd Amy Yerkes (5'4″, 125 lbs) of Springfield, Missouri at 1:33 of the fourth round. Yerkes lacked the boxing skills to compensate for St. John's height and reach advantage. Yerkes dropped to 1-3; she had previously lost to Brenda Rouse and Sherri Thompson by six-round decisions (and had fought just two days previously in Iowa).
On January 20, 2001 at the MGM Grand in Las Vegas, Nevada she moved to 20-0 (12 KO's) with a third-round TKO over Sherri Thompson, who fell to 3-3. Thompson, also from Missouri, had previously lost a decision to Rolanda Andrews but had defeated Amy Yerkes in a six-rounder a year earlier.
On March 25, 2001 at an outdoor event at the Park'N'Swap in Phoenix, Arizona under a scorching sun, a crowd of 5000 saw Mia St. John (129 lbs) advance to 21-0 (13 KO's) with a TKO of Amy Yerkes of Springfield, Missouri at 1:49 in the third round of an action-packed fight. Yerkes, who fell to 1-6 as a pro boxer, was a last-moment substitute for Mexico's Imelda Arias, who failed to show up for the weigh-in the day before. St. John earned $10,000, Yerkes $2,000, for this match according to Arizona Republic reporter Norm Frauenheim.
On May 13, 2001 at the State Line Silver Smith Casino, West Wendover, Utah, Mia St. John weighed in at 129½ lbs and won a hard fought four-round unanimous (40-37,39-37,39-37) decision over Linda Tenberg (125½ lbs) of Austin, Texas. Tenberg fell to 5-4 (1 KO). Tenberg was a legitimate featherweight contender whose previous losses had included going the distance with tough competition in Ada Velez and Layla McCarter.
On July 28, 2001 at the Staples Center in Los Angeles, California, she weighed in at 128½ lbs and was held to a controversial majority draw by Imelda Arias (139½ lbs) of Ciudad Juárez, México. According to reporter Andy Rivera of Inside Women's Boxing, "Mia won the first round, jabbing and moving out of target from the smaller, heavier Arias. But Imelda came back in the 2nd through 4th rounds, dominating those rounds by landing heavy rights and left that kept Mia St. John confused. When the decision was announced … 38-38, 38-38 and one score that was withheld … the crowd booed heavily." St. John's record was 22-0-1 (13 KO's) while Arias's was 8-11-1. Three of Arias's wins had come against 0-5 Deanna Wyman, and she had lost her previous seven fights, including a first-round TKO by California's Jenifer Alcorn.
Mia St. John's place in women's boxing continues to be defined by her choice of opponents. There is no shortage of serious competitors at her weight, yet she has continued to fight four-rounders against almost-novices. One reason advanced for her four-round restriction is that promoter Bob Arum doesn't want a women's bout to take up more time on his cards, but this has worn thin with most true fans of competitive women's boxing.
She held an IBA "Women's Four-Round Featherweight title" (one of the proliferating minor awards that some boxing promoters use to embellish their cards). This appellation was officially removed from St. John on May 19, 2000. It not surprisingly matched the one that the IBA had awarded to male boxing sideshow "Butterbean". Both were withdrawn on the same day, with the statement that "from the very beginning the IBA always made it clear that the belts the Bean and Mia have were novelties used by the IBA to promote our organization. No one ever said the Bean and Mia were "world champions!" Unfortunately, that wasn't quite right, as Playboy had not bothered to draw the distinction on its cover, where it identifed St. John as "the" featherweight titlist. The IBA has since been trying to improve its standing as a sanctioning body for women's boxing by promoting more serious women's title fights, e.g. the bout between Kathy Collins and Denise Moraetes.
The world of competitive women's boxing continues to wait for Mia St. John also to step up to the higher level that befits her publicity. She is reportedly now seeking a bout with Christy Martin (normally 145 lbs), at a compromise weigh-in around 135 lbs. A solid performance against Martin, even in a losing cause, could give Mia the boxing credibility that has been lacking so far while a win would establish her as a serious fighter as well a serious money-maker.
Mia St. John is a California State University – Northridge graduate in psychology. She has two children, Julian and Paris.