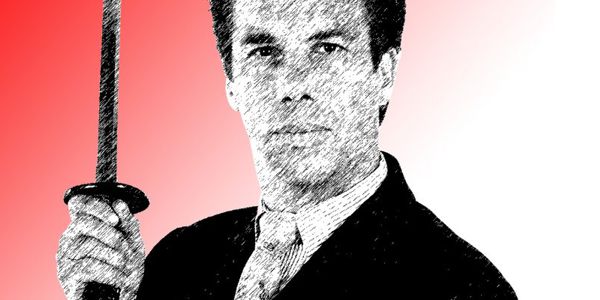 This led to a period in my life when I became a Japanese salary man.
It's just amazing how some things can come together. I always had an inner compulsion to become a "global citizen" and that desire brought me to Japan. So I immersed myself into their culture through the way of the samurai and started on my Japanese path of discipline. Within a short time my name began to be recognized in the tight circle of many famous instructors of Japanese swordsmanship. I found myself crossing swords with those instructors and then progressed to government and management officials. I began to earn their respect and praise and soon they accepted me. Many even said, "You are Japanese", which is an extremely and rarely given complement.
This led to a period in my life when I became a Japanese salary man.
Upon acceptance they began asking for my opinions and to help them visualize how I saw their world from my Western point of view. At first, this was merely a question and answer session. Then I was asked to assess their subordinates. This led to a period in my life when I became a Japanese salary man.
I was retained by Marubeni Shoji one of Japan's biggest global conglomerates. These companies run by Japanese are highly selective. Only the very best and brightest are considered for a position. Even though they have attained the position, many times they don't know how to roll up their sleeves and do the job. This was especially true when a Marubeni Man would have to move abroad employing the Japanese business discipline they were trained for in a foreign climate.
It is imperative to develop a simple mindset and image that can be readily focused upon. The samurai sword has always been their image of strength, nationalism and discipline. Therefore it is easy to use a samurai sword as a common denominator and as a visual to train from which has been very successful for Japanese companies and has now crossed the ocean to inspire American companies looking for the same type of success/discipline for their employees.
Upon completion of the training program reports were written and evaluations taken on each individual. In these reports I pointed out their strengths and weaknesses, which I either expanded on or corrected. These written reports enabled management to determine if that particular employee was a good fit for their department.
To find out more about Shihan Dana Abbott and the study of the Japanese sword on LearnTheSword.com visit his listing on the Martial Arts Schools & Businesses Directory by clicking on the image on the left.