Pete Morales was born in Wailuku, Maui, Hawaii. He began his martial arts training under Jiro Nakamura and Clarence Takinuma. In 1959 he received his 1st degree Black Belt in Shotokan Karate and also received his initial Kajukenbo training under the noted Kajukenbo founder Sijo Adriano Emperado. In 1960 he moved to northern California and trained on his own. In 1970 he resumed his Kajukenbo training under Grandmaster Charles Gaylord, in 1973 he became the Head instructor of Gaylord School of Karate in Fremont, California.
In 1974 at the request of his private students at the time he founded Golden Dragon School of Karate in Newark, California. During the next 26 years over 9,000+ students wore the white top and the black bottom GI of the school, which was well known on the tournament circuit in Northern California. A total of 27 Kajukenbo 1st degree Black Belts were promoted under SGM Pete Morales at Golden Dragon Kajukenbo. A number of other Black Belts have also sought him out for additional training.
He closed Golden Dragon in late 1999 to spend more time with his family and grandchildren. He served as an advisor to the Kajukenbo Association of America and served as Vice-President of the Kajukenbo Association of America for over 15 years. Before his death he held the the rank of 10th Degree Black Belt, Senior Grandmaster.
Senior Grandmaster Pete Morales passed away unexpectedly after suffering a heart attack and stroke on November 11, 2019. He left all of us in the martial arts broken hearted.
Kajukenbo Prayer
Dear Lord, we pray thee keep us from doing wrong throughout the day. Be beside us as we undertake these exercises. Our sole purpose is to be physically fit, morally straight, and mentally strong, to protect ourselves and our loved ones from the dangers that are forced upon us. Almighty God, we thank thee for thy care, health and strength in the name of thy beloved Son, Jesus Christ Our Lord. Amen.
MMA From The Bay Interview with Kajukenbo Senior GM
Pete Morales
Reflections on Senior GM Pete Morales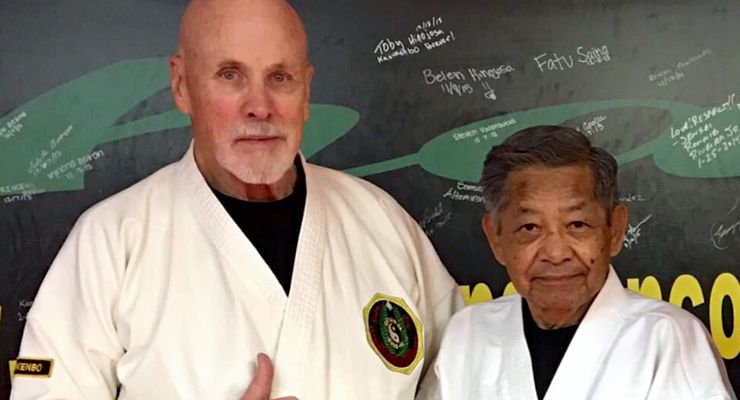 Reflections on Senior GM Pete Morales (9/4/1941 – 11/112019)
Many people knew of Pete Morales the martial artist but there was a lot more depth to the man than just "the martial artist". If you ask a few of his many students, you would hear words like kind, caring, father-like, and friend. He was the kind of man that you could got to with a devastating personal problem and come away feeling like things weren't as bad as they seemed. Over the course of nearly 40 years I know I had my ups and downs and I never felt judged – I knew that things would be kept private. When a student or a family couldn't afford the monthly dues, it was never a problem, nor did anyone else ever find out and, over time, the back dues always got paid, one way or the other.
Almost all of the Golden Dragon students and instructors discovered what ohana was, even before they knew the word. The school was a family, and we did things together. More than a few times we raised funds for a trip to Tahoe or Hawaii by having a pancake breakfast or a crab feed and everybody pitched in to help with labor, supplies or money to see that the goals were reached. Whenever we went somewhere as a group we went as the ohana know as Golden Dragon School of Karate and "Sifu" Pete was always in the lead.
In his personal life he was loving husband, father, grandfather, and yes, great grandfather. He loved nothing more than babysitting the keiki and frequent family get-togethers for any purpose. He was the man with the big smile and willingness to have a conversation with pretty much anyone about martial arts, fishing, sports, politics, or just how nice a day it was. Finally, he was a great judge of character, so no matter what your background you were accepted, but you had better be on the up and up!
Senior Grand Master Pete was truly my teacher, my friend, my brother and I miss him and will continue to do so.
Grandmaster Casey McPartland
11/18/2019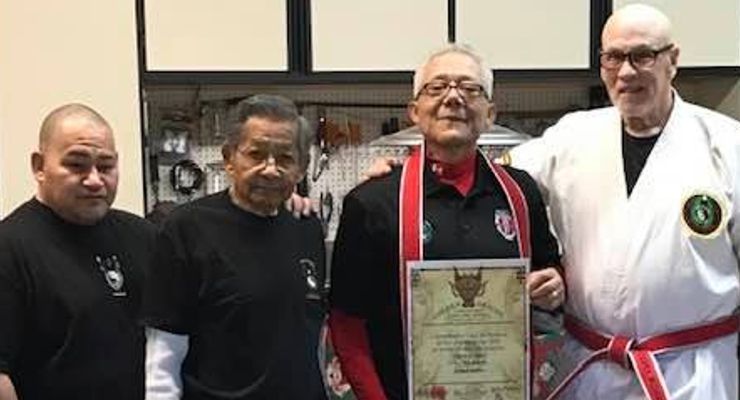 The first time I meet SGM Pete Morales I felt love coming from him. Every time we spoke to each other, everything he was telling I knew it was coming from his heart. I will always miss him & our conversations. It was an HONOR when he asked me to be the Combative Knife Instructor with in the Golden Dragon Ohana. I will miss him deeply. GM Harry Greene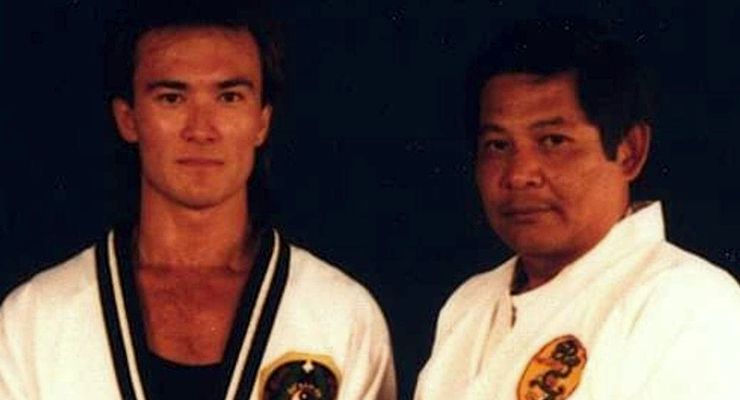 Sifu, I will always carry you in my heart. Every training session I teach will be dedicated to you. Thank you for being my teacher, my mentor, and my best friend. We will make you proud and carry your legacy with love and pride. True ohana. Aloha oi' ❤🤙 ~ Bob Gomez (Above)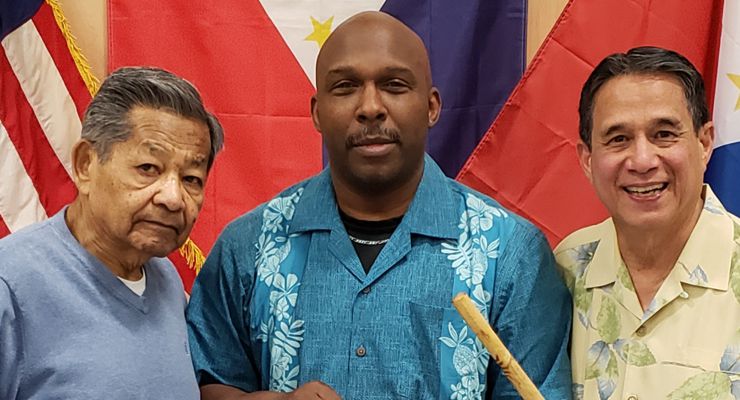 I remember the first time I stepped foot into Golden Dragon School of Karate in Newark, CA.  Senior Grand Master Pete was teaching running the class. I was hooked.  Many years later, after receiving my first degree, he told me to go out and expand my knowledge and bring back the knowledge. Through all the years, he always encouraged us to further ourselves. I was very honored and blessed when he was there when I received my Masters certificate from GM Art. I will miss his smile and the way he always pronounced my name Antony. Thank you to the Morales family for sharing SGM Pete with us. ~ Respectfully, Anthony Wade