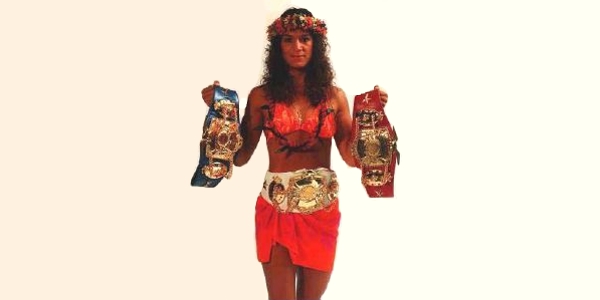 Ramona Gatto was the first IKF Pro World Champion and went on to win "3" IKF Pro World Titles.
Ramona Gatto knocked out a then-inexperienced Bridgett Riley in the second round of a fight where Bridgett Riley had come in nine pounds over the agreed weight and had to slim down in the sauna.
At Kickfest '95 some 1,500 fight fans filled the San Mateo County Expo Center to see Ramona Gatto, then a 31-year-old sometime holder of seven world titles, fight Tokyo's Kyoko "Kamikaze'" Miyazaki in the semi-main event for her eighth world championship belt. The San Carlos resident won a 10-round unanimous decision over for the featherweight title.
Known as "kickboxing's bad girl" for her take-no-prisoners style, Ramona Gatto started quickly and dominated the first half of the fight, before the plucky Miyazaki rallied. Ramona won six or seven – or even all 10 – of the rounds, according to the judges.
"It was real satisfying," said Ramona Gatto. "I'm working with a new trainer (Esteban Garcia), and he has me working more on stick (hit) and move. No sense staying in there and banging with her."
"In the ring, the adrenaline is pumping so hard, you don't really feel it," she said.
Ramona Gatto was popular with a crowd that was roughly 75 percent men, but also contained a good number of women and wide-eyed kids. Her fight lasted till nearly midnight, but a throng of fans, mainly kids, crowded around her for at least 15 or 20 minutes afterwards, seeking her autograph.
It was a different story on May 13, 1995 when Ramona Gatto met Olga Vlasova, from Russia's Ring Sibiri club for the ISKA and IKF world titles in San Jose. Vlasova was fighting in her first international match. The aggressive Gatto seemed to have more weapons and movement than the Russian early in the 10-round match. But the taller Olga refused to be flustered, worked past Gatto's attacks, and kept landing accurate combinations. By the eighth, Ramona looked tired and was losing the bigger exchanges. The last two rounds saw a lot of grabbing and clinching in which Gatto succeeded in bloodying the Russian's nose at close quarters, but Vlasova kept her cool and continued to land hard clean shots. The judges gave a split decision in favor of Vlasova, with one California judge 98-92.5 for Gatto.
After the decision Ramona reverted to the out-of-ring tantrums she displayed after losing another close match to Kathy Long. Berating the officials and an ESPN2 interviewer, Ramona huffed and puffed that she had been robbed and that she was the one the crowd really came to see. She had not been "bad girl" enough in the ring to take the fight out of the judges' hands, and she was angry about it.
The controversy over the Gatto-Vlasova bout continued after the fight as the IKF reversed the judges' decision and Vlasova was denied their title. There is an article by Rick Franklin on the IKF website stating that the Gatto-Vlasaova bout was fixed. Read Article.
Ramona Gatto ended her career in 2001 with a record of 23 wins, 1 loss to Kathy Long, 1 draw. 19 of Ramona's wins came by KO or TKO.
Ramona Gatto's World Title Accomplishments:
IKF Flyweight World Champion
IKF Bantamweight World Champion
IKF Featherweight World Champion
ISKA Flyweight World Champion
ISKA Bantamweight World Champion
ISKA Featherweight World Champion
KICK Bantamweight World Champion
KICK Featherweight World Champion
IFCA Flyweight World Champion