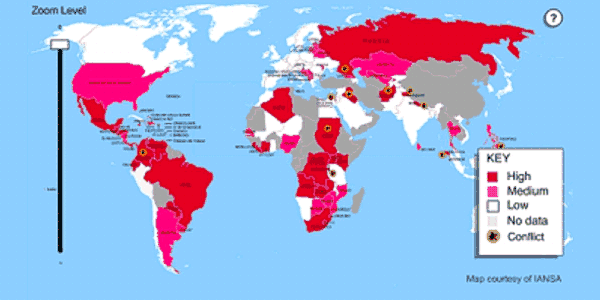 July 4, 2006 ~ Gun crimes, suicides and firearms-related accidents declined last year at the same time that firearm and ammunition sales climbed, according to data from the US Treasury Department released by the National Shooting Sports Foundation (NSSF).
While this revelation tends to debunk long-standing claims by gun control proponents that more guns in circulation leads to more crime, gun rights organizations contend that this bolsters their contention that armed citizens deter criminals.
NSSF Public Relations Director Steve Wagner told Gun Week that approximately 4.7 million new firearms were sold in America last year, including those manufactured domestically and imported. The greatest increase was in retail handgun sales, which were up 3%. Long gun sales were up 1.8%. Ammunition sales were up 3.5%.
Wagner specified that these figures represent dollars generated, not actual volume of firearms and ammunition sold.
However, the bottom line is that there are millions more firearms in circulation, which some gun control advocates have been arguing for years would result in more death and crime.
Said Wagner: "The point of that release was just to help the media understand that the guys at the Violence Policy Center and Brady Center are selling a lie when they continue to tell people that more guns equals more bad news."
Wagner said NSSF used data from several sources for its report. According to the FBI, there were 339,280 firearms crimes reported in 2005, which is down 2.4% from 2004 and 7% from 1998.
The Centers for Disease Control reported that firearm suicides were down 1.1%, to a reported 16,907, and they have declined 1.8% since 1998.
From the National Safety Council came data on accidental firearms fatalities, which tied the 2004 figure at an all-time low of 700. That is down 19.2% since 1998.
Also, according to National Safety Council data, there were 60 fatal firearms accidents involving children age 14 and under, which is an all time low. That figure has declined a whopping 50.4% since 1998.
A spokesman for one leading gun control organization said new guns are not so much the problem as are firearms that have been in circulation for a while.
Peter Hamm, a spokesman for the Brady Campaign to Prevent Gun Violence, remarked, "It's the guns that have been around a while that could wind up in criminal hands," he explained, "not the guy who's going out and buying a new $700 handgun. . . . The guns that cause the worst problems in this country are not selling for very high prices."
Hamm zeroed in on alleged rogue dealers who have been identified as the source of an inordinate number of firearms connected to crimes.
"There are some bad apple dealers out there and the numbers over and over again indicate how totally responsible and respectable the vast majority of gun dealers are in this country," he stated. "It's a shame that the politics of this issue are so incendiary that the sides on this issue can't work together to handle the bad actors in this industry."
Hamm was not alarmed at the number of new firearms sold in 2005. He said new firearms sales "are not the issue to me."
"You've got to hope that those guns are being sold by upstanding dealers who have better records than some of the dealers who were identified by the Justice Department as having sold hundreds of firearms they can't account for," he said.
The NSSF has responded to such problems with a program called "Don't Lie for the Other Guy." Aimed at stopping dealers from making straw man sales, this program warns potential violators of the penalties they face when caught.
"Various Factors
Expensive or otherwise, firearm sales are climbing for various reasons, Wagner suggested. He said one contributing factor to increased handgun sales has been the expansion of concealed carry across the country. This year, two more states have been added to the list, and it is reasonable to expect more handguns for personal protection will be sold as more people obtain concealed carry licenses.
"Also two more states passed right-to-carry laws," he said, "and there is an increasing interest in self-defense and home defense and recreational shooting with handguns is continuing to rise too."
Alan Gottlieb, chairman of the Citizens Committee for the Right to Keep and Bear Arms, told Gun Week that the data "doesn't surprise me." However, he believes that there is more to the equation than expansion of concealed carry laws.
"I think the real driving force for gun sales wasn't crime to start with," he said, "it was Hurricane Katrina and other natural disasters. People want to protect themselves."
Chris Cox, who heads the National Rifle Association's Institute for Legislative Action (NRA-ILA), is also not surprised that crime and accident rates declined while gun sales went up. He credited expansion of right-to-carry laws to 40 states, and said the drop in accidents is due to the NRA's firearm safety programs.
"These are the facts that the Hillary Clintons, Mike Bloombergs and Charlie Schumers won't admit," Cox stated. "Lawful Americans don't break the law."
According to NSSF, last year's combined sales of firearms and ammunition generated $224.3 million in excise taxes. That money is earmarked for wildlife and habitat conservation, NSSF noted, and it is apportioned to the states through a program created more than 60 years ago called the Federal Aid in Wildlife Restoration Act, also called the "Pittman-Robertson" fund after its two congressional sponsors. Since that law took effect, more than $5 billion has been generated by gun and ammunition sales, and sales of hunting related equipment, for wildlife conservation and enhancement projects. Each state's share helps fund hunter education.
Dave Workman is the Senior Editor of Gun Week Magazine. More at http://www.thegunmag.com/