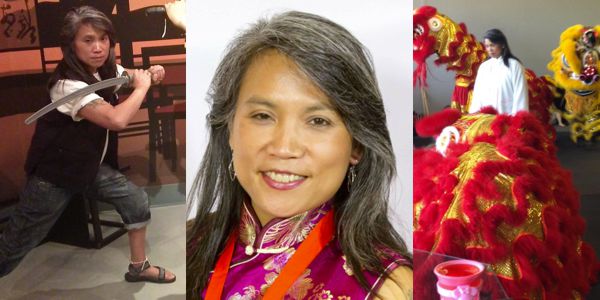 Sifu Restita DeJesus has been practicing martial arts for over 30 years and has a list of impressive teaching certifications:
Butokukan Karate: 2nd degree
Kajukenbo-Wun Hop Kuen Do: 3rd degree
Kyudo: 1st degree
Doce Pares Eskrima: 5th degree
Doce Pares Pangamot: 4th degree
Contemporary Wushu: Certified Coach
Qigong: Certified Instructor
Yang Tai Chi Chuan: Certified Instructor
Chen Tai Chi Chuan: Certified instructor, disciple of Master Yijiao Hong
Restita is the co-founder, along with Master Sherril Johnson of Doce Pares Eskrima, of the "Taikabudo" system of martial arts taught at their studio, Body Movement Arts. She was a 3-time National Black Belt League regional forms champion, a member of the 2001 USA T'ai Chi team, 2001 International gold medalist in Chen T'ai Chi at the World T'ai Chi Health Conference games in Hainan, China, and a 3-time USA Wushu-Kung Fu Federation Nanquan (Southern boxing) gold medalist. Restita was inducted into the Masters Hall of Fame in 2011, the 2012 World Doce Pares Federation Hall of Fame, 2013 Association of Women Martial Arts Instructors Hall of Fame, and the 2014 Martial Arts History Museum Hall of Honors.
Restita DeJesus is also a Reiki practitioner and ordained interfaith minister. Her hobbies range from adrenaline-producing motorcycle riding to the calming practice of meditation. She is also an avid enthusiast of bullwhip cracking, knife throwing, slingshot and blowgun target shooting.
Restita expresses her philosophy by sharing this quote from Zig Ziglar: "What you get by achieving your goals is not as important as what you become by achieving your goals."
Restita DeJesus also hosts the Martial Arts Radio Shows: Dynamic Dojo Radio Show on Sundays 6 pm PST (Except 3rd Sundays which is our 11 am "Sunday Brunch" show) with Sifu Robert Deahl.
To contact Restita DeJesus and the Seattle Wushu Center visit their listing on the Martial Arts Schools and Businesses Directory by clicking on the image on the left.