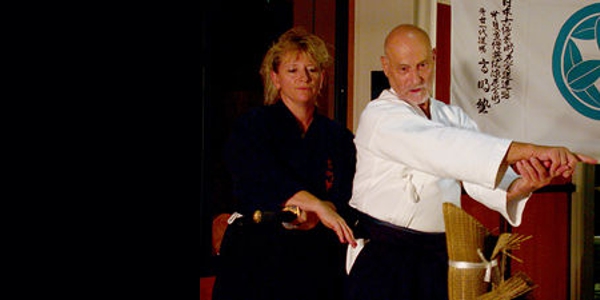 Sensei Robert Montgomery has continuously studied and practiced Japanese martial arts for over 30 years attaining dan rank in Judo, Jujitsu and iaijutsu. He studied Kodenkan Ju Jitsu under the late Dai Shihan Sig Kufferath from 1976 to 1986.
Robert Montgomery has collected and studied the making and judging of antique Japanese weapons, particularly swords, for over 23 years. Sensei Montgomery made three study tours of Japan under the guidance and tutoring of John Yumoto, renowned expert on swords and sword fitting. From 1986 to 1994 he was a resident of Japan studying Muso Jikiden Eishin Ryu laijutsu under the 21st Grandmaster, Sekiguchi Komei.
Sensei Robert Montgomery retired to Maui in 1995 and established the American headquarters for the Grandmaster's Komei school. He continues to train and study iaijutsu by practicing everyday, preparing to teach and by giving demonstrations.
Affiliations:
Nihon Kobudo Kyokai

Nihon Koden Bujutsu laido Renmei

Kokusai laido Renmei

Maui Komei Juku

Zen Bei Kobudo Iaijutsu Fukyu Sinko

Nippon Bujutsu Token Hozon Kyokai

Nihon Token Hozon Kai

Jujitsu America

Maui Okinawa Kenjin Kai
After 42 years in management of the design, development and manufacturing of high tech products, in the United States as well as overseas, Robert Montgomery now devotes the majority of his time to koryu and kobudo studies and practice. He is always eager to share, without constraint, what knowledge and experience he has with others regardless of their orientation or discipline. He has a high regard and appreciation for the sensei he has had the privilege to study under. He will always consider himself a student and look forward to learning from those he meet. This helps keep him in fellowship with many budojin around the world.