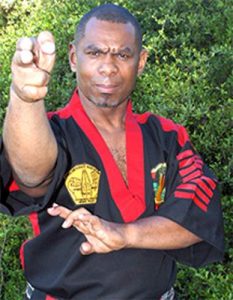 A writer once wrote, "If there was a television awards program for martial artists, with the top award going to the Grand Master who is most universally loved, and respected by other Grand Masters for his or her character, and humility, as a teacher, practitioner, and person of faith, this award would certainly go to Grand Master Robert Temple.
Grand Master Robert Temple is the chief instructor for the Police Activities League "PAL," of the City of Santa Monica, California, where he teaches the martial arts to countless students of many ages, backgrounds, and capabilities. He is also a personal protection specialist and a former law enforcement officer.
In the eighties and into the early nineties, he was a force to be reckoned with on the tournament circuits, beating some of the top fighters in his division at the time. Grand Master Robert Temple is a member of the Black Karate Federation and has been trained by some of the best instructors of his days, including Grand Master Donnie Williams, Grand Master Gary (Rabbit) Goodman, Sijo Steve (Sanders) Muhammad, Grand Master Charles Dixon, and others.