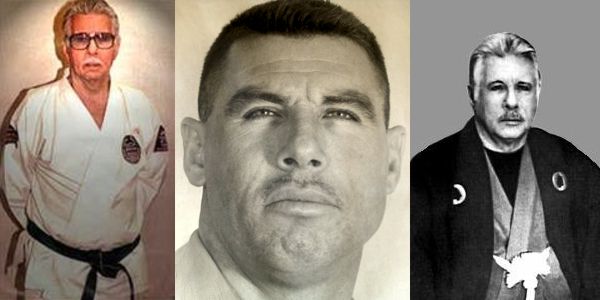 Robert Trias was born on March 18,1922. At the beginning of World War II Robert A. Trias was called upon to serve his country in the United States Navy. In 1942 he was stationed in the Solomon Islands. While he was training for the South Pacific middleweight boxing championship, he met a man who would set him on the path to a remarkable life of monumental accomplishments. This man was T'ung Gee Hsing. Hsing had traveled to the Solomn Islands from Okinawa in 1940, where he had trained with Choki Motobu.
Hsing was fascinated with American boxing and he began to frequent the gym where Master Trias was training. He pestered Trias day after day to spar with him, until one day Trias agreed. In an interview for Black Belt Magazine Master Trias recounts the event. "He was just a tiny little guy, said Trias, and I didn't want to spar with him, but he kept on persisting until I said yes. I called all my friends to see me kill this little man and I asked him if he wanted to spar with gloves and he said it really didn't matter.
Well, before you know it, he was giving me the biggest thrashing of my life and I was really embarrassed. He kept pointing out how he could easily kill me if he wanted and right there and then, I asked him to teach me." Master Trias began training with T'ung Gee Hsing, and was awarded his first degree Black Belt on July 10, 1943.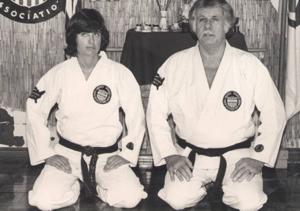 Later in 1944, he was also able to train with Hoy Yuan Ping in Singapore. In 1945 he returned to the United States and introduced karate to America. In 1946 Master Robert Trias opened the first karate school in America in Phoenix, Arizona. In 1948 he founded the United States Karate Association which became the largest karate organization in the world. He was also responsible for the following first accomplishments in America.
1955 – Wrote the first rules for karate competition.
1955 – Conducted the first karate tournament.
1958 – Wrote the first textbook.
1959 – Made the first instructional film.
1963 – Conducted the first world karate championships.
1968 – Conducted the first professional karate tournament.
His literary works are: The Hand is My Sword, Karate is My Life, The Methods of Shuri-ryu, The Pinnacle of Karate, and The Supreme Way.
On July 11, 1989 Robert Trias died of cancer leaving the Shuri-ryu system to his daughter Roberta Trias-Kelley, the inheritor and Menkyo Kaiden of Shuri-Ryu. Many in the system were unwilling to accept the succession and a struggle ensued within the USKA.
Robert Trias was buried at the National Memorial Cemetery of Arizona in Phoenix. He was the recipient of the 1989 Black Belt Hall of Fame Honorary Award this same year.