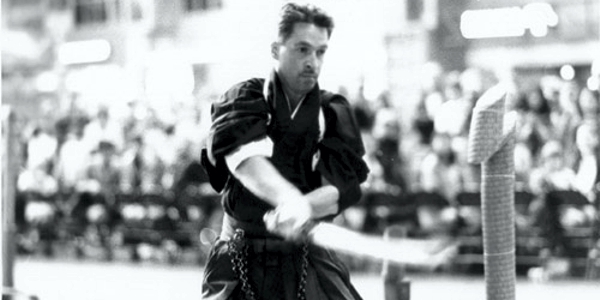 Russell McCartney began in the martial arts thirty-five years ago in karate and has grown to be the Chief Instructor of his own System of affiliate schools of swordsmanship throughout the U.S. Over this time he has studied under masters of the martial arts profession in karate, Wing Chun and Tai Chi Kung Fu styles, Aikido, finally settling into swordsmanship as his passion of the past 25 years. This gradual immersion into the sword arts set him on a path that would eventually lead him to world champion status in this art form.
The process he has developed is a teaching and training practice with technique that is a complete and effective methodology suitable for children and adults. As a uniquely American expression of Asian sword style its psychology is based in human virtue and self-improvement.
Using these unique techniques of Ishi Yama Ryu, he shattered the previous record World Record by 5 cuts and a full 25 minutes all without a single missed attempt. By the finish, the record had been pushed to a total of 1181 cuts, 181 cuts beyond the old record, still eleven minutes thirty-six seconds under the previous time, all without a single missed attempt from a kata based approach.
This new Guinness world record of eleven hundred eighty-one consecutive cuts without a single missed swing is a phenomenal testament to the validity of the technique and a profound statement to the resolve of the human spirit.
Highlights over twenty five years of service to the martial arts and personal development:
1991
Returned to Seattle teaching swordsmanship, Aikido, and Jo
1994-98
Celebration of swordsmanship Tournament Seattle
1994-98
Taught extension classes at UW Experimental College, Seattle Central, Seattle South, and Discover – U in Seattle WA.
Member of Seattle King County Lecture and Seminar series presenting 'Kids at Risk' programs for all grades of public and private schools.
1995
Opened the 'Pacific Center for Cultural Arts' a multicultural facility as a forum for maintaining and practicing traditionally based disciplines.
1997
Voted 'Best in the West' at the annual teachers conference in Seattle.
1998
Achieved 2nd Place at the 'World Target Cutting Championships' in Tague Korea among 23 member team from US, Canada, and Japan
1999
Organized promoted and presented the 'First North American Tournament of Swordsmanship'. The first time multiple sword styles gathered in North America for challenge type activity, where seven different styles ranging from Iaido to tameshigiri styles, both American, Gendai and Traditional Koryu styles.
2000
On April 22, McCartney sensei shattered the existing Guinness Book World Record formerly held by a Japanese sword Master of target cutting. This new 'Senbongiri Challenge' record set a new and still unchallenged record for target cutting of:
New Record at 1005 consecutive cuts without a single missed attempt in one hour ten minutes, 36 minutes under the previous record from kata based effort.
Pushed the record up to a total of 1181 consecutive cuts without a single missed attempt, still eleven minutes thirty-six seconds below the previous record time for the former champion.
Presented as 'Target test cutting' (cutting in the flow of movement to multiple directions to multiple targets) this effort set a new benchmark for this form of swordsmanship. As a benefit fundraiser for Muscular dystrophy, it was viewed by nearly 500 spectators at the Seattle Cherry Blossom festival held in the 'Centerhouse' building at Seattle Center. (see link for World Record)
*future challenge acceptance candidates see Senbongiri Challenge rules
2001
Legends, Masters, and Pioneers Hall of Fame in R.I.
United States Martial Arts Hall of Fame 'Founder of the Year'
Formed the United States Sword Federation, still the only nonpartisan and non-style specific sword tournament sanctioning body in the world.
2002
Second induction United States Martial Arts Hall of Fame as 'Instructor of the Year'
2003
Third induction and featured demonstration at the banquette and induction ceremony United States 'Martial Arts Hall of Fame'
Formal codification of the IYRB Shin Koryu Certified Instructors Training program detailing the 'true formula' of the IYRB methodology in this nine book set of instructional manuals.
Presented the 'Spring Wind Tournament of Swordsmanship'
2004
Fourth Induction United States Martial Arts Hall of Fame and
Presented with one of three Lifetime memberships to the International Martial Arts Councils' Grandmasters council.
'USSF' U.S. Regional Tournament
2005
Appeared in Black Belt magazine
Written articles for various magazines and international publications.
Numerous public appearances, instructor trainings, and seminars as well as public speaking engagements.
Appeared in the January 2005 issue of Life magazine as one of the top fifty Guinness Book World Record Holders at the Guinness Book 50 year Anniversary celebration in Manhattan New York held in August 2004.
Sponsored the 'U.S. National Tournament of Swordsmanship
For more information please contact Ishi Yama Battōjutsu through email at: infovr@gmail.com or toll free info line 206-492-9192.