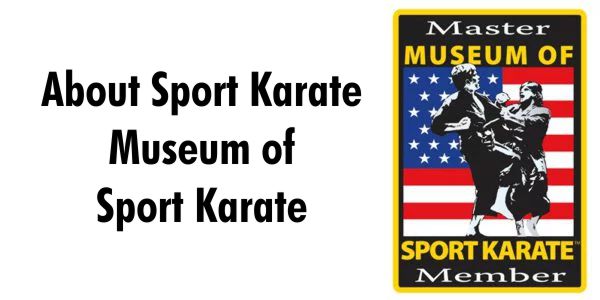 Aloha fans of American Sport Martial Arts and USAdojo.com readers! In 1946 Master Robert Trias opened the first sport karate studio and history began. We didn't know it at the time, but sport martial arts tournaments would change the sport world. We will not let the sport part of the martial arts be forgotten because it did indeed touch many lives. We are dedicated to keeping sport martial arts history alive through all that we do, The Living Legends Celebrity Roast, seminars and through our articles. Our Opening Statements are made by what Mike Stone, who many peers call "Martial Arts first Superstar and undefeated Champion and by the Great Grand Master Sid Campbell, who we lost last year, and by Master Duane Ethington, writer of over 500 martial art stories. The museum library is name after Master Ethington. Iif you have any DVD's or pictures, anything that would make this Sport Martial Arts Museum more entertaining and educational please share them with us. You can email me at hawaiirock@yahoo.com
Mahalo,
Aloha, Professor Gary Lee
Museum of Sport Karate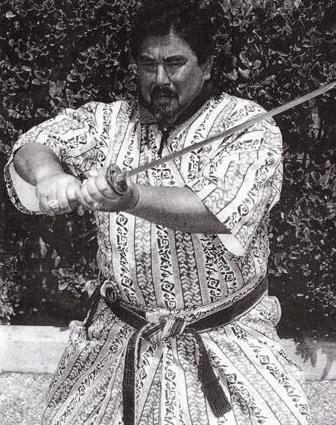 Professor Gary Lee, 9th degree Black Belt, Historian of martial arts science, actor, Bass fisherman, Black Belt Hall of Famer.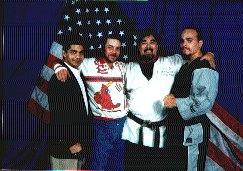 Zulfi Amed, one of the top Kata performers and fighters out of Texas by way of Pakinstan. Tim Kirby, one of the most exciting fighters to watch ever, from Texas, first Golden Greek winner. World champion kickboxer,
Gary Lee, a Golden Greek winner, Texas M V P in 97 and 98, rated in kata, weapons and fightng in five different Groups, NBL, AOK, SKIL, TKO, TNT. Butch Togosalia, pure animal, a Sherman Oaks Raider, (so is Gary). Butch won five World Championships in Japanese Kata and was a very dangerous fighter. We were called animals of the sport but we would become friends for ever!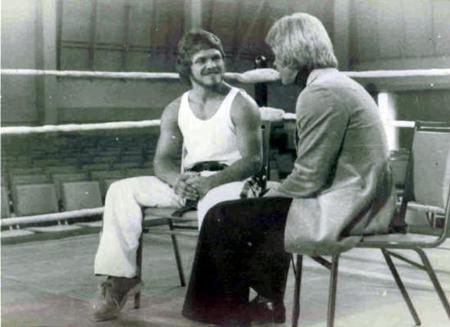 A young Golden Greek with a young Texas Walker Ranger!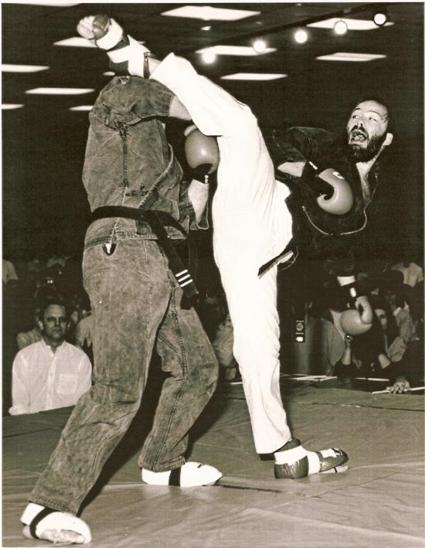 Some people say he was the best that ever was at sport karate and this is one of his biggest moments for the camera, Ramond McCallum doing what he does best "kicking some one in the head and smiling"!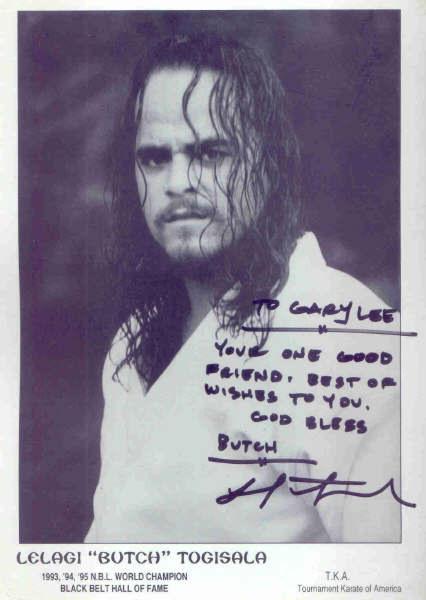 Butch Togosalia, the best Japanese kata man to come along in a time when kata needed a boost, exciting, scary, dangerous, pure technique, speed, power and beautiful motion and bunkai, he was an angel of softness, but with the skill of a Samurai.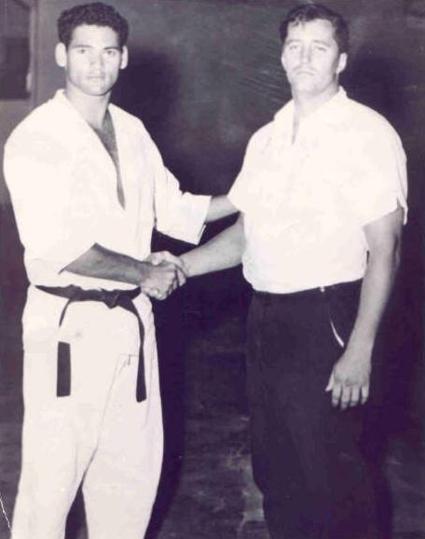 Mike Stone, the first superstar of sport martial arts, Golden Fist Awards, taught the movie stars, brought TV to sport karate, undefeated Champion. J.Pat Burleson, First National Karate Champion and American Hero.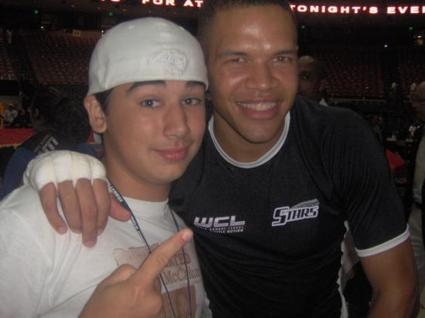 Garett Lee, one of Texas hottest players sitting and chilling with the hottest player in the sport today Raymond Daniels.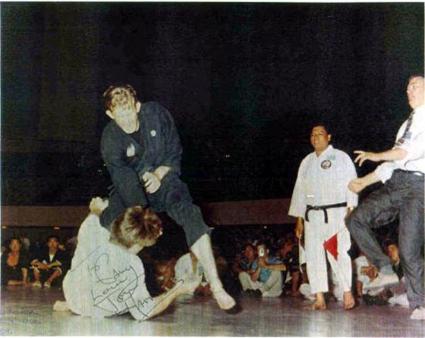 The famous take down, Joe Lewis was by far one of the toughest fighters ever, but when he met Jim Harrison, sparks flew and well A PICTURE SAYS A THOUSAND WORDS.
I love you both for being my friends and giving us this Polaroid moment captured forever!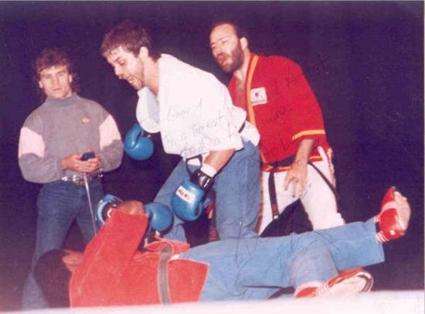 Troy Dorsey and Raymond McCallum are judges and Tim Kirby is pounding on Santee Wilson in the controversial Texas All-Star Bouts, a lot of contact Point Karate, Texas Style!!!
All the rumors you've heard about Texas fighters, there all true!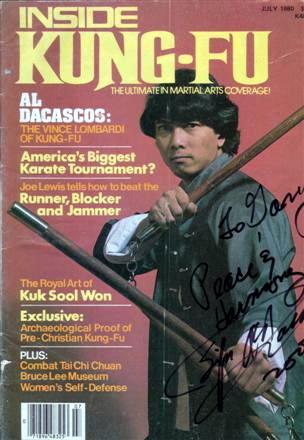 Al Dacascos, Pioneer, Living Legend, Blood and Guts fighter, spectacular demonstrations, the first KUNG -FU SUPER STAR of the sport from Hawaii, right on braddah!!