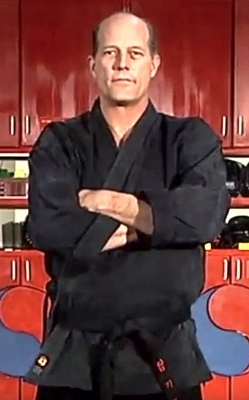 Steve Sexton was born 1953, in California. He is a hapkido instructor, bar bouncer and author of a series video tapes on hapkido. He is also one of only a few Americans to reach 8th degree Black Belt in Sin Moo Hapkido as of October 20, 2007.
Steve Sexton trained with Korean instructor Jung Bai Lee, a student of Ji Han Jae. Ji Han Jae promoted Sexton to 6th degree in 1992. In the 1970's Sexton took over Jung Bae Lee's Hapkido Studio in Canoga Park, California and taught Hapkido in the San Fernando Valley for many years. Sexton also has over 25 years experience as a professional bouncer and has applied his Hapkido skills to resolve many dangerous encounters. Please See interview below for Sexton's discussion of his martial arts and professional bouncer experience.
Sexton has taught many students in the San Fernando Valley and a few have opened their own Hapkido studios. Master Sexton has also produced a series of tapes on Hapkido that demonstrate practical techniques perfected from over 25 years of working as a professional bouncer.