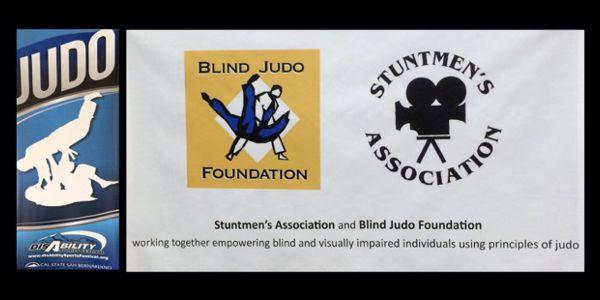 At their 50th Anniversary Gala honoring Harrison Ford, the Stuntmen's Association introduced the Blind Judo Foundation to Hollywood's elite film and television stunt professionals. The organizations are set to partner on hosting Judo clinics and events for blind children and US Military Wounded Warriors
Los Angeles, CA September 28, 2011
The Stuntmen's Association of Motion Pictures, one of Hollywood's oldest and most prestigious organizations, announced a partnership to help blind and visually impaired children and our US Military Wounded Warriors participate in a life changing sport. At their 50th Anniversary Gala this past Saturday in Universal City, CA, the Stuntmen's Association formally introduced the Blind Judo Foundation as a partner organization, with a goal to support the foundation's efforts in teaching the sport of Judo to the blind and visually impaired.
"As stunt professionals, Judo and Martial Arts fundamentals are a big part of the work we do on-set every day," said Mark Donaldson, President of the Stuntmen's Association. "The opportunity to work with the Blind Judo Foundation, to bring the sport of Judo to blind children and our military's Wounded Warriors is a perfect fit with the spirit of our organization and we look forward to participating in upcoming events, clinics and activities."
The Blind Judo Foundation provides financial support, training and coaching to facilities around the country that teach martial arts to blind and visually impaired children and adults. The foundation also runs programs for US Military Wounded Warriors, who can benefit greatly from the physical and mental rehabilitation the sport of Judo provides.
"Over 70% of blind and visually impaired kids do not participate in any physical activity. Simply put, they are afraid of falling," said Ron Peck, Executive Director and co-founder of the Blind Judo Foundation. "The sport of Judo teaches balance, strength and falling safely. For a blind individual, these can be the keys to building confidence and independence, which carryover into their work, their relationships and their self-esteem. And for some of our athletes, participating in our programs can lead to representing their country at the Paralympics."
These Paralympic dreams are very real. Blind Judo Foundation co-founder Willy Cahill has served as Head Coach of the US Paralympic Judo team for the past 3 Paralympic Games, and 75% of all US Judo medals won at the Olympics & Paralympics have been achieved under his direction.
"Having the support of the Stuntmen's Association of Motion Pictures is a tremendous boost for our athletes," said Coach Cahill.  I've seen first-hand how this sport changes the lives of blind children and young adults. These are people that some in our society have cast-off as defective. What I've seen are athletes, competitors, and amazingly strong men and women who have accomplished so much through their dedication to the sport of Judo."
For more information on the Blind Judo Foundation, visit
http://www.BlindJudoFoundation.org/
For more information on the Stuntmen's Association of Motion Pictures, visit
Media contact:
Ron Peck
roncpeck(at)blindjudofoundation(dot)org
425-444-8256
###