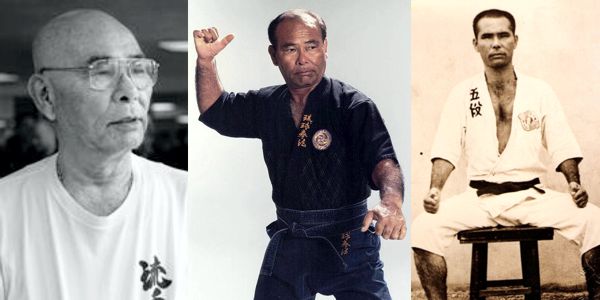 Taika Seiyu Oyata was a renowned world-class martial arts practitioner, founder of the International RyuTe Karate Association and a martial arts teacher. He was born on October 19, 1928 in Kita- Daito of the Ryukyu Islands, located 200 miles east of Okinawa, Japan. He was educated in Osaka, Japan, and then returned to his native Okinawa after World War II.
Seiyu Oyata met two warriors of royal heritage in Okinawa, soon after the war ended. These men were lifelong masters in the military arts of the Ryukyu Islands. They agreed to instruct Oyata because of his own royal family heritage. These two legends passed down their family arts solely to Oyata in the final years before their deaths.
Seiyu Oyata's own martial arts career spanned nearly 65 years and he was considered the foremost authority in the world on life protection arts. He was routinely featured in trade publications and television documentaries involving martial arts including a 2006 Learning Channel documentary entitled 'Martial Arts – The Real Story' featuring his signature 'kyusho jitsu' strikes which rendered opponents unconscious with ease.
He traveled extensively throughout America and internationally nearly every weekend where he instructed eager students in his family art. He also traveled to Okinawa annually with a group of students so that they would have a better understanding of his native culture, and gain a deeper meaning to his teachings.
He treated his students like family and was a teacher for every rank and ability. Oyata made everyone he instructed feel special and that he had passed on to them something unique and extraordinary.
Seiyu Oyata was a 10th degree Black Belt and operated a martial arts school near the Kadena US Air Force Base in Okinawa, where he trained Okinawan and American servicemen as students. After some of these American students returned to the U.S., they invited Oyata to visit, which he did in 1968. Seiyu Oyata then permanently immigrated to the U.S. in 1977. He eventually became a U.S. citizen in 2006. He loved the United States, was never without a USA hat and had USA embroidered on most of his shirts.
In 1995, Seiyu Oyata formed the International RyuTe Karate Association. He later awarded special certificates to students that he felt embraced the technique of his art, as well as the moral guidelines he exemplified. These students were a part of a group he named Oyata Shin Shu Ho, meaning 'to strive to attain true moral goodness and to express it through one's every action,' Oyata made sure that his students understood that learning his family's martial arts meant that his students didn't only learn life protection for themselves, but also for the betterment of their community and society. He encouraged all of his students to give to charitable causes and he regularly supported charities nationwide, especially for needy children and food banks. He was formally recognized by local and state governments all over the United States for his lifetime charitable endeavors.
Taika Seiyu Oyata, known as Taika died on Monday, June 18, 2012, at Avera St. Luke's Hospital, in Aberdeen, SD. He was 83 years old. He had recently been diagnosed with bile duct cancer.
Visitation were held from 6-8 p.m. Sunday, June 24 at Carson-Speaks Funeral Home Chapel at 1501 West Lexington Avenue in Independence. Funeral services were held at 11 a.m. Monday, June 25 at Platte Woods United Methodist Church in Kansas City, MO. Burial will be at Woodlawn Cemetery in Independence.