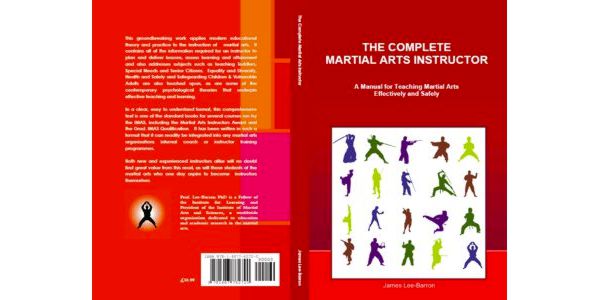 A Manual for Teaching Martial Arts Effectively and Safely
This groundbreaking work applies modern educational theory and practice to the instruction of martial arts. It contains all of the information required for an instructor to plan and deliver lessons, assess learning and attainment and also addresses subjects such as teaching Toddlers, Special Needs and Senior Citizens. Equality and Diversity, Health and Safety and Safeguarding Children & Vulnerable Adults are also touched upon, as are some of the contemporary psychological theories that underpin effective teaching and learning.
In a clear, easy to understand format, this comprehensive text is one of the standard books for several courses run by the IMAS, including the Martial Arts Instructors Award and the Grad. IMAS Qualification. It has been written in such a format that it can readily be integrated into any martial arts organisations internal coach or instructor training programmes.
Both new and experienced instructors alike will no doubt find great value from this read, as will those students of the martial arts who one day aspire to become instructors themselves.
About The Author
Prof. Lee-Barron PhD is a Fellow of the Institute for Learning and President of the Institute of Martial Arts and Sciences, a worldwide organisation dedicated to education and academic research in the martial arts.
Purchasing this book
Reviews
Review by Toby Humphry
This book was going to be a real winner from the start, because it was all about me! My eyes were first drawn to a chapter at the heart of the book entitled, 'Becoming a "Great" Martial Arts Instructor'. Oh yes, a checklist; bring it on.
Shows real interest and expertise in their martial arts
Motivates and inspires their students
Demonstrates excellent interpersonal skills
Is always approachable and ready to help
and so on…
Except, I wondered, is it 'always'? Then there came the points when I had to admit that I had not previously considered particular ideas. So a more realistic view of myself might be a good martial arts instructor, with some features of greatness.
For those who are great martial arts instructors, I think that this book offers them the opportunity to be legendary ones. It is holistic in the true sense of the word and written in such a way that the reader is carried along by the enthusiasm of the author and inspired by his passion.
Review by Sarah Griffin
Easy to read, good info on various topics. Interesting and a bit of an eye opener… It's certainly different from most martial arts books out there at the moment as it takes a real educational view / approach. I was already familiar with some of the concepts and ideas, but a lot of new things to think about / consider. 5 stars
---