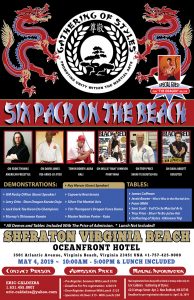 The Gathering of Style Annual Event 2019
Six Pack on the Beach
Sheraton Ocean Front Hotel, Virginia Beach, Virginia
Virginia Beach, Virginia
May 4, 2019
The Gathering of Style event 2019 features six of the best Grand Masters in the country volunteering their time and effort for the benefit of anyone involved in, or interested in, pursuing an education in the martial arts. They are offering education, demonstrations and opportunities to connect with students and the community of the martial arts world. Our featured Masters this year include; Black Belt Magazine's Willie "BAM" Johnson and Dana Abbott along with Grand Masters Eddie Thomas, Troy Price, David James, Tuhon Bobby Ladra and special guest Don "The Dragon" Wilson. Each offering an individual style of their own that you just can't find anywhere else.
This year's line-up promises to be one of the best to date. The location plus our scheduled events and festivities are sure to make this Gathering of Styles the most memorable meeting of all time.
The G.O.S. offers what we like to call "Edu-tainment" which basically means that you receive an education while you are entertained by our experts and special demonstrations. Besides our new presenters, participants can meet with past G.O.S. teachers as well as engage with them in an invaluable networking and learning experience that spans generations of martial arts educators, styles and geographic locations.
The Gathering of Styles is an annual event designed to bring together the diverse collection of people and disciplines from all over our martial arts community.
If you would like more information about this topic:
Contact:
CEO of The Gathering of Styles Eric Caldeira
Phone: 631.455.8007
Email: eric.caldeira@yahoo.com