Walter Cooling, nicknamed Toby Cooling by his family, began martial arts training in Judo at the age of sixteen. At 20, he began training in Isshin-Ryu Karate under Sensei Tom Lewis in Salisbury, MD.
Some time later, while Toby was a green belt, Sensei Lewis asked Toby to attend a meeting for him in New Jersey. The meeting had been called by Master Don Nagle, one of Master Shimabuku's first American students. While there, he took the opportunity to work out in Master Nagle's dojo. The trips to New Jersey to train became regular, and he eventually asked Master Nagle to be his sensei.
In December 1969, Sensei Cooling traveled to Okinawa to study with the founder of Isshin-Ryu Karate, Tatsuo Shimabuku. Before his departure for home, Master Shimabuku promoted him to roku-dan (6th degree black belt) in March, 1970.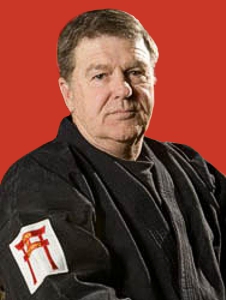 During this time, he graduated from the University of Baltimore with a B.S. in Personnel/Labor Relations. He worked for several companies before starting his own real estate firm in 1969. He owned and operated a successful retail business, Jayco Liquors, from 1975-1989.
On August 11, 1971, Master Nagle promoted him to nana-dan (7th degree black belt). Grandmaster Shimabuku and Masters Harold Long, Steve Armstrong, and Harold Mitchum honored him with a diploma also recognizing him as such.
On October 4, 1986 Master Nagle promoted him to hachi-dan (8th degree black belt). Master Long also recognized him as a hachi-dan with a diploma on June 21, 1987. In September of the following year, Master Cooling was inducted into the International Isshinryu Karate Hall of Fame. In 1991, he received the Spirit of Isshinryu award from the same organization. This award is presented to the individual who best represented and promoted Isshin-Ryu throughout the nation for that year.
On June 14, 1992 Master Cooling was promoted to ku-dan (9th degree black belt) by Master Don Nagle, ju-dan, and Master Harold Long, ju-dan.
On February 6, 1995, the World Head of Family Sokeship Council officially recognized Master Cooling as one of the heads of the Isshin-Ryu family worldwide. The Council consists exclusively of martial arts instructors who are the acknowledged heads of their martial arts systems, and is a world-wide organization. Master Long honored Master Cooling by presenting him with the certificate personally in a ceremony on March 11, 1995.
Master Cooling has continued his martial arts education, becoming proficient in chin-na, and kyusho. He has been active as an instructor for municipal, county, state, and federal law enforcement agencies. These include the American Society of Law Enforcement Trainers, the Maryland Police Training Commission, and private security groups. He is a former police officer from Cecil County, Maryland, has served as a reserve deputy for Douglas County (NV) Sheriff's Department, and has taught defensive tactics for both departments.
Master Cooling has served on the board of directors of the Isshin-Ryu Hall of Fame, and continues to promote Isshin-Ryu Karate through seminars and his travels. He is chairman of the Order of Isshin-Ryu.
Master Cooling founded the Order of Isshin-Ryu on January 15, 1971 in an effort to keep his word to Master Shimabuku, who asked him to ". . .go back to the States and teach good Isshin-Ryu for me, make happy family."