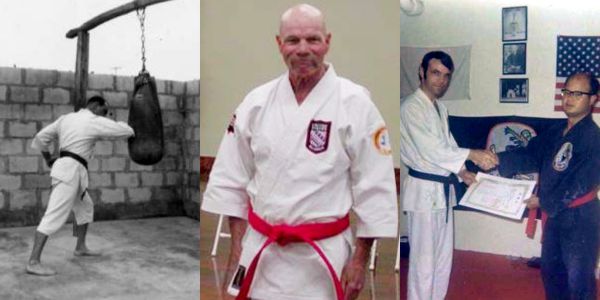 Tom Lewis was born on May 2, 1939 in Salisbuty, Maryland. He is currently a rancher in Wyoming.
Tom Lewis has been in the martial arts for 46 years and has taught for over 40 of those years. He is a 9th Degree Black Belt in Isshin-Ryu and has also trained in Bando, boxing, kickboxing and combat handgun.
According to Tom Lewis "My claim to fame in the Marines is that I was in the Bay of Pigs and went to Cuba during the October Missile Crisis."
In July of 1959 Tom Lewis began studying Isshin-Ryu Karate-Do under Master Tatsuo Shimabuku. Sensei Shimabuku promoted Mr. Lewis to Sho-Dan (1st degree) in October of 1960. During Mr. Lewis' time in Okinawa he was fortunate to study with legends such as, Harold Mitchum, Don Bohan, Ed Johnson, Steve Armstrong, Sherman Harrill and others. Mr. Lewis was able to spend a year and a half with Master Shimabuku and later got to revisit him when he came to Don Nagle's dojo in 1966.
Tom Lewis was discharged from the Marines in 1963. He was promoted to Go-Dan (5th degree) before he left Okinawa by Master Tatsuo Shimabuku, but claimed himself a Sho-Dan upon returning to the United States. Mr. Lewis traveled to study with Don and Jim Nagle in New Jersey.
In 1964 Tom Lewis began teaching and preparing to open his own dojo. In the beginning there was a lot of moving from church halls to store fronts, but eventually they settled into a dojo that is still operating today under Master Dennis Lockwood. Mr. Lewis formally opened his dojo in January of 1965 in Salisbury, Maryland.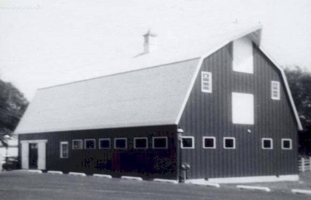 Several of Sensei Lewis' black belt students went on to open their own dojo's from New Hampshire to Virginia: Reese and Judy Rigby in Delaware, Victor Smith in New Hampshire, Harvey Hastings in Florida and others. Some of these sensei's have been recognized for their outstanding achievements: Toby Cooling, Reese Rigby and Barry Smith are in the Isshin-Ryu Hall Of Fame.
All of Sensei Lewis' schools participated in many tournaments from New York to Tennessee. In between tournaments the IKC (Isshin-Ryu Karate Clubs) would have Shiai's. Harvey Hastings and Sensei Lewis promoted the first Isshin-Ryu/Bando tournament in 1970. Steve Armstrong and Myuang Gi attended it. Mr. Hastings and Sensei Lewis continued to hold several tournaments in the Maryland area, including, a friendship tournament for Rick Niemira.
In the early 80's Master Lewis met Dr. Myuang Gi and Bob Maxwell and began studying Bando. In time Master Lewis became a member of the American Bando Association. Several Isshin-Ryu people such as Don Bohan, Rick Niemira, Harvey Hasting and others had begun training with this brotherhood as well.
Master Tom Lewis has obtained numerous accomplishments. In 1980 Sensei Lewis wrote "Karate for Kids", which was one of the first books about karate for children and is still in circulation. In 1981 he received an award for outstanding weapons competitor in the mid-Atlantic region. The following year, Mr. Lewis was presented with outstanding referee in region 10.
During the mid 1980's, Master Lewis coached a full contact team the "Lewis' Demons" that competed in the Maryland, Washington D.C., and Pennsylvania area, holding one tournament in Salisbury, Maryland.
Don Nagle promoted Sensei Tom Lewis to Ni-Dan (2nd degree) on the first of December in 1965. On November 30, 1966 in front of Master Tatsuo Shimabuku, Sensei Lewis became a San-Dan (3rd degree). Although he was never a Yon-Dan (4th degree), as the years passed Sensei Lewis finally accepted his Go-Dan (5th degree) that Master Shimabuku had presented some years earlier. On March 1, 1972, Master Kichiro Shimabuku presented Sensei Lewis with his Roku- =Dan (6thdegree), which was signed by Grand Master Tatsuo Shimabuku. January 27, 1979 Master Harold Mitchum promoted Master Lewis to Shichi-Dan (8th degree).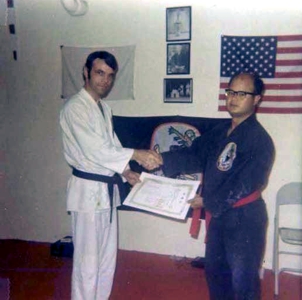 In 1989 Master Tom Lewis moved from Maryland to Jackson Hold, Wyoming and found an Isshin-Ryu school, where he taught for about a year (Before leaving MD he turned the school over to Master Lockwood, who is currently the chief instructor.) Ten years later Master Lewis moved to Cody, Wyoming and befriended a Kempo School. He trained there until he started his own dojo on his ranch. Presently, Grand Master Lewis teaches traditional Isshin-Ryu Karate-Do on the Heart to Heart Ranch and works at the airport as armed security. He enjoys seminars now better than tournaments, but he still attends some when he gets the chance.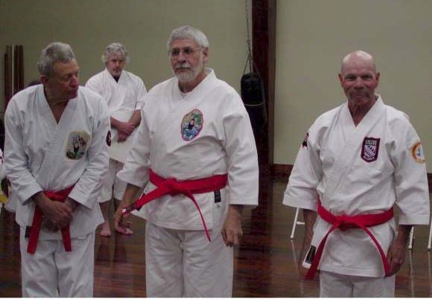 In April of 2005 Master Tom Lewis attended a seminar in New Orleans and was promoted to Ku-Dan (9th degree) by Grand Master Harold Mitchum. A couple months later in June, members of the U.I.K.A. in Bozeman, Montana presented Grand Master Lewis, with a Life Time Achievement Award.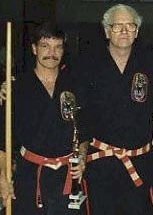 A story Tom Lewis likes to recall about Don Bohan is from a time after a tournament in VA when a bunch of black belts were all to sleep in a student's basement. Bohan told Lewis he would share the sleeper couch with him and Lewis replied that he would never sleep with a dead women or a live man! Mr. Lewis notes that he slept on the floor that night.
You can contact Grand Master Lewis at muleskinnerh2h@yahoo.com