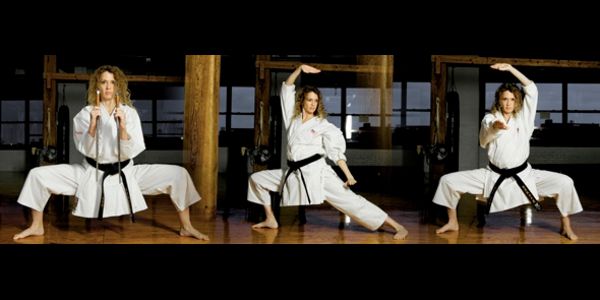 Sonie began her martial arts training while living in Tel Aviv, Israel. When she moved back to the states, she met Kyoshi Donna Judge, 13-time World Champion in Okinawan Shuri Ryu Karate, and Kyoshi Judge became her teacher and mentor.
Under Kyoshi Judge's tutelage, Sonie began competing in local and state martial arts tournaments. Since 2004, Sonie has been bringing Florida State Championship titles to her home in Sarasota. She won five 2008 NASKA (North American Sport Karate Association) National titles. Following this achievement, Sonie was recruited by the US Martial Arts Team and was nominated for the role of Team Captain.
Sonie competed in the 2009 World Martial Arts Games in Sydney, Australia. She broke a medal record with 6 individual gold medal wins for the US Team. She also won the World NASKA Sparring Title for 2009 and was inducted into the Hall of Fame as Competitor of the Year.
After working for several years with the International KAPAP Federation and more specifically, with Major Avi Nardia, The Federation assigned the position of Coordinator to Sonie. She enjoys teaching seminars around the globe.
At the 2010 Vegas Games in the USA, Sonie Lasker broke her own world record with 8 individual gold medals and one silver medal. That was 9 divisions of competition while taking care of her 90 member team. Sonie is looking forward to the WKA World Championships in Edinborough, Scotland.
Sonie's has a passion for anatomy, and this led her to develop Funsion Fitness iFit, a harmonious fitness system that uses intrinsic geometry, physics and biomechanics with martial arts principles to create muscular overload without damaging the skelatal system.
A nationally certified Personal Trainer, Sonie teaches iFit to her private clients as well as to trainers and coaches. She also trains at Shapes Total Fitness for Women, where she's received numerous awards including her designation as Trainer of The Year for 2006.
Soni is active in her community, supporting several charitable organizations, and she donates personal fitness and self-defense seminars to schools, fundraisers, national awareness silent auctions, and more.