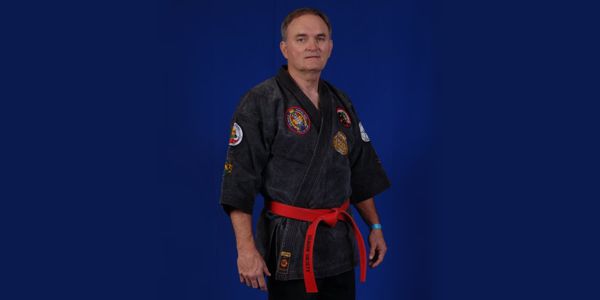 Grandmaster Tom Muncy holds a 10th Dan in Torite Jutsu, 8th Dan in Okinawan Kempo, 5th Dan in Aikibudo, and 3rd Dan in Japanese Gojuryu Karate. In 2000, he was promoted to the rank of 6th Dan in Tae Kwon Do and joined the lineage of Allen Steen "Texas Blood 'n' Guts" Black Belts.
Grandmaster Tom Muncy, along with Grandmaster Rick Moneymaker, serves as the head and co-founder of the Dragon Society International. The organization researches and documents technical aspects in the arts of pressure point fighting (Tuite and Kyusho Jutsu) as found hidden in kata, based on the principles of traditional Chinese medicine. The organization has thousands of members world wide. Grandmasters Muncy and Moneymaker have authored two books and over 40 videos on the topic.
Grandmaster Tom Muncy was elected to the World Martial Arts Hall of Fame as "Man of the Year" in 1990 and 1999. He has been elected to the International Karate and Kickboxing Hall of Fame, and received an honorary degree of Doctor of Martial Arts. He has been presented the 20th Anniversary National Leadership Award by the Society of Distinguished American High School Students in 1988 and was presented the Certificate for Outstanding Contribution in International Education and Understanding by the American Intercultural Student Exchange in1988. He also received the John R. Kirk Honors Institute Certificate of Educational Merit from Northeast Missouri State University in 1990. Tom Muncy is listed in Who's Who In American Education from 1992-1993, and he is listed in Marquis' "Who's Who In the South and Southwest," as well as being featured in "Who's Who In Karate" in 1983 and 1984.
A retired High School principal, Grandmaster Tom Muncy tours both nationally and internationally giving seminars in Torite Jutsu (pressure point fighting), as one of the few authorities on the subject. He also continues to teach with Grandmaster Moneymaker at their Tori Karate Institute in Virginia.
Judan (10th degree black belt), Torite-jutsu
Hachidan (8th degree black belt), Okinawan Kempo Karate-do
Rokudan (6th degree black belt), Tae Kwon Do Recognized by the A.K.B.B.A.
Godan (5th degree black belt), Aikibudo
Sandan (3rd degree black belt), Japanese Goju-ryu Karate-do
Co-founder, Dragon Society International
Co-founder, Torite-jutsu
Honors, Expertise and More
Traditional Chinese Medicine (TCM) as applied to the martial arts
Pioneer researcher and instructor in the area of TCM as applied to the martial arts
Over 30 years of martial arts experience
Inducted into the World Martial Arts Hall of Fame, 1999
Awarded the degree of Doctor of Martial Arts, 1999
Co-author of the internationally distributed book
"Torite-jutsu Quick Reference Manual"
Co-author of the internationally distributed book
"Torite-jutsu Technique Manual"
Featured in "Who's Who In Karate" (1983, 1984)
Listed in Marquis' "Who's Who In the South and Southwest"
Featured in the internationally distributed book "Kyusho Jitsu"
Featured in the internationally distributed book "Advanced Pressure Point Fighting"
Given the 20th Anniversary National Leadership Award by the Society of Distinguished American High School Students, 1988
Presented the Certificate for Outstanding Contribution in International Education and Understanding by the American Intercultural Student Exchange, 1988
Recipient of the John R. Kirk Honors Institute Certificate of Educational Merit from Northeast Missouri State University, 1990
Inducted in the World Martial Arts Hall of Fame as "Man of the Year", 1990
Listed in Who's Who In American Education, 1992-1993
Featured in numerous martial arts training videos that have been distributed internationally
Adjunct instructor for two Virginia area colleges
Appeared and featured in numerous national and international martial arts magazine
Co-founder and head instructor of the To-Ri Karate Institute
Co-founder of the Dragon Society International