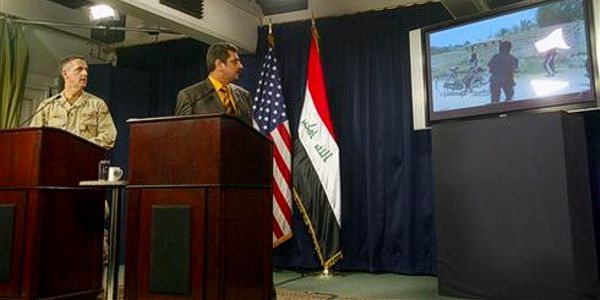 BAGHDAD  ~ Videotapes seized during U.S. raids on suspected al-Qaida in Iraq hide-outs show the terror group training young boys to kidnap and assassinate civilians, U.S. and Iraqi officials said Wednesday.
Footage aired for reporters showed an apparent training operation with black-masked boys — some of whom appeared to be about 10 years old — storming a house and holding guns to the heads of mock residents. Another tape showed a young boy wearing a suicide vest and posing with automatic weapons.
But U.S. and Iraqi officials said they could offer no estimate on how many children have fallen under the terror group's control. They named just a handful of attacks blamed on women or children.
The American military said some of the tapes were found in December during a U.S. raid in Khan Bani Saad, northeast of Baghdad, and said it indicated a pattern that al-Qaida in Iraq was increasingly using children for sinister means.
"Al-Qaida in Iraq wants to poison the next generation of Iraqis," Rear Adm. Gregory Smith, a U.S. military spokesman, told reporters Wednesday inside the heavily guarded Green Zone. "It is offering children as the new generation of mujahedeen," he said, using the Arabic term for holy warriors.
"We believe this video is used as propaganda to send out to recruit other boys … and to send a broader message across Iraq to indoctrinate youth into al-Qaida," he said.
Other scenes from the Khan Bani Saad video showed masked boys forcing a man off his bicycle at gunpoint and stopping a car and kidnapping its driver along a dusty country road. At one point the boys — wearing soccer jerseys with ammunition slung across their chests — sit in a circle on the floor, chanting slogans in support of al-Qaida.
Iraqi Defense Ministry spokesman Mohammed al-Askari told reporters that militants are kidnapping more and more Iraqi children, though he could not offer details or numbers.
"This is not only to recruit them, but also to demand ransom to fund the operations of al-Qaida," al-Askari said.
Meanwhile, the U.S. military said Wednesday that its troops, along with Iraqi forces, killed seven suspected insurgents and detained 34 others in five days of raids across Iraq.
Also Wednesday, a roadside bomb exploded near a police convoy transporting suspected Shiite militia fighters south of Baghdad, killing four passers-by and wounding nine other people, police said. At least 19 people were killed or found dead Wednesday across the country.
The roadside bombing was an apparent attempt to free the 10 detainees who were linked to the Mahdi Army militia that is nominally loyal to radical Shiite cleric Muqtada al-Sadr, according to police Brig. Gen. Ghassan Mohammed Ali.
He said the detainees had been captured over the past month and had been accused of attacking civilians and U.S. and Iraqi security forces in the city.
The bomb went off in Diwaniyah, 80 miles south of Baghdad, where there have been fierce clashes between rival Shiite militia factions engaged in a violent power struggle in the oil-rich area.
Two women and two men in a car near the explosion were killed, and nine other people — two policemen, three prisoners and four civilians — were wounded, Ali said.
Al-Sadr has ordered his militia to stand in a six-month cease-fire that expires at the end of February, but the U.S. military says disaffected fighters have broken with the movement and persisted with attacks.
Iraqi security forces in the area also are often accused of being infiltrated by militia fighters, particularly from the Badr Brigade, the militant arm of the largest Shiite party, the Supreme Islamic Iraqi Council, or SIIC.
By LAUREN FRAYER, Associated Press Writer – Associated Press Writer Sinan Salaheddin contributed to this report – February 6, 2008