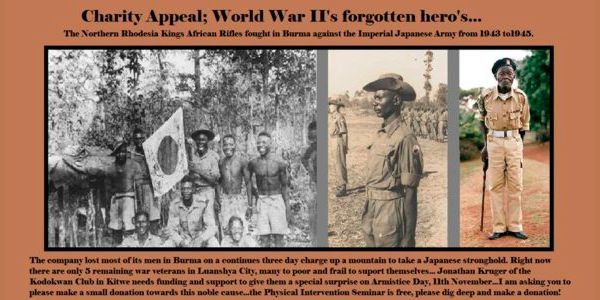 Our fellow martial artist, Jonathan Kruger, lives in Zambia in Southern Africa and he needs our help.
Below is the letter I received from Jonathan:
Dear Dana,
I am trying to support five old World War II veterans who fought for the British and the Commonwealth forces in North Africa against the Rommels German Africa Korps and the Japanese Imperial Army in Burma. They are the Servicemen of Luanshya called the forgotten Africa Soldiers of the Kings African Rifles. They were some of the bravest black soldiers to have ever fought in both world war I and II along side the British and American forces. I have found five in our neighboring city of Luanshaya who are suffering greatly and they can hardly feed themselves. Britain, nor our government gives them any support or pension. Most of their relatives have died of AIDS and are unable to look after themselves. I found them begging for money in the streets just to buy food. They are always wearing their World War II uniforms and their medals.
These men were some of the bravest and noblest men I have ever met. When I saw how they were suffering in their old age, living in little run down homes, I started to cry . It seems the world has forgotten about them, and has no place for these brave old war veterans. They are very educated and speak beautiful Queens English, but they are just too old now to look after themselves.
On the 11th of November is the worlds Armistice Day to remember the end of the war. They will come out to receive a few dollars I have raised so they could eat. I want to take them out to lunch and have a camera crew video as they discuss their fantastic stories of the war, about the how the British used them to fight against the Germans and Japanese. Most of them died overseas and that is why the world doesn't know about them. I am searching for the few left in the townships in our province.
I would like to raise 50 US dollars per month per person to support them and just to feed them. I am glad you have shown a interest in our old World War II African warriors. God bless you Sister Dana.
Your Brother in Zambia,
Jonathan Krueger
Jonathan began working with the Ex-Servicemen in Luanshya in 1994 as a part of his Rotary service. Initially it was simply an annual Remembrance Day service on the Sunday nearest 11/11. As he grew to know these men, he began helping them throughout the year. There were ten men living in Luanshya when he started his service. The number dwindled down to five, then Corporal Nkandu moved into the area. Last year Lance Corporal Sichone passed away at the age of 99 years. Jonathan attended his funeral with Maj Sambo.
The Rotary Club spearheads the Remembrance Day memorial every year in Luanshya with the help of the Luanshya Municipal Council and a few businesses locally, but the contributions are growing smaller as the war passes from memory. We hope to remember these heroes of Zambia and the free world, even after they have passed from the scene.
Ex Servicemen in Luanshya:
Lance Corporal Edward Bwembya – Born: 1923   Served: 1942 – 1945   Medals: Defence Medal, War Medal
Warrant Officer II Dyman Mweta – Born 1928   Served: 1939 – 1959   Medals: Defence Medal, Long Service Medal, Good Conduct Medal, Malaya, GBR, OMM, Africa Star
Lance Corporal Benson Nkonde – Born: 5 Nov 1921   Servved: 1939 – 1945   Medals: Defence Medal, War Medal
Corporal Samson Nkandu
Corporal Kenan Sichon (deceased) – Born: 1912   Served: 1939 – 1945   Medals: Defence Medal, War Medal
If you can help, please message Jonathan on Facebook
https://www.facebook.com/jonathan.kruger.336