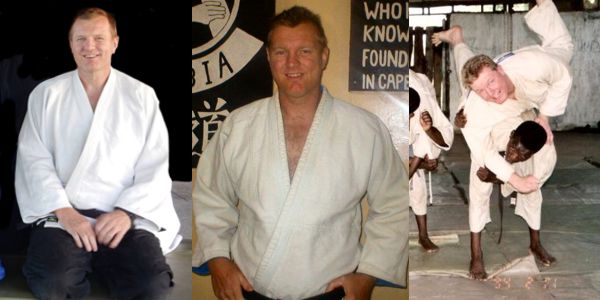 Jonathan Kruger is the head instructor of the Kodokwan Judo & JuJitsu of Zambia. Jonathan Kruger's family first came to Africa from Berlin Germany in 1713 and moved up to Northern Rhodesia from South Africa in 1898. His grandfather was the first European to be born in Northern Rhodesia now Zambia in Livingstone in 1898. The 5th President of South Africa, Paul Kruger, was Jonathan's great great grandfather, and a man looked up to not because he was the President of South Africa but because of his strong faith in God and his love for Africa. Jonathan first became interested in learning the martial arts in 1985 after watching the original Karate Kid movie, one of the top martial arts movies of the 1980s. He began taking Jujitsu lessons from his father, Jonathan David Krueger on their front lawn with a friend by the name of Michael Kanyemba who later became Zambian Judo champion.
Jonathan Kruger represented Zambia in Judo at the 1995 World Judo Championships in Makuhari, Japan. I fought in the 95kg + weight category against the European and number 3 world heavy weight Judo champion from Germany Frank Moller. He was also able to train in South Korea for a year in Inchon city under Grand Master Choi in Korean Yudo and Hapkido. Grand Master Choi was one of the instructors to 1988 Seoul Olympic Gold medallist Judo champion Kim Jae Yup who was famous for his high scoring Uchimata. GM Choi helped him perfect his Uchimata throwing technique.
He also trained in Sheffield, England under Sensei Keith Tiger Brown 8th Dan Judo who was 7 times Judo veteran champion of England. He returned to Zambia in 1998. He then took over the running and coaching of the Kodokwan Judo Jujitsu Club of Zambia.
Since 1998 Jonathan has worked with the underprivileged youth and orphans in his three community dojo around the city of Kitwe. His Kodokwan Dojo is like a light house to those Zambian youth who are looking for help to improve their lives through martial arts training. His Kodokwan Dojo tries to help them finish their education by helping them with their school fees. We also look for donations to get them Judo and Karate uniforms especially for those of the underprivileged and orphan students.
Jonathan also tries to look after our Zambian World War 2 Veterans. He first found these old warriors of the Kings African Rifles regiment begging at a bus station for a little food wearing their old British WW2 uniforms and medals for bravery.His heart went our to them he tries to feed and cloth them as they suffer in terrible conditions in their old age. These old Zambian warriors fought all over world in North African, Somalia, Italy, Madagascar, Burma, Singapore. And later on in Malaya against the Chinese Communists in the Malaysian Emergency in the 1950s. These old warriors need our help in their old age.
PERSONAL INFORMATION:
Name: Jonathan Kruger
Address: P.O.Box 22293 Kitwe, Zambia
Date of Birth: November 18,  1971
Mobile number: +260-966-782339
Email Address: judojonathan1987 (at) gmail (dot) com
Civil Status: Married
Nationality: European-Zambian
Height: 1.87cm
Weight: 225lbs
Languages/spoken/written: English, Japanese, Bemba, Tonga
Name of Spouse: Venus Kruger (Filipino)
No. of Dependents: Two (2)
Father: Mr. John David Kruger (European-Zambian)
Mother: Mrs. Wendy Kruger (English)
Youth with a Mission (YWAM) 1992 (Japan)
• Cultural and Historical studies of Japan and the Orient
• Study of the Japanese language, and culture
• Church planting in Japan, China, Korea and Hongkong
• Marriage councilor
• Community youth leader
• Administrator of International youth teams coming to Japan
South Osaka Gospel Church 1995-1998 (Japan)
• Assistant Youth Pastor
• Church planting Kashiba city Nara, Japan
• Teaching English to elementary, high school, junior high students
• Teaching English at ECC (English Conversation College) Japan
• Physical Exercise Instructor and Trainer
• Secondary St. John Convent Kitwe, Zambia
• Primary St. John Convent Kitwe, Zambia
QUALIFICATIONS
23 years experience
Zambia Judo Association Copperbelt Chairman and Head Coach World Judo Championships 1995 (national team) Makuhari City, Chiba Japan Zone VI African Judo Championships Silver and Bronze medalist Lusaka 1994 Zambian national judo team captain 1995-1998 Takatski City and Ibaraki City Inter High School Judo, Japan
GRADINGS (JUDO)
Zambia Judo Association 4th Dan
Zanshin Judo Club U.S.A 3rd Dan
International Judo Federation (IJF) 1st and 2nd Dan
GRADINGS (JUJITSU)
Budo Ryu International (6th Dan) honoree Budo Ryu International (5th dan) honoree Noble House Imatsu International (5th Dan) honoree Kodokwan Jujitsu Assocaition of South Africa (4th Dan) Israeli Martial Arts Center 1st Dan
SCHOOLS WERE HE TRAINED
Takatski Physical Education Center Takatsi City, Osaka Japan
(Judo,Tomiki- Aikido)
Rotherham Judo club and Youth Sports Center, Sheffield England YMCA Judo club (Seoul, South Korea) Central Sports Judo Club Lusaka Kamfinsa Mobile Police Judo Club Kamfinsa Central Police Judo club Kitwe Kodokwan Jujitsu/judo club of Kitwe
CERTIFICATES
American Jujitsu Assocication
Budo Ryu International South Africa
House of Imatsu South Africa
Zanshin Judo club United States of America Asahi Dojo International Association Israeli Martial Arts Center Kodo Butoku Renmei Zambia Judo Association Internation Judo Federation Empire Martial Arts Association Karate for Christ International (U.S.A)
COUNTRIES TAUGHT AND TRAINED
Zambia
England
South Korea
Japan