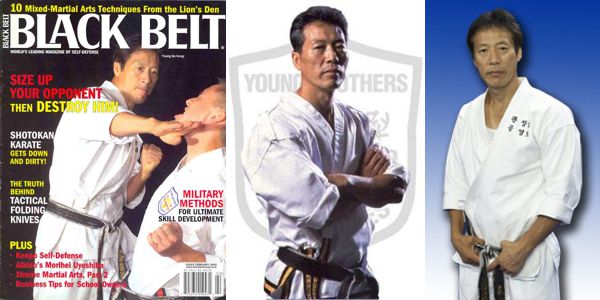 8th Degree Master Young Bo Kong began his Tae Kwon-do training in 1954 while living in a small village in South Korea. At age 5 he braved freezing temperatures in the winter and blazing heat in the summer while enduring a most strenuous training regiment. The result of that training forged skills that would eventually lead him to several world Championships.
While attending college in Korea Young Bo lead his Tae Kwon Do team to many victories, establishing him as one of the country's best fighters. After graduation he moved to the United States where along with his elder and younger brothers established the most successful chain of Tae Kwon Do schools in America.
In 1973 Master Young Bo Kong won the middleweight Grand Championships at the Pan American Games. His incredible speed coupled with his extraordinary training regiment made him an unstoppable force. Tae Kwon Do Magazine once called Young Bo Kong, "The Fastest Kicker Alive." Many who witnessed him fight say that his kicks were but a blur to the human eye.
"There is no secret to developing a fast kick," explained Master Kong. "I trained very hard, often doing up to four thousand kicks a day. So if you want to kick fast you must practice often."
In addition to winning top honors as national champion in Canada, in 1974 he became the World Champion in the middleweight Division at the International Tae Kwon-Do Federation. That same year Master Kong was awarded the title of North American Grand Champion.
Today Master Kong owns one of the most successful dojangs in the nation. Teaching Tae Kwon Do from his school in Pittsburgh Master Kong has amassed a large number of professional athletes such as: Terry Long, Frank O Harris, John Kolb Greg Lloyd and Rod Woodson.
Editors Note: Grandmaster Young Bo Kong is currently president of Young Brothers Institute on the East Coast and continues to train students.